News Archive
Explore our archive of old news articles, click on one of the years below to see all the articles from that year.
Who are Cambuslang Harriers?
Cambuslang Harriers, since its formation in 1948, has become one of the premier cross country and road running clubs across all age groups in Scotland. We also have a very talented girls and ladies group who now regularly win major team honours.


CAMBUSLANG HARRIERS IN ACTION AT DUNOON, GREENOCK AND GLENSHEE
A number of Cambuslang Harriers headed down the Clyde Coast to compete in the Dunoon 10K on the Saturday and in the Scottish Masters 10000M Track Championships at Greenock on the following day. A host of excellent individual performances ensured that the club did not come away empty handed.
Newcomer Lesley Blackwood who only joined the club during lockdown made an impressive debut when she finished first lady in a personal best time of 39.34 seconds. Lesley's target was to break 40 minutes and accordingly planned to run at just under 4 minutes per kilometre pace. However, after 2K she realised she was running at 3.50 pace which she would not be able to sustain and sensibly pulled the pace back to a steadier one. In spite of tiring over the last kilometre she comfortably achieved her goal with 25 seconds in hand. Afterwards Lesley was appreciative of the structured club training sessions, the company of others at training and the useful guidance from club coaches which she has experienced in her short time as a member. It was also pleasing to have 2 other ladies participating. Jacqui McLew and another club debutant Suz Ross who recorded respective times of 50.03 and 53.32.
On the men's side Andrew Carey placed 4th overall and first U20 with his time of 32.49 slicing 51 seconds off his pb. Andrew is clearly reaping the benefits of his increased mileage. Ian Hodge (35.37), another lockdown recruit, put in another consistent performance in 6th spot. Mick O'Hagan (38.06) and Dave Thom (39.17) lifted the M50 and M60 prizes while Frank Hurley and club president Des Dickson filled the 2nd and 3rd M60 positions. Coach Ian Crawford (44.34) posted his fastest time at this distance since 2015 with fellow coach David Stirling running a season best time of 53.32.
The 25 lap 10000M Scottish Masters Championship Event was split into 3 heats according to performance and age to avoid overcrowding. All 3 Cambuslang contestants M35 Colin Reilly, M55 Chris Upson and M60 Colin Feechan won gold in their respective age groups. Colin Reilly's time of 33.15.33 put him 2 minutes ahead of his nearest rival while Chris' clocking of 38.43.21 gave him an even greater margin of victory. Colin Feechan's 40.08.45 performance left his nearest M60 rival 75 seconds behind. His gold medal was well deserved given the sustained injury problems he has had over the last 4 years.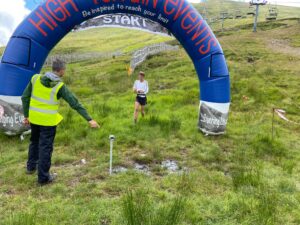 Further North hill specialist Alasdair Campbell competed in the gruelling Glenshee 9 Hill Race which is a 20 miles/5,500 feet run across the 9 Munros bordering Glenshee Ski Centre. He acquitted himself well coming home in 5th place in the worthy time of 3 hours, 22 minutes and 33 seconds.
David Cooney
Join Cambuslang Harriers
Interested in joining one of Scotland's premier road and cross country running clubs as a member or a volunteer? We cater for runners of all abilities and offer regular training sessions based from our clubhouse in Cambuslang, we also have regular training on the track at the John Wright Sport Centre in East Kilbride, why not come along and join us?


All Content Copyright © 2007-2023, Cambuslang Harriers I Site design by No Lesser Panda