News Archive
Explore our archive of old news articles, click on one of the years below to see all the articles from that year.
Who are Cambuslang Harriers?
Cambuslang Harriers, since its formation in 1948, has become one of the premier cross country and road running clubs across all age groups in Scotland. We also have a very talented girls and ladies group who now regularly win major team honours.


ANOTHER BUSY WEEK FOR MEMBERS OF CAMBUSLANG HARRIERS
Cambuslang athletes performed well in the Scottish U20 and Senior Track Championships at Grangemouth Stadium. Jamie MacKinnon (3.56.05) repeated his senior bronze medal performance of 2019 when taking 3rd place in a tactical race. Although Chris McLew in the 800M (1.53.5) and Fraser Stewart in the 5000M (14.37.76) were just outside the medals in 4th spot they nevertheless had the consolation of setting personal best times. U20 Aaron Grew posted a promising debut time of 15.52.34 to finish 5th in his age category while Ryan Donnelly doubled up in the 800M an 5000M events and set a pb of 2.09.08 in his 800M heat and clocked 16.29.6 for the longer distance. Ten days later Jamie went on to set an excellent 1500M pb of 3.49.49 in the British Milers Event at Trafford. Continuing with track performances Mark Gallacher added the British Masters M50 steeple chase title to the Scottish title he had won earlier when setting a new Scottish age group record of 10.54.35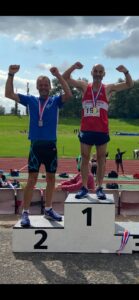 The popular 5K Saturday morning parkruns restarted in Scotland on the 14th of August, a few weeks after they had recommenced in England. A number of Cambuslang athletes were pleased to participate once again at multi venues across Scotland and even in England and Northern Ireland. 6 of our members, Kyle McLellan, Richard Cooper, Kieran Cooper, Kerry-Liam Wilson, Paula McCabe, and Iain McDonald recorded wins while Lesley McArdle, Erica Christie, Ian Hodge and Mick O'Hagan finished in 2nd spot with Justin Carter securing 3rd position.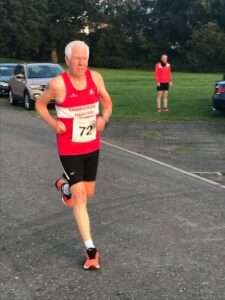 The midweek Masters Snowball/Tea Cake 5 Mile Road Race at Coatbridge gave the club's more mature athletes the opportunity to gauge their fitness. Our 5 participants rose to the challenge as M50 Mark King and M55 David Marshall occupied 2nd and 3rd position in the race and Frank Hurley and Peter Ogden were the leading M65 and M70 runners with Willie Mitchell the runner up in the latter category. On the same evening over in Edinburgh Cameron Smith made his delayed debut for Cambuslang in the Run and Become 5K. He was due to have represented the club in the May 2020 Scottish 5K Championship event which was cancelled due to Covid restrictions. Cameron made an impressive first appearance when comfortably winning the race in the excellent time of 14.52. M55 Chris Upson also added to the club's successes that evening when finishing first M50 in the Jimmy Young Marymass 10K at Irvine and Chris Smith set a pb for that distance.
Under 17 athlete Jonathan Dow sampled his first taste of hill running when tackling the Cademuir Rollercoaster at Peebles where he acquitted himself well to finish 7th in his age group. He only joined the club last year and has made excellent progress during the long months of lockdown and has significantly reduced his 5K time from 22.30 to 16.40. Experienced hill runner Justin Carter gained a West District Championship M40 silver medal at the Luss Lollipop event.
Our triathletes Kirsty O'Brien and Grant Sheldon have also been in action at home and abroad. Kirsty earned herself a Scottish W35 silver medal and was placed 4th in the combined Scottish/British Triathlon Middle Distance Championship. Grant was representing Great Britain in Montreal in a novel triathlon competition involving much shorter swimming, bike and running distances than the standard event. He was unfortunate to miss automatic qualification into the final when finishing 11th in his heat thus missing entry into the final by 1 place and 8 seconds.
The Kilmarnock Roon the Toon 10K Road Race attracted 1,138 runners including 23 Cambuslang athletes. It was a successful event for the club in terms of team and individual awards along with several personal best and encouraging debut runs at this distance. The Cambuslang trio of Mike Christoforou (31.05), Fraser Stewart (31.23) and Kevan Harvey (pb of 31.33) packed well in 4th, 7th and 8th place to scoop the male team award. Mike was listed in the results as 3rd senior man as there was a separate prize for the U20 who finished ahead of him. Gordon Robertson who placed 3rd M40 in a time of 33.03 was followed home by a quartet of team members namely Kieran Cooper (34.11), Ian Hodge (pb of 34.47), Iain MacCorquodale (34.53) and Ian McDonald (pb of 34.59). M40 Gordon McDonald also secured a pb of 35.18 while Richard Cooper was a clear winner in the M50 category with the fast time of 36.01, 18 seconds ahead of IronMan James Smith. Club captain Ritchie Carr who was nursing an achilles niggle eased home in a time of 37.07. Newcomer Lesley Blackwood (38.56) exceeded her expectations to break the 39 minutes barrier only 2 weeks after having dipped under 40 minutes and finished 3rd senior lady and 99th overall in such a large field. M60 Dave Thom (39.28) and W60 Erica Christie (44.26) were 2nd and 1st in their age group. A tightly packed group of 4 – coach Karen Goldie (49.01), Jacqueline McLew (49.05) and new members Stephen Leonard and Sarah Simpson (both 49.06) achieved their goal of breaking 50 minutes as did fellow coach David Stirling. Garry Duddy, another new member, just missed getting under 50 minutes by 1 second and U20 Rachel Wardrope narrowly lost out by 8 seconds. Rachel, however, had the satisfaction of being 2nd in her age category. W40 Sue Ross' debut time of 54.41 saw her finish in the first half of the large field. All in all it was encouraging to see such a large turnout of Cambuslang runners including a sizeable number of new members who joined the club during lockdown.
David Cooney
Join Cambuslang Harriers
Interested in joining one of Scotland's premier road and cross country running clubs as a member or a volunteer? We cater for runners of all abilities and offer regular training sessions based from our clubhouse in Cambuslang, we also have regular training on the track at the John Wright Sport Centre in East Kilbride, why not come along and join us?


All Content Copyright © 2007-2023, Cambuslang Harriers I Site design by No Lesser Panda