News Archive
Explore our archive of old news articles, click on one of the years below to see all the articles from that year.
Who are Cambuslang Harriers?
Cambuslang Harriers, since its formation in 1948, has become one of the premier cross country and road running clubs across all age groups in Scotland. We also have a very talented girls and ladies group who now regularly win major team honours.


HEAD TO HEAD COMPETITIONS IN QUICK SUCCESSION
With the easing of Covid restrictions members of Cambuslang Harriers have welcomed the opportunity to participate once again in a number of events on track and on road. Gavin Smith and under 20 runners Aaron Grew and Zak Povey competed in the 3000M in the Stirling University Open Graded Meeting. Gavin finished well ahead of the field in a time of 8.31.61 with Aaron taking 4th place in 8.55.29, a personal best by 9 seconds, while Zak was 7th in 9.41.98. Under 17 Lewis Roddis won his 800M heat with a gusty drive to the line to post an outdoor best time of 2.09.85.
Kilmarnock was the venue the following day for the Scottish Masters 5000M Track Championships for athletes over the age of 35. Gordon Robertson's personal best time of 15.53.46 gave him the M40 gold medal with M50 Kerry-Liam Wilson (16.16.37) and M55 Chris Upson (18.54.61) lifting silver medals in their respective age groups. Club secretary Dave Thom (19.32.16) completed the medal count for the club when taking bronze in the M60 age category. Club treasurer and fellow M60 Colin Feechan made a welcome return to competition after a lengthy injury spell to finish a close 4th.
The spotlight then switched to the midweek British Milers Club Meeting at Trafford which attracted runners from across the UK. Competing in the A 1500M race Gavin Smith achieved a superb life time best of 3.48.02 while Chris McLew (3.53.16) convincingly won his heat to spectacularly lower his pb by 9 seconds. While Jamie Mackinnon's 800m time of 1.55.15 was just a fraction outside his pb he can be pleased with his performance as he is recovering from Covid.
The club was well represented the following day in the Kilmaurs 5K Road Race with 17 runners among the 200 entrants. Cambuslang Harriers certainly made their presence felt. Kevan Harvey was most unfortunate to have been sent off course by a steward when in a clear lead with only 800M to go. This allowed Martin Brown of local club Kilmarnock to be the official winner. He was followed home by 3 Cambuslang runners namely Kieran Cooper (15.33), Gordon Robertson (15.52) and club captain Richie Carr (16.09). The club did not have long to wait for their 4th counting athlete as Ian Hodge crossed the line in 7th position in a time of 16.35. In spite of losing Kev as a counter Cambuslang still prevailed over Kilmarnock in the team competition. The club also enjoyed individual male age group victories for M40 Gordon Robetson, M50 Richard Cooper (17.26) and M60 Dave Thom (19.06). Under 17 lady Millie Nicholl added icing to the cake when finishing first in her age group and 3rd lady overall in the impressive time of 18.38.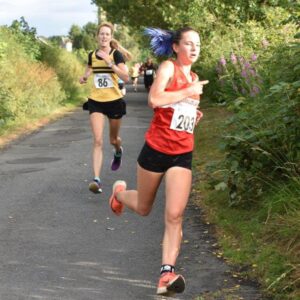 Although not on the prize list there were a number of good times by our athletes. Millie's dad Iain, 3rd M40, shared the same time of exactly 18.00 minutes with Ironman James Smith. Chris Upson, 2nd M55, closed in 27 seconds later to be followed by Chris Smith (19.02), Gary Lyon (19.07), Scott Hunter (22.25), Stephen Leonard (22.54), 2nd M70 Peter Ogden (23.33) and David Stirling (23.47).
Two days later a number of Cambuslang runners were involved in the Glasgow Milers 5000M and 1500M Meeting at Scotstoun Stadium. In the A 5000M heat Ryan Thomson finished an excellent 2nd in the fast time of 14.18.67, a 7 seconds personal best, while Gavin Smith clocked 15.08.72. Gavin's recent bout of races probably caught up with him. However, he was keen to participate before setting off for Massachusetts to take up an athletics scholarship at the American International College there. He richly deserves the opportunity to pursue his running potential having joined the club in 2012 and progressed steadily through the age groups to reach national standards and don a Scottish vest on several occasions. The club wishes Gavin all the best in his American adventure.
Mike Christoforou in the second heat made his long awaited Cambuslang debut and a welcome return to competition after a lengthy injury to post a solid 15.14.32. If Mike can avoid further injury and again achieves full fitness he will soon make serious inroads on his time. M50 Mark King can be well pleased with his 17.36.50 performance, a 10 seconds improvement on his previous best.
5 of our athletes lined up for the 1500M with Jamie Mackinnon and Chris McLew recording the nippy times of 3.54.0 and 3.53.91 respectively in heats one and two. Our remaining 3 contestants all set pbs in their heats. U20 Ryan Donnelly reduced his pb by 2 seconds when winning his race in a time of 4.25.36 while in the same heat M50 Mark Gallacher (4.32.91 and a 7 seconds improvement) continued his recent fine run of pbs including his new Scottish M50 3000M steeple chase record. U15 Sam McCarthy was deservedly rewarded with a 5 seconds pb as his 4.56.45 run saw him break 5 minutes for the first time.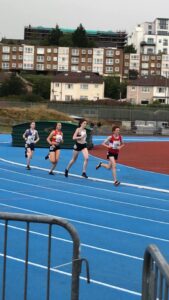 The club fielded 3 teams the following day in the John Lucas Memorial Ultra and Relays held over 46 miles and 2,470 climb around Strathaven. Participating for the first time in this well established event Cambuslang provided the first 2 male teams in the 5 to count relay. The A quintet of Iain Nicholl, Stuart Gibson, Dave Thom, Ian Hodge and Iain MacDonald broke the tape in a time of 4 hours 55 minutes and 56 seconds while the B team of George Pettit, Gary Lyon, Tony McCutcheon, Scott Hunter and David Scott finished just over 32 minutes behind. The ladies quintet of Julie Reid, Paula McCabe, Tina Campbell, Karen Goldie and Lynn Angely did the club proud to achieve second place in the women's event especially since Julie, Tina and Karen were making their debut for the red and whites.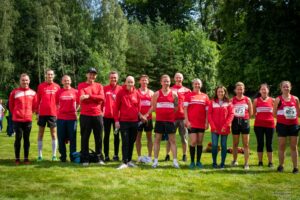 Club member Kirsty O'Brien had the opportunity to compete for her triathlon club on the Sunday in the Scottish National Aquathlon Championships involving a 750 metres swim followed by a 5K run. Kirsty was 6th lady overall but more importantly took the Scottish gold medal in her age group to add to her impressive total of national medals in aquathlon, duathlon and triathlon.
David Cooney
Join Cambuslang Harriers
Interested in joining one of Scotland's premier road and cross country running clubs as a member or a volunteer? We cater for runners of all abilities and offer regular training sessions based from our clubhouse in Cambuslang, we also have regular training on the track at the John Wright Sport Centre in East Kilbride, why not come along and join us?


All Content Copyright © 2007-2023, Cambuslang Harriers I Site design by No Lesser Panda