News Archive
Explore our archive of old news articles, click on one of the years below to see all the articles from that year.
Who are Cambuslang Harriers?
Cambuslang Harriers, since its formation in 1948, has become one of the premier cross country and road running clubs across all age groups in Scotland. We also have a very talented girls and ladies group who now regularly win major team honours.


MEMBERS OF CAMBUSLANG HARRIERS CONTINUE TO RETURN TO COMPETITION
A number of Cambuslang athletes were competing in a variety of competitions in recent weeks. The prestigious Antrim Half Marathon enticed 14 of our runners to take the ferry over to Larne. Ryan Thomson had an invitation to take part in the elite race which had been won the previous year by Mo Farah. He took advantage of the opportunity to post the fast time of 65.52 thus slicing 31 seconds off his pb and putting him 3rd in the Scottish rankings for this season. Ryan was happy with his time but thinks there is more to come as his intermediate 5K splits clearly revealed he had been too conservative over the first 5K and he had too much left in the tank at the finish.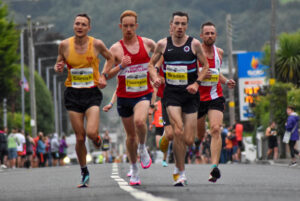 His fellow club mates were participating in the later mass event although club captain Ritchie Carr and club secretary Dave Thom did not take their place on the staring line due to an achilles niggle and illness on the day. U20 Andrew Carey clocked an impressive debut time of 71.18 which was all the more remarkable as he had only recently recovered from Covid. Andrew's time ranks him as this season's leading U20 Scottish runner.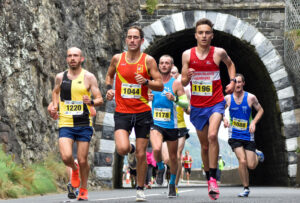 Ian Hodge's massive 10 minutes improvement (74.54) also caught the eye. George Pettit and Iain Nicholl, both in the M40 category, had the satisfaction of breaking the 80 minutes barrier. George's time of 77.46 was very close to his pb while Iain's 78.48 clocking was 57 seconds inside his pb. Under 20 Keir Crawford can be pleased with his 82.10 debut appearance at this distance which places him 2nd in the Scottish U20 rankings. M40 Willie Fairley was unfortunate to miss breaking 90 minutes by a mere 2 seconds while fellow M40 David Scott finished 5 minutes behind him. Simon Gold took the honours (97.03) in the battle of the club coaches ahead of Iain Crawford (110.55) and David Stirling (115.41). Mike Christoforou unfortunately had to retire from the race at the 10k point due to feeling unwell when very well placed. All our athletes enjoyed both the race and its friendly atmosphere and are keen to make a return visit next year.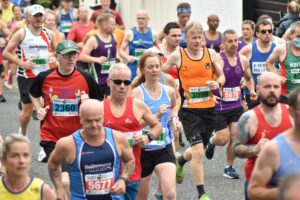 Closer to home 6 Cambuslang Harriers contested the Bellahouston 10K. Andrew Anderson's time of 35.01 gained him a top 10 finish while James Smith (36.28) and M50 Mark King (36.30) finished in tandem only 2 seconds apart. Mark finished 3rd in his age category with 4th placed M50 Chris Upson recording 38.41. M50 Dan O'Connell and M40 Stephen Leonard respectively stopped the clock at 43.40 and 47.45. Stephen was happy to have reduced his pb by 81 seconds within the space of 5 days.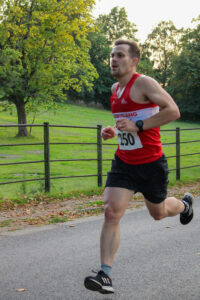 The Saturday morning parkruns across Scotland afforded the opportunity once again for members to gain podium places. Ben Hukins, in a welcome return to racing after injury, Ian McDonald, Kerry-Liam Wilson and Kieran Cooper were first finishers while Stevie Wylie, Erica Christie and Dan O'Connell were runners up with Ian Hodge, Mick O'Hagan and Richard Cooper taking 3rd spots.
U15 Sam McCarthy has been keeping himself busy both on the track and on the trails. While just missing out on a place in the Scottish Track 1500M final by 3 seconds he nevertheless had the satisfaction of setting a personal best time of 4.45.90. He then showed his versatility in the Springburn 6K Canal Canter to finish 3rd in his age group. U15 victory went to his team mate Jonathan Dow who has also been a regular competitor in recent weeks while Chris Upson was a convincing M50 winner of the longer 9K event. Another good performance came from U17 Lewis Roddis who set a pb of 17.06 when finishing 2nd U17 in the Irvine 5K. All 3 young athletes deserve credit for their perseverance and commitment during lockdown. Sam then made an impressive 3000M track debut a few days later in the Shettleston Open Graded Meeting and won his heat in the excellent time of 10.08.88 to place him 3rd in the Scottish age group rankings. Fraser Stewart also confirmed his recent good form to set a 7 seconds pb of 8.28.61 in taking first place at the same meeting.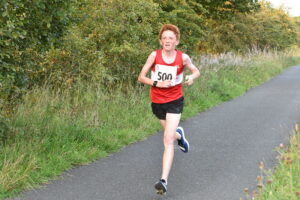 Father and son Richard and Kieran Cooper participated in the testing Deuchary Hill Race and showed good form to finish 3rd M50 and race runner up.
The consistent Kirsty O'Brien won her 4th Scottish Triathlon Medal of the season when taking the W35 gold medal in the Scottish National Standard Triathlon Championships. It was good to see Alan Ramage secure a bronze medal in the M50 category. Unfortunately Alan's running has had to take a back seat in the last few years due to injury.
David Cooney
Join Cambuslang Harriers
Interested in joining one of Scotland's premier road and cross country running clubs as a member or a volunteer? We cater for runners of all abilities and offer regular training sessions based from our clubhouse in Cambuslang, we also have regular training on the track at the John Wright Sport Centre in East Kilbride, why not come along and join us?


All Content Copyright © 2007-2023, Cambuslang Harriers I Site design by No Lesser Panda