News Archive
Explore our archive of old news articles, click on one of the years below to see all the articles from that year.
Who are Cambuslang Harriers?
Cambuslang Harriers, since its formation in 1948, has become one of the premier cross country and road running clubs across all age groups in Scotland. We also have a very talented girls and ladies group who now regularly win major team honours.


A BUSY AND SUCCESSFUL FEW WEEKS FOR CAMBUSLANG HARRIERS ATHLETES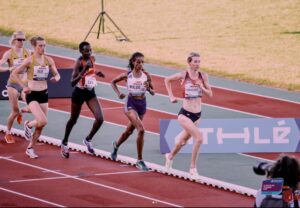 Several Cambuslang athletes have recently recorded track personal bests over different distances. Moira Stewart broke the Czech Republic women's 10000M record when she clocked a superb pb of 32.08.96 in Paris when finishing 6th in the European Cup Championships. She now has the option of running in the 10000m or Marathon in the forthcoming European Championships to be staged in Munich. However, she is likely to opt for the longer distance. Ryan Thomson put in another impressive performance when lowering his 5000M pb to 14.01.22 at a race meeting in Belgium. He came agonizingly close to breaking the magical 14 minutes barrier. Hopefully he will dip under that time soon. Closer to home at Crown Point in Glasgow Gavin Smith, now back from his athletics scholarship in the States, trimmed his 3000M pb to 8.24.91 while Eve Mackinnon's time of 9.49.79 was a dramatic 45 seconds improvement. U17 Jonathan Dow (9.50.39) also improved on his pb by 23 seconds. There were solid performances too from U20 Aaron Grew (9.15.46), debutant James Bowness in his first track race for 4 years (9.16.04), M55 Chris Upson (10.16.20), M50 Mark King (10.25.46) and M60 Dave Thom (11.02.39). At the same meeting Laurence Heyes and M50 Mark Gallacher recorded 2.02.49 and 2.14.68 for 800M which was only 0.18 of a second outside Mark's pb. He had earlier clocked 2.16.76 at the Livingston Open graded Meeting. U15 Euan Reid (2.50.27) made a useful 800M debut there and U17 Chris Black (2.19.95) was 1 second outside his pb. However, he later managed a pb of 2.18.13 at the West District Championships in Kilmarnock.
On the roads Mike Christoforou set an impressive pb of 65.41, an improvement by 2 minutes and 31 seconds, when taking 3rd spot in the Edinburgh Half Marathon. This performance puts him 5th in the 2022 Scottish rankings for this distance. Son and father, Kieran and Richard Cooper, finished first and second (74.35 and 80.33) at the scenic Mull of Kintyre Half Marathon while coach Iain Crawford (102.34) recorded his quickest time since 2016. Jennifer Reid on home territory ran in the colours of Campbeltown and finished 2nd lady in spite of suffering a calf injury which forced her to surrender her good lead and to hobble to the finishing line. Likewise, Stuart McGeachy (34.54) and Kenny Campbell (36.38) represented their local club in the accompanying 10K and were the first 2 M40s home. Stuart's time was further confirmation that he is getting back to his best and it was good to see Kenny racing again, albeit on limited training, after a long period of injury. However, unfortunately his knee issue is still an ongoing problem for him.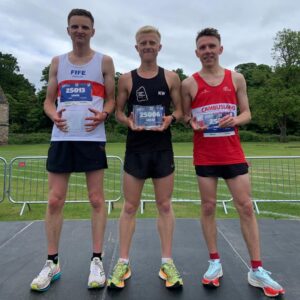 There were 3 road races over a 5 day period in which Chris Upson and Erica Christie participated. Gordon Robertson (33.14) took 2nd place and 1st M40 in the Land of Burns 10K and was followed home by 4th place Stuart Gibson (35.26), 5th place and 1st M50 Kerry-Liam Wilson (35.39), 2nd M50 Chris Upson (37.27) and Erica Christie 2nd lady O60 (48.21). Then 11 club athletes lined up for the midday 3k on the Green. Owen Walpole (9.26) was the first Cambuslang Harrier to cross the line in 2nd position heading the leading M50 Chris Upson (10.22), M50 Mark King (11.56), 2nd M60 Eddie Carr (12.11), Paula McCabe (12.33), 2nd place U20 lady Eilidh Kennedy (12.34), Rachel Wardrope (12.43), the leading 65 male and female athletes Sandy Eaglesham (13.36) and Erica Christie (13.41) and the first 2 M70 finishers Peter Ogden (14.03) and David Cooney (14.41). Lastly the Babcock Shettleston 10K also attracted 11 Cambuslang participants. Andrew Carey was 3rd male in the excellent time of 32.33 which was just outside his pb. However, U17 Millie Nicholl (35.48) stole the limelight when setting a pb and recording the fastest time this year for her age group by a Scottish or UK athlete and with support from Lesley Blackwood (38.30) and debutant Georgia Freeman-Mills (42.16) the Cambuslang ladies captured the 2nd team prize. The Cambuslang M50 trio of Mark Gallacher, Chris Upson and Mark King had a close tussle for the M50 individual awards. In the end Mark Gallacher (35.55) prevailed over Chris by 4 seconds with M45 Justin Carter (36.02) just edging out Mark King by 3 seconds. Millie Nicholls' dad Iain (36.51) produced his 2nd fastest ever 10K time, Dave Thom's clocking of 39.46 put him into the 2nd M60 spot and Erica Christie (46.48) lifted the W60 award. There was a further bonus as her time put her to the top of the Scottish rankings for the W65 category.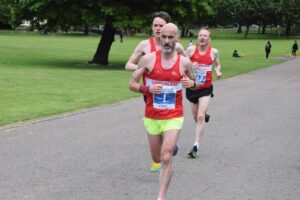 There have also been recent parkrun first places for Ian Hodge, Justin Carter, Chris Upson, Kerry-Liam Wilson, Gordon Robertson, Richard Cooper, Iain McDonald and new member Georgia Freeman-Mills along with 2nd and 3rd placings for Ryan Donnelly and Kevin Newberry.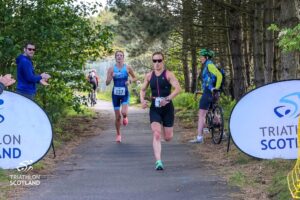 Kirsty O'Brien began her Aquathlon/Duathlon/Triathlon season by capturing the Scottish Aquathlon Championship Gold for her W35-39 age group. She should be a regular podium finisher throughout the summer if previous seasons are anything to go by.
David Cooney
Join Cambuslang Harriers
Interested in joining one of Scotland's premier road and cross country running clubs as a member or a volunteer? We cater for runners of all abilities and offer regular training sessions based from our clubhouse in Cambuslang, we also have regular training on the track at the John Wright Sport Centre in East Kilbride, why not come along and join us?


All Content Copyright © 2007-2022, Cambuslang Harriers I Site design by No Lesser Panda