News Archive
Explore our archive of old news articles, click on one of the years below to see all the articles from that year.
Who are Cambuslang Harriers?
Cambuslang Harriers, since its formation in 1948, has become one of the premier cross country and road running clubs across all age groups in Scotland. We also have a very talented girls and ladies group who now regularly win major team honours.


ANOTHER VERY SUCCESSFUL WEEK FOR CAMBUSLANG HARRIERS ATHLETES
Members of Cambuslang Harriers enjoyed considerable success in track, road, hill and triathlon competitions at the weekend.
Ryan Thomson made a significant breakthrough when clocking 13.54.74 for the 5000M in the premier heat of the British Milers Club Grand Prix at Watford. His pb at the beginning of the year stood at 14.18 which he reduced to 14.11 and 14.01 in his 2 opening races of this season. Going into the Watford event on Friday Ryan was confident he could break the magic 14 minutes barrier if the conditions were right. The wind had fortunately eased by the time of his race and with a very competitive field around him he comfortably achieved his aim. The quality of the field can be gauged by the fact that the first 13 out of 22 finishers were all under 14 minutes. Ryan is now sitting in 4th place in the Scottish rankings for this distance. Having set Czech Republic Native Records for the half marathon and 10000M already this year Moira Stewart stepped down to the shorter 1500M and 3000M events to work on her speed. She won both events at the same meeting with times of 4.37.19 and 9.34.62. Closer to home several Cambuslang Harriers set pbs when representing their respective schools at the Scottish Secondary Schools Championships. Sam McCarthy and Jonathan Dow finished 4th and 5th in in the Boys B Group 3000M final setting pbs of 9.42.04 and 9.46.05. Chris Black reduced his 800M pb to 2.14.40 and Sam lowered his to 2.18.28 in their separate heats while Olivia McNicol's time of 5.20.25 in her Group C 1500M heat was 14 seconds inside her previous best. Jonathan Dow rounded off a busy day by contesting the 1500M steeple chase event and recorded a useful debut time of 5.06.88. The young athletes are to be congratulated for their consistent application in training and their parents and coaches also deserve praise for the constant encouragement and support given by them.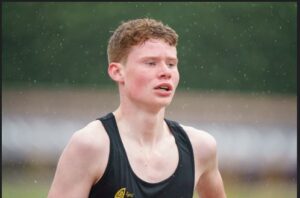 The Roon the Toon 10K event hosted the Scottish Road Championships for the first time and Cambuslang were well represented with 22 red and white finishers. While the senior men were expected to challenge for the team medals there was no such pressure on the ladies. However, recent 2nd team prizes in 2 of the Babcock 10K Races suggested that the ladies might be outside contenders and this proved to be the case. Impressive personal best performances from Eve Mackinnon (35.41), Lesley Blackwood (37.49) and W40 Nathalie Brohan (40.43) gave the ladies the bronze medals behind Fife AC and Giffnock North.
Eve had the additional bonus of capturing the ladies individual bronze medal. Now settled in her career as a lawyer she, under the guidance of coach Mike Johnston, is now fulfilling the promise she showed as an U17/20 athlete. Both Lesley and Nathalie, who are both new to the club, are reaping the benefits of participating regularly in club training sessions.
Mike Christoforou continued his good form to take the individual bronze medal with a personal best time of 30.17 and led 5th placed Fraser Stewart, also with a pb of 30.33, and Kevan Harvey (21st in 31.46) to team silver. The national men's team spoils turned out to be a Lanarkshire affair as Shettleston Harriers took gold and East Kilbride AC bronze. Well done to East Kilbride who medalled for the first time in this national team championship. It was good to see Kevan competing again after a lengthy injury spell. Andrew Carey provided close backup for the team when finishing 3 places behind Kevan with a pb of 32.05. Gordon Robertson (32.40) displayed his consistency when lifting the M40 silver medal followed home by Iain McDonald (33.48) who broke 34 minutes for the first time. His parkrun victory at Tollcross the day before had clearly not hindered him. Owen Walpole (34.43) was only 21 seconds outside his pb. Mark Gallacher (35.39) for the 2nd weekend in a row outsprinted M45 Justin Carter with his customary final kick to secure the M50 bronze award. Club captain Richie Carr who has been hampered with an achilles problem for a few months dipped under 36 minutes by 8 seconds. James Smith (36.52) and M45 Iain Nicholl (37.01) were on either side of the 37 minutes mark with M55 Kevin Newberry after a long absence setting a new comeback pb of 37.06. Club secretary Dave Thom (39.44) was unfortunate to lose out on the M60 bronze medal over the last 300 metres. Georgia Freeman-Mills (44.37) and Sarah Simpson (45.09) crossed the line just ahead of the closely bunched trio of coach Iain Crawford, Paula McCabe and W60 bronze medallist Erica Christie who were also sub 46 minutes.
Cambuslang men have the distinction of being the most successful club in the history of the 10K event from 1996 to 2022 with 7 gold medals, 6 silver and 4 bronze. While Shettleston have also 17 medals, they are ranked 2nd as Cambuslang have one more gold medal than them. Cambuslang ladies now proudly appear for the first time in the Team Medal Table from 2003 to 2022.
Elsewhere on the roads W40 Jacqueline Etherington who has not raced since late October on account of injury appeared to have made a good come back in the Blaydon Races event in the North East of England in which she averaged 4.00 minutes per kilometer for the 5.9 miles run. Unfortunately she felt a calf twinge after her run which will delay her full recovery. In addition to Iain McDonald's parkrun win there were also first places for Carole Setchell and Richard Cooper along with a 3rd spot for coach Lynn Angely.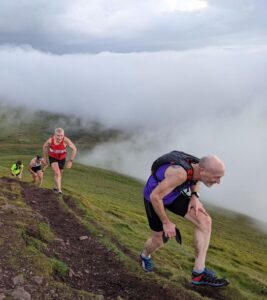 Moving onto the hills the ubiquitous Chris Upson finished first M55 in the Red Moss Kips Race at Balerno while M60 Colin Donnelly was an impressive 6th overall in the East Lothian Traprain Law Race.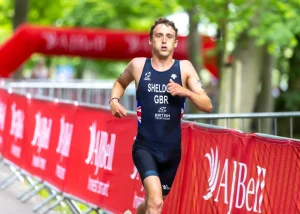 Grant Sheldon received the welcome news that he has been selected to represent Scotland for the third time in the Commonwealth Games Triathlon Event. Although he has competed in a GB vest on numerous occasions, he feels that there is nothing quite like pulling on the Scottish vest in International Competitions. As part of his preparation for the Games he was competing for GB in the Individual World Triathlon Championship Series Leeds in which he survived a scrappy race. His fellow teammates the current Olympic silver medallist Alex Yee and Jonny Brownlee, a former gold, silver and bronze Olympian medallist, crashed out of the race during the bike stage and were unable to participate in the following day's Mixed Relay. Tom Bishop and Grant were then called in as late replacements so that GB could form a team alongside Sophie Coldwell and Georgia Taylor-Brown. The rescheduled GB team rose to the challenge on home soil and with Grant playing his part the quartet secured a brilliant silver medal. On the domestic scene Kirsty O'Brien and Deborah Comer respectively finished first lady overall and first super vet lady in the Lochore Meadows Sprint Triathlon.
David Cooney
Join Cambuslang Harriers
Interested in joining one of Scotland's premier road and cross country running clubs as a member or a volunteer? We cater for runners of all abilities and offer regular training sessions based from our clubhouse in Cambuslang, we also have regular training on the track at the John Wright Sport Centre in East Kilbride, why not come along and join us?


All Content Copyright © 2007-2023, Cambuslang Harriers I Site design by No Lesser Panda