News Archive
Explore our archive of old news articles, click on one of the years below to see all the articles from that year.
Who are Cambuslang Harriers?
Cambuslang Harriers, since its formation in 1948, has become one of the premier cross country and road running clubs across all age groups in Scotland. We also have a very talented girls and ladies group who now regularly win major team honours.


CAMBUSLANG ATHLETES TO THE FORE IN MULTIPLE COMPETITIONS
Members of Cambuslang Harriers have been involved in various track, road, hill and triathlon events in Scotland, England and Japan including Scottish representation for track runner Ryan Thomson and hill runner Kieran Cooper and GB representation for triathlete Grant Sheldon. This was a well-deserved honour for all 3 athletes and their families.
Although Ryan has previously represented Scotland on the country this was his first Scottish vest on the track. He had been selected in 2017 for the 3000M at the Loughborough International but unfortunately he had to call off due to injury. However, his silver medal and pb performance of 8.04.29 in February's Scottish 3000M Indoors Championship paved the way for Scottish track selection at the same distance and race meeting. In a fast and competitive race he justified his selection by taking 3rd spot in the international competition to earn valuable points for Scotland.
The Monument Mile Track Races at Stirling proved to be a happy hunting ground for the 14 Cambuslang participants with most athletes leaving the meeting with a personal best mile/1500M equivalent time or making an impressive debut at this iconic distance. All participating competitors were seeded on the basis of previous and predicted times. An indication of the popularity of this meeting can be seen as the Central AC organisers put on 29 heats. Chris McLew, who only had his first track outing midweek at Trafford (3.54.89) after injury and university exams, recorded the fastest time by a Cambuslang athlete. His 4.14.01 was a personal best. Under 20 runners Aaron Grew and Lewis Roddis made serious inroads into their previous best times as they battled towards the line. Aaron's 4.26.51 was sufficient to pip the fast finishing Lewis by a mere .04 of a second.
Owen Walpole (4.34.72) took another step forward to full fitness. Under 17 athletes Jonathan Dow and Sam McCarthy, albeit in different heats, brought their pbs down to 4.46.70 and 4.53.27. M50 Mark Gallacher's excellent run of 4.55.61 put him into 3rd place in the Scottish All Time Fastest Performances for his age category. A trio of female athletes maintained the high levels of performance set by the men. Eve MacKinnon in her first track outing for 5 years achieved a pb of 5.04. 34, Lesley Blackwood made an impressive track debut of 4.17.67 and U15 Oliva McNicol's 5.40.83 effort was a massive improvement of 16 seconds.
M60 Dave Thom and M50 Iain Crawford produced pbs of 5.43.98 and 6.06.51. U15 Emma Ritchie and U23 Rachel Wardrope came home from the meeting with pbs of 6.07.03 and 6.07.95. There was also a welcome West District 5000M silver medal for Stuart Gibson who has been injured for much of the year. Gavin Smith is now back home for the summer having completed his year at the American International College in Springfield Massachusetts. In spite of a period of injury he has returned with personal best times of 1.54.19 and 4.06.21 for the 800M and one mile distances.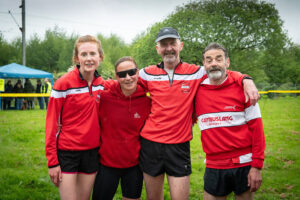 The Harriers continued their good form on the roads in the Dumbarton 10K which also incorporated the West District Road Championships. Pride of place goes to Lesley Blackwood who was runner up in the open race and in the West Championship event. There was further icing on the cake when she led Nathalie Brohan and Kirsty O'Brien to 2nd team position while Erica Christie was the leading W60. M40 Stuart McGeachy and Ian Hodge put in sub 35 minutes performances, Jonathan Dow, with a promising debut time of 35.22 at this distance, was the first U20 home. M50 Chris Upson, M60 Dave Thom and M60 Frank Hurley finished 3rd, 2nd and 5th in their age groups.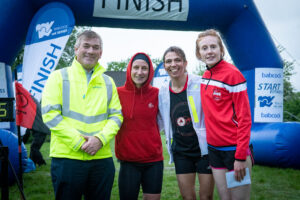 The club has had a number of first place finishers in recent parkruns across Scotland courtesy of Iain McDonald, Richard Cooper, Justin Carter, Chris Upson, Kerry-Liam Wilson, James Smith, Charlie Thomson, Sam McCarthy and Millie Nicholl. Millie broke the U17 age group record at Strathclyde Park when setting a pb of 17.34 on Saturday which was the 5th fastest time recorded that day in a UK parkrun by any female athlete. Several younger athletes such as Chris Black, Ewan and Eilidh Kennedy and Olivia McNichol also produced pbs. Not to be outdone by them new members Gerry Duddy and Kathmar Dow reaped the benefit of their regular club training sessions to also lower their times.
U23 Kieran Cooper gained selection for Scotland in the Home international Up and Down 18KM Hill Event at Alva which involved 970 metres of ascent and descent. He acquitted himself well in his first international competition to finish one place behind Scotland's 4th placed senior man. The Scottish men's team took the silver medals as did the women's team. Chris Upson showed his versatility for running on any surface to take the M50 prize in the Goatfell Race on the island of Arran.
Grant Sheldon who is currently based in the South of France was competing for GB in the opening World Triathlon Series in Yokohama, Japan. Unfortunately his very late arrival in Japan due to a delay in receiving his passport meant he only arrived just over one day before the competition. The lengthy flight and the 8 hour time difference meant that he was jet lagged and running on empty in the humid conditions. As soon as Grant hit the water in the opening swim event he quickly realised that there was nothing there. However, rather than retiring from the competition he battled on gamely to complete all 3 disciplines. Naturally he was disappointed and frustrated as his training in the Pyrenees had been going well beforehand.
David Cooney
Join Cambuslang Harriers
Interested in joining one of Scotland's premier road and cross country running clubs as a member or a volunteer? We cater for runners of all abilities and offer regular training sessions based from our clubhouse in Cambuslang, we also have regular training on the track at the John Wright Sport Centre in East Kilbride, why not come along and join us?


All Content Copyright © 2007-2022, Cambuslang Harriers I Site design by No Lesser Panda