News Archive
Explore our archive of old news articles, click on one of the years below to see all the articles from that year.
Who are Cambuslang Harriers?
Cambuslang Harriers, since its formation in 1948, has become one of the premier cross country and road running clubs across all age groups in Scotland. We also have a very talented girls and ladies group who now regularly win major team honours.


CLUB WITH NO TRACK BREAK THE 11 YEARS OLD SCOTTISH SENIOR 800M TRACK RELAY RECORD
Unfortunately Cambuslang Harriers do not have a track in Cambuslang or Rutherglen and have to travel to either Crownpoint in Glasgow or to East Kilbride to fit in track sessions. However, this did not deter Chris McLew, Gavin Smith and Jamie MacKinnon from breaking the 11 years old Scottish Senior 3 x 800M Relay Record held by a Giffnock North team which included the current European silver medallist Neil Gourley. The Cambuslang trio knocked over 2 seconds from the previous national record and over 13 seconds from the existing club record set in 1997 by Graeme Ferguson, David MacRae and Kevin Downie. On that occasion the club lifted the bronze medals. Coach Mike Johnston was involved with both Cambuslang teams. Both M35 Stuart Gibson and U17 Sam McCarthy had a close tussle over 3000M at the Ayr Open Graded Meeting. In the sprint to the finishing line Sam overtook Stuart to pip him by one second. Sam's time of 9.20.87 was a pb by 6 seconds. 6 Cambuslang athletes lined up in their respective 1500M heats at the Livingston Open Graded Meeting and all came away with personal bests. Gavin Smith clocked a superb pb time of 3.44.55 for 2nd place in the premier heat. In the 2nd heat Callum Tharme reduced his pb by 9 seconds to take his time down to 3.57.60 and U20 Lewis Roddis can now boast a pb of 4.06.33 having taken 6 seconds off his pb. The biggest improvement of all came from U17 Chris Black whose 4.21.08 clocking removed 32 seconds from his previous time. U15 Daibhidh Kinnaird finished a stride behind Chris taking 6 seconds off his pb. U20 Zak Povey (4.28.59) who has had a difficult season due to injuries showed that he is on the road to recovery with a 23 seconds time improvement. The U20 and U17 athletes have been training consistently under the watchful eye of coach Colin Stephen and U15 David is being guided by coach Iain Reid.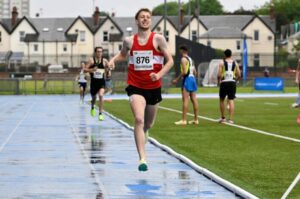 A number of Cambuslang athletes featured in road races in June. The club captured the senior men 2nd team prize in the Loch Lomond 10K thanks to 3rd placed Stuart Gibson, Gerard Higgins and James Smith while M50 John Henderson was 5th in his age category. In the following day's Roon the Toon 10K at Kilmarnock Eve MacKinnon was runner up in the senior ladies competition and Sandy Eaglesham 12th M70. In the Glasgow Women's 10K Kathryn King was delighted with her 9th place from a large race entry. In the men's event Chris Upson was the first M50 to cross the line as well as being the first club athlete home. He was followed by Philip Burns, coach Dale Woods, Iain McLachlan, Alan Anderson, and Iain Kinnear. Alasdair Campbell broke the course record for the Drumchapel Parkrun to add to the recent records he set at the Levengrove and Mount Stuart Parkruns. Kieran Cooper and his dad Richard took first and second in the Eglinton Parkrun and Kerry-Liam Wilson, Mark King and Iain McDonald were first finishers at Girvan, Linwood and Tollcross. There were 3rd spots too for Kevin Farmer, Justin Carter and Carole Setchell in their respective parkruns. M65 Paul Thompson returned to competition after a lengthy injury while on holiday in Brazil. He won the M60 category in the Rio Half Marathon in iconic scenery. The race started at sunrise over Ipanema Beach before continuing down the side of Copacabana Beach for the first few miles. Paul's wife Jan who opted for the marathon fulfilled her ambition of completing a marathon in each of the 7 continents. Also on the road scene Scottish Half Marathon Champion Fraser Stewart has been chosen to represent Scotland in the forthcoming Antrim Half Marathon Race.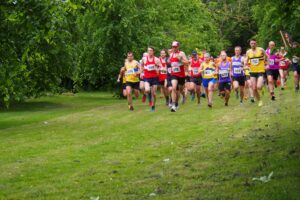 Cambuslang athletes were well represented at the Calderglen Trail Race in East Kilbride. Individual race prizes in the 10K event were won by 2nd placed female Lesley Blackwood, leading W40 Kirsty O'Brien and first placed W60 Erica Christie with Catriona Bain in 6th spot overall. Steven Fitzpatrick was runner up in the men's race and with the support of the first M50 Justin Carter and newly turned M40 Andrew Anderson the men lifted the team prize. Tom Adams and the M60 winner Dave Thom were not too far behind Andrew. M45 Mark Gallacher then led home John Henderson, Dan O'Connell, Alan Anderson, Iain Crawford and Chris Paton. M70 Sandy Eaglesham was the first in his age category. Chris's highlight of the evening was to have watched his grandson Fraser sprint to victory in the toddler dash. Zack Haggerty was the 3rd finisher and first U20 in the 5K event. Eve Campbell, Aiden O'Connell and Sophie Ewart all gained useful racing experience in the U12 3K event.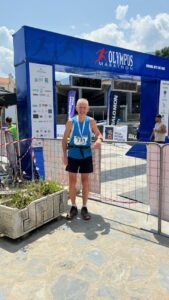 Cambuslang athletes took to the hills in Scotland, France and Greece. M50 Justin Carter was the leading master overall at Turnhouse as was M60 Colin Donnelly in the Eildon Hill Race. Colin belied his age in that race to finish 2nd overall with Chris McCarron well placed in 11th spot. Colin also finished runner up in the Yetholm Hill Race which as expected made him the first M60 athlete. Club captain Richie Carr, Andrew Blain, M40 Iain Nicholl, M40 Chris Campbell and M40 Iain McNair participated in the gruelling 43K Lairig Ghru Race which follows the old drove road between the police stations of Braemar and Aviemore. The event which covers 835M of ascent was won last year by Cambuslang's Fraser Stewart. In spite of inclement weather the 5 stuck to their task and completed the course. Richie returned a time of 4 hours and 21 minutes, Andrew 4 hours and 35 minutes, Iain Nicholl 4 hours and 47 minutes with both Chris and Ian McNair clocking 5 hours and 20 minutes. Iain MacCorquodale displayed excellent uphill running stamina to pick up the M40 prize for completing the 2.3 miles and 1,000M vertical ascent of Mount Blanc in a time of 46minutes and 59 seconds. Iain's race however could be classified as a sprint compared to Chris Upson's epic Mount Olympus Marathon which covers 44K and 3,200M ascent. Chris confirmed his superb stamina prowess to secure the M60 award with his time of 7 hours 4 minutes and 12 seconds. Thankfully there was no parkrun for Chris to do the next day! Alasdair Campbell was rewarded for his current hill running form by being chosen to represent Scotland for the first time in the forthcoming Snowden International Mountain Race. Cambuslang athletes Colin Donnelly and Neil Wilkinson are former winners of the event.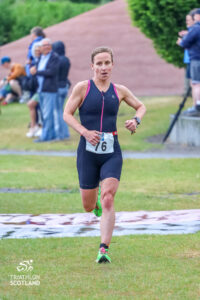 Kirsty O'Brien kicked off her triathlon season in fine form when she achieved the W40 gold medal and the overall bronze medal in the Scottish National Sprint Distance Triathlon Championships. Kirsty is heading to Hamburg in July to take part in the Sprint Distance Triathlon World Championships.
David Cooney
and finally…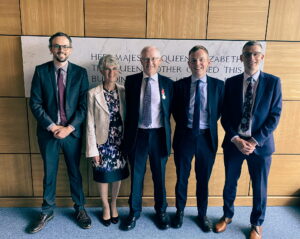 Ex President and member for 52 years David Cooney received his British Empire Medal (awarded in the New Year Honours list) on Monday at the County Buildings in Hamilton, he was presented with his medal by Lady Haughey, the Lord Lieutenant of Lanarkshire. He was accompanied by his wife Anne and sons Graham, Alan and Stuart. Congratulations again from all at the club you have served so well!
Join Cambuslang Harriers
Interested in joining one of Scotland's premier road and cross country running clubs as a member or a volunteer? We cater for runners of all abilities and offer regular training sessions based from our clubhouse in Cambuslang, we also have regular training on the track at the John Wright Sport Centre in East Kilbride, why not come along and join us?


All Content Copyright © 2007-2023, Cambuslang Harriers I Site design by No Lesser Panda