News Archive
Explore our archive of old news articles, click on one of the years below to see all the articles from that year.
Who are Cambuslang Harriers?
Cambuslang Harriers, since its formation in 1948, has become one of the premier cross country and road running clubs across all age groups in Scotland. We also have a very talented girls and ladies group who now regularly win major team honours.


ROAD, TRACK, HILL AND TRAIL UPDATES
Members of Cambuslang Harriers have been active in road, track, hill and trail competitions mainly in Scotland but also as far afield as England, France and the USA.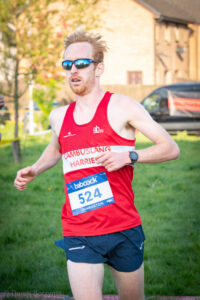 Kevan Harvey and Stuart Gibson were 2nd and 4th at the Land of Burns 10K. The following evening in the final Babcock 10K at Dumbarton Ryan Thomson finished runner up and Lesley Blackwood filled the 3rd senior lady spot. M60 Dave Thom and W60 Erica Christie won their age categories and Brian Douglas was 3rd in the M50 age group. There were good performances too from Steven Fitzpatrick, Dougie Gillon, Kevin Farmer, Des Dickson, Rachel Wardrope and Paula McCabe. U20 Jonathan Dow secured the club's 3rd individual runner up slot in the Stornoway 10K and Catriona Bain made it 4 when setting a 98 seconds pb in the Mull of Kintyre 10K. In the same race M40 Stuart McGeachy running on home territory took overall first place. Campbelltown residents Jennifer Campbell and husband Kenny picked up the W50 and 2nd M40 awards. Hannah Addison flew out to Boulder Colorado for a spell of altitude training. During her acclimatization period for training at over 5,000 feet above sea level she took part in the Boulder 10K race.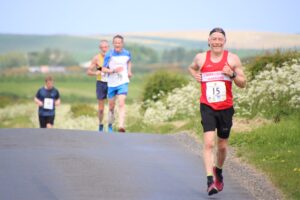 A half marathon was staged in conjunction with the Mull of Kintyre 10K. The club was represented by 2nd placed Andrew Anderson, Iain Crawford, Mark Williamson and Richard Cooper. Likewise, the Stornoway Half Marathon was incorporated into the 10K and Jonathan's father and mother Colin and Kathmar had to contend with strong winds and rain while Central Scotland soaked up the sunshine. Edinburgh also offered a choice of events the same weekend. Andrew Carey opted for the half marathon and was rewarded with a 50 seconds personal best time while Mark Gallacher and Gerard Higgins both achieved their target of breaking the 3 hours barrier in the full marathon.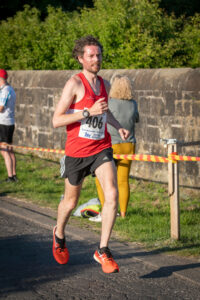 The focus the following week for the club's road runners was the Brian Goodwin 10K. Colin Reilly continued his rich vein of form to clinch a well deserved victory. There were also age group awards for M60 Dave Thom and M70 Sandy Eaglesham and 3rd spots for M40 Stuart McGeachy and M60 Des Dickson. PB times by Andrew Anderson and Tom Adams allowed them to come in between Stuart and Dave. Then came Iain Nicholl, James Smith, Callum Wright and Georgia Freeman-Mills who was delighted to break 40 minutes for the first time. She was followed home by Kirsty Wright and Andrew Blain who also set a pb and shared the same time as Des. Next to complete the course were Gary Miller, David Scott, John Henderson, Julie Reid, Chris Paton, Sandy and Chris Campbell.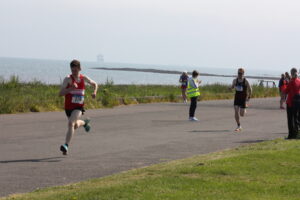 Attention then turned 2 days later to the One Mile Road Race staged alongside the River Forth in Edinburgh. In the open race U20 Lewis Roddis ran superbly to take 2nd place in a time of 4.26 which equates to his track pb. The event also included the BMAF Championships in which Cambuslang was well represented. Jacqueline Etherington (5.31) was the top Cambuslang performer as she lifted the W40 gold medal. Erica Christie (7.06) also showed a good turn of speed to collect the W65 silver medal. Other times recorded by club members were 5.13 for M60 Dave Thom, 5.19 for M40 Gary Lyon, 5.30 for M60 Des Dickson, 6.10 for M55 Iain Crawford and 6.58 for W50 Jacqueline McLew in her first race after a lengthy period of injury.
The Glasgow BMC 800 and 3000M Races were held at Crown point Stadium on the same evening as the Brian Goodwin 10K. Athletes including our own were able to make the most of the calm albeit warm conditions to record numerous personal best times. Chris McLew set a pb of 1.51.47 in a very fast A 800M race. Jonathan Dow, still U17 on the track (2.15.70), pulled U15 Euan Reid through to a pb of 2.17.47. In the A 3000M event both Gavin Smith (8.11.90) and Jamie MacKinnon (8.16.41) significantly lowered their previous best times by 13 and 16 seconds respectively. Callum Tharme (8.17.25) achieved an outdoor pb. U20 Lewis Roddis, who had run one other race at this distance and that was as far back as 2018, comfortably broke the 9 minutes barrier (8.50.16) to improve on his earlier time by a massive 93 seconds. U17 athletes Sam McCarthy and Chris Black also set pbs of 9.25.14 and 9.31.39. Both Eve MacKinnon (9.56.68) and Chris Upson (10.01.49) had good solid workouts which will sharpen them up for the longer events to come. Cambuslang athletes Fraser Stewart and Kevan Harvey, acting as pace makers, played their part in helping competitors to achieve pbs. Elsewhere in Manchester Cameron Smith carved 15 seconds off his previous 5000M time to register the excellent time of 14.17.58.
Moira Stewart had the honour of representing the Czech Republic in the Women's European 10000M A Cup Final held in France. She demonstrated that she is getting back to full fitness after a period of injury during the winter to finish in 10th place out of 27 starters and to clock her 2nd fastest time of 32.54.86 over this distance. Her time is all the more impressive considering she had produced a sub 2 hours and 32 minutes marathon only 4 weeks previously.
Cambuslang athletes were also involved in the midweek Kilpatrick Hill Race in which Alasdair Campbell took the overall honours, Justin Carter the M50 award and Iain MacCorquodale the 2nd M40 spot. Iain Murphy was also well placed. M70 Peter Ogden while caravan holidaying in the area took part in the Saughhill Race at Girvan. Incidentally Iain MacCorquodale holds the record which he set in 2018. Not content with one race at the weekend Chris Upson and John Henderson along with Kevin Farmer lined up for the Milngavie Trail Race. Chris showed no signs of tiredness as he took the M50 award. Kevin finished 7th senior and John 11th M40.
David Cooney
Join Cambuslang Harriers
Interested in joining one of Scotland's premier road and cross country running clubs as a member or a volunteer? We cater for runners of all abilities and offer regular training sessions based from our clubhouse in Cambuslang, we also have regular training on the track at the John Wright Sport Centre in East Kilbride, why not come along and join us?


All Content Copyright © 2007-2023, Cambuslang Harriers I Site design by No Lesser Panda