News Archive
Explore our archive of old news articles, click on one of the years below to see all the articles from that year.
Who are Cambuslang Harriers?
Cambuslang Harriers, since its formation in 1948, has become one of the premier cross country and road running clubs across all age groups in Scotland. We also have a very talented girls and ladies group who now regularly win major team honours.


CAMBUSLANG HARRIERS SENIOR LADIES CONTEST THE ENGLISH 6 STAGE ROAD RELAYS FOR THE FIRST TIME
Cambuslang Harriers male and female senior teams made a spectacular start to the month of April when medalling in the 59th Tom Scott Memorial Road Race which also incorporated the Scottish 10 miles Road Championships. Fraser Stewart, Mike Christoforou and Ryan Thomson in 2nd, 4th and 6th positions were comfortable winners ahead of a strong Moray Road Runners team while Lesley Blackwood, Nathalie Brohan and Kirsty O'Brien pipped Giffnock AC on countback for the bronze medals. Fraser had a ding dong battle throughout the 10 mile race with Central AC's Hamish Hickey. There had been a similar tussle 2 weeks earlier in the Scottish Half Marathon Championships which ended in a victory for the Cambuslang athlete as Hamish dropped back to the bronze medal spot. However, over the shorter distance the Central AC runner managed to open up a decisive 3 seconds gap over the last half mile. Both athletes were rewarded with Scottish A Standard personal best times of 49.10 and 49.13. Mike and Ryan's pb times of 50.15 and 50.53 were inside the Scottish B Standard. There were also pbs for Lesley and Nathalie with Kirsty not far off her pb. All 3 were delighted with their well deserved national team medals. Mark Gallacher, Colin Feechan and Erica Christie also acquitted themselves well to be awarded the gold medals in their respective M50, M60 and W60 age categories and Mark had the added bonus of setting a pb having broken 60 minutes for the first time by 58 seconds. The M50 silver medal went to Mark King who also set a sub 60 minutes pb. Stuart Gibson's time of 53.39 revealed that he is edging back to full fitness after his recent injury problems. Steven Fitzpatrick continued his progression with another pb and was followed home by club captain Richie Carr who also recorded a pb. Next in for the club were Iain Nicholl, new members Kevin Farmer and Callum Wright and David Scott. Both Kevin and Callum were also rewarded with pbs. Georgia Freeman Mills produced a plucky performance as she had come straight off a night shift to compete. In spite of being understandably tired she stuck to her task well and came away with a pb. Deborah Comer in her first race after illness came in just behind Georgia with Catriona Bain in close attention. Newcomer Mark Williamson was happy with his performance in his first 10 miles outing. Coach Iain Crawford who was only 4 seconds outside his pb just edged out Rachel Wardrope who like Catriona was making her debut at this distance. Paula McCabe rounded off the Cambuslang finishers.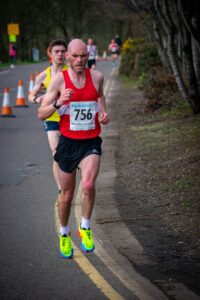 Over the same weekend Moira Stewart competed in her first half marathon of 2023 when finishing 7th in the excellent time of 72.41 in the Prague Half Marathon. Kenyan and Ethiopian athletes filled the first 6 places which is testimony to the high quality field assembled by the organiser. Both Cameron Smith and Craig Jardine also assisted their English clubs Notts AC and Abingdon AC in the Midlands and Southern Counties Road Relay Championships to qualify for the English Men's 12 Stage Road Relay Championships.
The opening race of the Scottish Hill Running Championship Series kicked off the same weekend with the Birnam Hill Race. In a quality field Kieran Cooper and Alasdair Campbell were highly placed in 2nd and 5th spots while Justin Carter was 4th in the M50 category and Colin Donnelly was well clear in his M60 age group.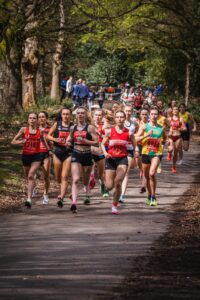 Two weeks later Eve MacKinnon, Hannah, Addison, Lesley Blackwood, Jennifer Etherington, Catriona Bain, Rachel Wardrope and coach and team manager Iain Crawford journeyed south to Birmingham to compete for the first time ever in the English 6 Stage Ladies Road Relays. It was very much an unknown but exciting adventure for the ladies as they prepared to test themselves against the cream of female English distance runners. Eve and Lesley were elected to run the 2 long stages which were conducted on laps 1 and 4. Eve ran well to hand over to Hannah in 14th place out of 35 starters. Hannah although running the fastest club short leg was pushed back into 17th position. Jacqueline took the club up to 16th spot which was maintained by Lesley. After the final 2 short legs run by Catriona and Rachel the ladies finished a very creditable 17th in such a high class field and the club can be proud of their efforts. UK events such as this not only help to foster team camaraderie but expose the athletes to a higher level of competition which in turn aids their development.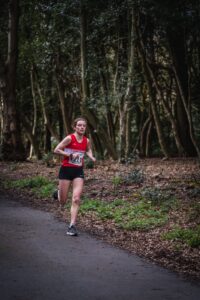 The following day the BMAF 10K Championships came to Scotland as part of the Grangemouth 10K Road Race. Team manager Colin Feechan's advanced promotion of the event had ensured a good representation from Cambuslang athletes. The masters event was open to athletes from the age of 35 upwards. While there were individual BMAF medals in 5 year age categories the team awards covered a 10 year age bracket. Cambuslang Harriers with 9 individual and 4 team awards came away with the biggest haul of medals from all participating clubs. In the M35-44 age group M35 individual bronze medallist Colin Reilly led Alistair Campbell and Kevin Farmer to team silver. New member Kevin was delighted to have secured his first ever BMAF medal. Gary Lyon was on hand to provide any necessary back up if required. The 3 M45-54 team counters were also awarded individual medals in their own age categories. Iain Reid, only 2 weeks after his fine 2.38 Paris Marathon run lifted the M45 silver and Justin Carter and Mark Gallacher achieved M50 silver and bronze medals. Both Kenny Campbell and Brian Douglas offered their close support. In the W45-54 event Bernie O'Neil and Erica Christie dropped down from their age groups to form a team with Jennifer Campbell which is perfectly permissible and encouraged by the BMAF to promote team competition. This move proved to be a rewarding one as Jennifer, Bernie and Erica gained silver in the team competition. Erica had the additional bonus of receiving the W60 gold medal. As in Cambuslang's M45-54 team the 3 M55-64 silver medallists were presented with individual awards. Chris Upson took the M55 bronze medal and Dave Thom and Colin Feechan were given the M60 silver and bronze awards. It was encouraging to see club secretary Dave returning to form after a quiet period due to injury. Club treasurer Colin displayed true grit and great club spirit in managing to finish the race as his hamstring went with 2K still to run. However, knowing that his services were required to complete the team he painfully struggled on to clinch the team silver. Frank Hurley in spite of a chronic knee problem showed what a competitor he is when acquiring the M70 individual silver medal. Nick Saunderson made his club debut in the open 10K and his time of 36.48 was not far off his pb.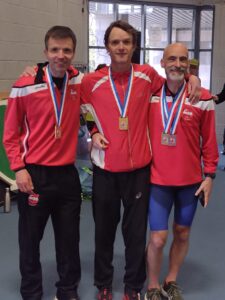 David Cooney
Join Cambuslang Harriers
Interested in joining one of Scotland's premier road and cross country running clubs as a member or a volunteer? We cater for runners of all abilities and offer regular training sessions based from our clubhouse in Cambuslang, we also have regular training on the track at the John Wright Sport Centre in East Kilbride, why not come along and join us?


All Content Copyright © 2007-2023, Cambuslang Harriers I Site design by No Lesser Panda