News Archive
Explore our archive of old news articles, click on one of the years below to see all the articles from that year.
Who are Cambuslang Harriers?
Cambuslang Harriers, since its formation in 1948, has become one of the premier cross country and road running clubs across all age groups in Scotland. We also have a very talented girls and ladies group who now regularly win major team honours.


A REWARDING MONTH FOR CAMBUSLANG HARRIERS
The month of March has been a fruitful one for Cambuslang Harriers. In the Scottish Young Athletes Road Races the U17 men equalled their national bronze medal cross country performance thanks to Zack Haggerty, Finlay Robb and Zach Seenan. Jonathan Dow who is working his way back to full fitness was only 15 seconds behind Finlay and Zach. New member Logan Morrison split his team mates Rory Barclay and Jack Gillon to help the U13 boys to 4th place in the team event. Logan Emmott-Sinclair and Flynn Osbourne also made their club debut in the same age group. The U15 trio of Daibhidh Kinnaird, Euan Reid and Lewis Cook were 7th team home while Angus O'Neil performed well in his first race. Olivia McNicol also had a good workout in the U15 girls race.
The M50 and senior men teams lifted gold and silver medals in the Scottish Road Relay Championships. The M50 quartet in running order of Brian Douglas, Justin Carter, Mark Gallacher and Stevie Wylie lived up to their pre race favourite tag to record an emphatic victory. Not surprisingly with Stevie and Justin clocking the 2 fastest long leg stages and Mark and Brian first and 4th quickest on the short legs a new M50 course record was set. The senior men team of Chris McLew, Mike Christoforou, Kevan Harvey, Ryan Thomson, Jamie MacKinnon and Gavin Smith had a good tussle throughout the 6 stages with Scottish Cross Country Champions Central AC and Glasgow University. By the end of the 5th leg the challenge from Glasgow University had wavered and Central AC was in pole position with Cambuslang 20 seconds behind. By the finish the positions remained the same. The Cambuslang senior men can be rightly proud to have given Central a very competitive race. Jamie was 2nd fastest overall on the short leg, Kevan joint 4th and Chris 8th while on the long stage Gavin, Mike and Ryan were 8th, 10th and 13th. Another pleasing aspect of the race was the return of Ryan after a 4 months absence due to a hip injury. Although the men's B team was not complete, U20 Lewis Roddis, Steven Fitzpatrick, Andrew Blain, Ian Hodge and Tom Adams acquitted themselves well. The M40 team with Gary Lyon, Kenny Campbell, Colin Feechan, Stuart McGeachy, Chris Campbell and Iain Nicholl in their line up was a creditable 4th. The W50 trio of Bernie O'Neil, Jennifer Campbell and Erica Christie also gave a good account of themselves in 5th spot as did the 7th placed senior ladies squad of Hannah Addison, Eve Mackinnon, Catriona Bain and Kirsty O'Brien. Eve had the satisfaction of claiming the joint 3rd fastest time on the long stage.
Several Cambuslang athletes competed in the Dumbarton 10 Miles Road Race which incorporated the West District Road Championships and came away with 3 individual awards. Justin Carter captured the M50 gold medal, Alasdair Campbell the senior silver and Andrew Carey the senior bronze. Both Alasdair and Andrew set new pbs of 51.42 and 52.27. Iain Hodge in a time of 58.09 made a good debut at this distance while M45 Iain Nicholl recorded his 2nd fastest time ever for 10 miles. On the same day Colin Reilly was a clear winner by 2 minutes in the Springburn 10K and M50 Mark King had the same margin of victory in his age group.
Under 15 Daibhidh represented the Scottish Schools in the Schools Cross Country International Event and was a counter for the Scottish team which finished runners up to England. Daibhidh has certainly made an impressive start in his first season of running.
The red and white vests of Cambuslang made a definite impression at the BMAF Cross Country Championships at Wallsend in the North East of England. Both M50 Stevie Wylie and M60 Colin Donnelly were well ahead of their nearest age group rivals and there were further individual medals for Chris Upson and Colin Feechan who took the M55 silver and M60 bronze medals. There was the added bonus of a team gold in the M55-64 category for the 2 Colins and Chris. Scott Hunter also made the long journey south to participate in the M45-54 race.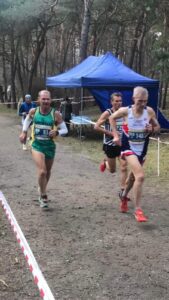 The ubiquitous Chris Upson flew the flag for Cambuslang Harriers at the World Masters Championships held in Poland. Chris made sure that he got his money's worth from his flight costs by competing in 4 events in 5 days. As a warm up for his first championship event he won the local parkrun in the lively time of 17.57. The following day in the M55 3000M indoors competition he finished 11th and incredibly set a pb of 9.48.69 only a few months short of his 60th birthday. The next day he lined up for the 8K cross country event and finished a very impressive 5th. Chris then had the luxury of a rest day from competition before tackling the 10K road race in which he was 7th with a time of 36.56.
David Cooney
Join Cambuslang Harriers
Interested in joining one of Scotland's premier road and cross country running clubs as a member or a volunteer? We cater for runners of all abilities and offer regular training sessions based from our clubhouse in Cambuslang, we also have regular training on the track at the John Wright Sport Centre in East Kilbride, why not come along and join us?


All Content Copyright © 2007-2023, Cambuslang Harriers I Site design by No Lesser Panda