News Archive
Explore our archive of old news articles, click on one of the years below to see all the articles from that year.
Who are Cambuslang Harriers?
Cambuslang Harriers, since its formation in 1948, has become one of the premier cross country and road running clubs across all age groups in Scotland. We also have a very talented girls and ladies group who now regularly win major team honours.


CAMBUSLANG HARRIERS HOST THEIR ANNUAL DOWN BY THE RIVER RACES
Cambuslang Harriers Down by the River 10K and 3K Road Race Races, staged entirely on the Clyde Walkway apart from the initial and final 200 metres, attracted 128 and 33 competitors respectively. The club is extremely grateful to our 10K sponsors namely achilles heel, our kit partner, Macdet Hygiene Services, a family company started up by former member Jim Fitzpatrick now sadly deceased and club member Barnie Gough and to our 3K sponsor City Building Engineering Services.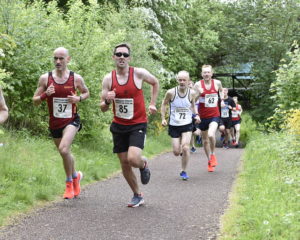 In the officially measured 10K race the hosts dominated the male prizes while the ladies prizes were more evenly spread out. Cambuslang took the first 3 race places in the men's event thus ensuring team victory. Fraser Stewart successfully defended his title to record an impressive time of 31.49 which broke his own course record by 41 seconds and secured him a bonus prize courtesy of Barnie Gough. Last year's 4th finisher Colin Reilly (32.46) was a comfortable runner up with club captain Iain Reid (33.07) in his first race since the London Marathon securing 3rd place 4 seconds ahead of fellow master athlete David Millar of Irvine AC. Iain received the 3rd individual award with David taking the M40 race prize. Cambuslang athletes also took the under20, M50 and M60 prizes thanks to Andrew Carey (34.50) with a massive pb, Mark King (37.33) and Des Dickson (39.53).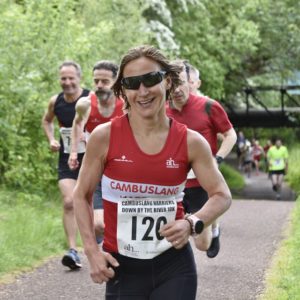 In the ladies event Mary McCutcheon of Giffnock North was first home in a time of 39.35 followed by Cambuslang's Kirsty O'Brien (42.02) and in 3rd spot was unattached runner Debbie Comer (42.25). The 4th lady to finish and recipient of the W50 prize was Bernie O'Neil (42.54) of the home club while Evelyn Struthers (43.08) of Hamilton Harriers was awarded the W40 prize and unattached Erica Christie (44.15) the W60 prize. Morgan Beaton of Calderglen Harriers lifted the under 20 ladies prize. Lesley McArdle, Cambuslang's 3rd female counter clinched team victory for the hosts. Both male and female race winners, Fraser and Mary, were presented with the Jimmy Sands Memorial Shields in honour of former member Jimmy who won a Paralympic gold medal in 1988. The inaugural Jim Fitzpatrick Masters Memorial Shields in honour of a former long standing member and patron of the club went to Iain Reid and Bernie O'Neil.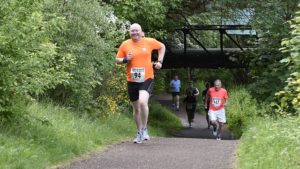 Cambuslang had further representation in this race with Shaun Butler in his first race for some time placing 7th followed home by Andrew Anderson, Ian McDonald, Paul Kernohan, a recuperating Brian Douglas, Mick O'Hagan, Graeme Gallie, Frank Hurley, Dan O'Connell, John Kelly, Paula McCabe, Sandy Eaglesham and Jim McLaughlin.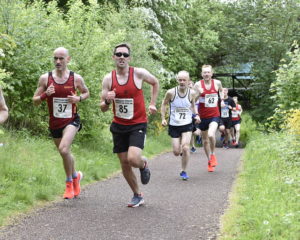 The 3K race was a predominantly young athletes' event which provided a number of young athletes their first race experience. Cambuslang Harriers supplied the first 3 male and the first 2 female finishers. U17 Aaron Grew crossed the line first in the new record time of 9.50 with U17 Robbie Woods 4 seconds adrift also inside the former course record while U20 Kai New finished 3rd in 10.16. U17 Niamh Riggins (11.26) had a close tussle with U15 West District 800m champion Abbie McLue but prevailed by 4 seconds with Garscube's Summer McDonald taking 3rd spot in a time of 11.36. U17 Cambuslang runners Zac Povey (10.45) and U11 Jamie McCarthy (11.23) finished 4th and 5th which was an incredible run from young Jamie. Next in line came U17 ladies Fiona Hay and Peggy Nan Rodgers who shared the same time of 12.05 followed followed by Brodie McDonald, Susie McLaughlin, Gavin Kelly, Reece Duncan, U11 Olivia McNicol, Chris Black, Lucy McGrandle, Eilidh Kennedy, Dylan Stefani, Holly Brock, Michael Black, Jay Gallagher, Francesca Fairweather, Rachel Wardrope, Freya Fairweather, Amy McGoldrick, M70 Billy Mitchell, Minnie Wood, Keira Gallagher, Ellen Wood and Stuart Sturgeon.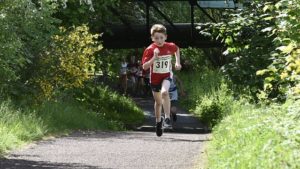 Special thanks are due to our members, parents and supporters who assisted in the pre race organisation and on the day itself and to Colin Stephen who vividly captured on camera both races.
https://www.flickr.com/photos/131646731@N07/albums/72157708726579404/page1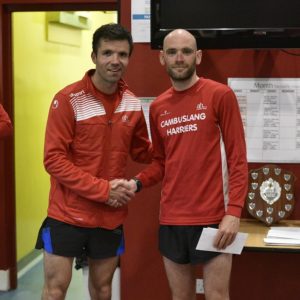 David Cooney
Join Cambuslang Harriers
Interested in joining one of Scotland's premier road and cross country running clubs as a member or a volunteer? We cater for runners of all abilities and offer regular training sessions based from our clubhouse in Cambuslang, we also have regular training on the track at the John Wright Sport Centre in East Kilbride, why not come along and join us?


All Content Copyright © 2007-2021, Cambuslang Harriers I Site design by No Lesser Panda