News Archive
Explore our archive of old news articles, click on one of the years below to see all the articles from that year.
Who are Cambuslang Harriers?
Cambuslang Harriers, since its formation in 1948, has become one of the premier cross country and road running clubs across all age groups in Scotland. We also have a very talented girls and ladies group who now regularly win major team honours.


Moira and Grant Raise the Bar over the Easter Weekend
Moira Stewart who in recent years has won individual silver and bronze senior ladies Scottish Cross Country Championship medals representing Cambuslang Harriers made a spectacular marathon debut on Easter Sunday in the Swiss Athletics Marathon at Belp. She finished 3rd lady clocking 2.29.39 which was tantalisingly only 9 seconds away from an automatic Olympic place in the Czech Republic team.
The race was staged by Swiss Athletics to help some of their athletes and a few non Swiss guests record an Olympic qualifying time. A small field of 18 men and 5 women including pacemakers set out on a flat but windy course although only 5 men and 4 women finished. The male and female Swiss contenders were well served by pacemakers. The winning male Adrian Lehmann of Switzerland clocked a pb of 2.12.34 having reached the halfway point in 65.50 along with 6 other athletes. The victorious lady Helen Tola Bekele of Ethiopia (2.24.57) passed halfway in the company of an Eritrean male runner in 71.21 while the second lady Fabienne Schlumpf of Switzerland set a national record of 2.26.14 having reached halfway in 73.11 along with 4 male athletes from Switzerland, Germany and Belgium.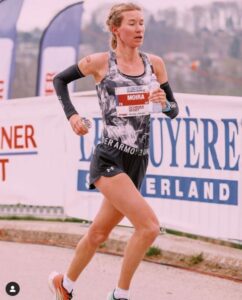 Moira had not been provided with any pacemakers but her younger brother Gerron who is primarily an 800/1,500M runner had planned to accompany her to the 25-30K mark. However, given that Moira was totally isolated in the small field he stayed with her until 40K before having to let her go. At the halfway point reached in 74.06 she was on schedule for an Olympic qualifying time but unfortunately experienced a sticky spell in the latter stages to just miss out on the required automatic qualifying time by 9 seconds. Nevertheless, it was a marvellous marathon debut by Moira with Stephanie Davis being the only Scottish and UK athlete to have bettered her time this year. Indeed, only 6 other Scottish ladies have run quicker.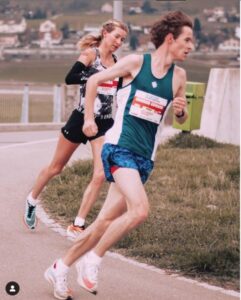 Moira's brother Gerron deserves praise too for his part in helping his sister. Going well beyond his distance comfort zone he completed the course in an excellent time of 2.30.05. However, their father Eddie still holds the family marathon record of 2.23.47 which he ran as a 39 year old and then 2.26.59 as a M40 athlete.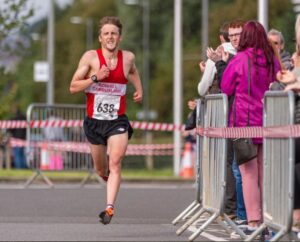 On the previous day Cambuslang Harrier Grant Sheldon was able to compete in the Podium 5K road race at Barrowfield near Burnley due to his status as an elite GB triathlete. Clubmate Ryan Thomson having met the qualifying time had also hoped to run but due to the current cross border restrictions was unable to do so. The 5K runners set off at a fast pace over the 5 lap road course and continued to maintain that speed. Grant ran his usual brave race sticking with the eventual first 2 runners until the 4K mark. Although then losing contact with the leaders he was still 3rd with 800m to go but had to settle for 7th being passed by 4 other athletes in the final run to the line. Such was the quality of the field that the first 10 athletes recorded sub 14 minutes with only 1 second separating the winner Tom Mortimer (13.39) and runner up Phil Sesseman (13.40). Although Grant had recorded another sub 14 minutes effort he was disappointed with his 13.55 stint which was 4 seconds slower than his personal best race time. A niggle in the weeks prior to the event had hindered his training somewhat and a future sub 13.50 clocking is a very much a real proposition. He was pleased, nevertheless, to be racing again and the 5K was a good workout for a planned European Cup Triathlete Event in Spain in a few weeks time.
David Cooney
Join Cambuslang Harriers
Interested in joining one of Scotland's premier road and cross country running clubs as a member or a volunteer? We cater for runners of all abilities and offer regular training sessions based from our clubhouse in Cambuslang, we also have regular training on the track at the John Wright Sport Centre in East Kilbride, why not come along and join us?


All Content Copyright © 2007-2023, Cambuslang Harriers I Site design by No Lesser Panda