News Archive
Explore our archive of old news articles, click on one of the years below to see all the articles from that year.
Who are Cambuslang Harriers?
Cambuslang Harriers, since its formation in 1948, has become one of the premier cross country and road running clubs across all age groups in Scotland. We also have a very talented girls and ladies group who now regularly win major team honours.


Cambuslang Harriers Under 13 and Under 15 Boys Teams win Gold and Bronze Medals at the Scottish Cross Country Championships
The weather and ground conditions for this year's Scottish Cross Country Championships held at Callendar Park in Falkirk were the most favourable in a number of years. As usual Cambuslang Harriers put in a strong performance in spite of some key individuals in the senior men and women, under 17 and under 20 men age groups not available due to injury or illness or in the case of Grant Sheldon, the Scottish 10K road and 5K track champion, understandably honing his final preparations in Scotland before flying out shortly to Australia to represent Scotland in the Triathlon at the Commonwealth Games.
Our under 13 boys team of Stewart Millard, Lewis Roddis, newcomer Ollie Chung and Fearghus MacGregor rose to the occasion and packed well to lift the national team title in their age group. Stuart 12th, Lewis 14th and Fearghus 44th , in spite of a fall, showed the progress they had made from last year when their respective finishing places in the under 13 category were 89th, 122nd and 69th. Their progress in the sport can be put down to their consistent training at the club under the watchful eye of their coaches along with the parental support given. Calum Murray, Richard Uyiosasere and Joseph Gallagher provide back up.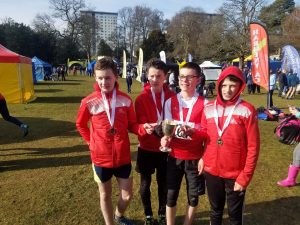 The under 15 boys quartet of Brodie Aitken, Michael Black, Aaron Grew and Joa Fairweather also combined well to finish in the bronze medal position. Again both Brodie and Michael showed significant improvement from last year advancing from 33rd position to 15th and from 89th to 26th. The club's next finishers in order were Zak Povey, Robbie Woods, Arlo van de Peer and Mark Cassidy.
Both the under 13 and under 15 girls put in creditable performances. Millie Nicholl led home Eva Ritchie, Abbie McLue and Eilidh Kennedy in the team event. At the time of writing this report the team positions are still being worked out due to a malfunction with the electronic race chip timing. Francesca Fairweather, Korin Weir Stuart, Morvern Crawford and Cara McDowall next crossed the line. The under 15 girls quartet of Niamh Riggins, Susie McLaughlin, Shona Carey and Peggy Nan Rodger finished 11th team. The club's other finishers were Maura MacKinnon and Chloe Burton.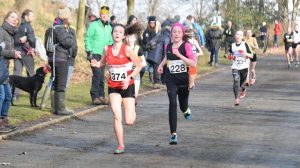 Amy Craig and Holly Brock finished in tandem in the under 17 girls event. In spite of a decimated under 17 boys team Cambuslang finished in 8th position thanks to Ruairidh MacGregor, Drew Pollock, Andrew Carey and Aidan Tittmar with Caolan Millard in support.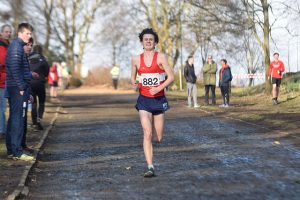 Likewise the under 20 men were thin on the ground on the day and did not have a team. However, Gavin Smith had an outstanding run to take 6th place in a highly competitive field while Eamon Carr in his first year in that age group put in a solid performance.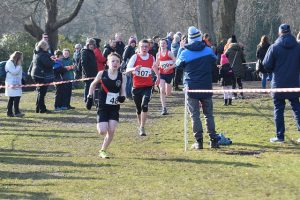 The senior women trio of Kirsty O'Brien, Jennifer Reid and Lesley McArdle acquitted themselves but the club was lacking a 4th runner to complete a team. However, Cambuslang finished 24 runners in the men's event. In spite of solid packing from Craig Jardine, Stuart Gibson, Kevan Harvey, Iain MacCorquodale, Fraser Stewart and Iain Reid, the club captain and first M40 in the race the sextet was pipped for team medals by Central Ac, Corstorphine AC and Shettleston Harriers. Nevertheless there were excellent debuts in this event from newcomers Kevan and Fraser. Alasdair Campbell, Colin Reilly and Justin Carter offered close support with a flood of red and white vests closing in the following order – Ritchie Carr, Michael Healy, Thomas McDonald, Iain Nicholl, Tony McCutcheon, Alick Walkinshaw, Mick O'Hagan, Des Dickson, Frank Hurley, Dan O'Connell, Scott Hunter, Willie Fairley, Ken McInnes, Eddie Carr and John Kelly.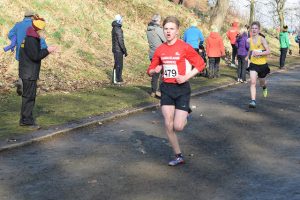 Well done to all our athletes and support team of coaches, officials, parents and friends. Colin Stephen again deserves credit for capturing our runners on camera and also to Alan Wylie and Willie MacRury who answered the call to act as race volunteers. A final vote of thanks goes to the Scottish Athletics officials and staff and to the members of Falkirk Victoria Harriers who again kindly hosted the championships.
David Cooney
Join Cambuslang Harriers
Interested in joining one of Scotland's premier road and cross country running clubs as a member or a volunteer? We cater for runners of all abilities and offer regular training sessions based from our clubhouse in Cambuslang, we also have regular training on the track at the John Wright Sport Centre in East Kilbride, why not come along and join us?


All Content Copyright © 2007-2021, Cambuslang Harriers I Site design by No Lesser Panda