News Archive
Explore our archive of old news articles, click on one of the years below to see all the articles from that year.
Who are Cambuslang Harriers?
Cambuslang Harriers, since its formation in 1948, has become one of the premier cross country and road running clubs across all age groups in Scotland. We also have a very talented girls and ladies group who now regularly win major team honours.


Young Ryan Stephen Starts The Ball Rolling At The Scottish Cross Country Championships For RONHILL Cambuslang Harriers
Ronhill Cambuslang Harriers enjoyed a successful day out at the Scottish Cross Country Championships at Falkirk on Saturday 22 February with an individual and team gold medal, team silver and an individual and 2 team bronze medals. In addition the club retained the AT Mays Trophy for the 3rd successive year which is awarded to the best overall male club across the 5 different age categories. The club has the proud record of having won this trophy on 19 occasions out of a possible 27.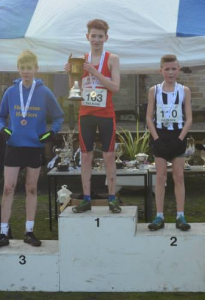 RHC could not have asked for a better start with under 13 Ryan Stephen winning the opening event. Ryan had been injured throughout October and November and only got back into his stride in January when he won the Antrim Cross Country Challenge event. He ran a well judged race at Falkirk to come though strongly to secure a comfortable winning margin. He had the double satisfaction of helping the club retain the under 13 team title and was ably supported by 19th placed Leodhais MacPherson, 20th placed Drew Pollock and Ruraidh MacGregor in 34th spot. Luke Reilly was not far behind Ruraidh and Keir Crawford and Aaron Lonie gained valuable experience in contesting their first national.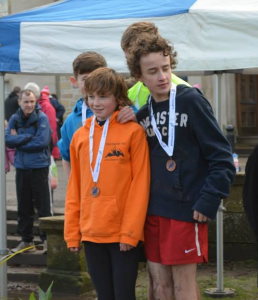 The under 15 boys surpassed themselves on the day to secure team bronze thanks to close packing from Struan Paton, Gavin Smith, Keir Morton and Joshua Boyle. There were only 14 seconds between all four counters and our next counter Gerron Stewart was only 9 seconds behind our 4th runner. Euan Miller also did well to finish within a minute of Gerron.
Our under 15 girls were represented by Olivia Mullholland in 54th place and Lauren Carey in 78th spot out of 118 finishers.
We had to complete a team of four in the under 17 boys' race to have a chance of retaining the AT Mays Trophy. Scott Sommerville, Jack MacGregor, Sean Reilly and Brendan Carey stuck to their task to finish 10th team.
Eve MacKinnon in the under 17 girls' race continued her good form to cross the line in 5th place and just missed out on an individual bronze medal.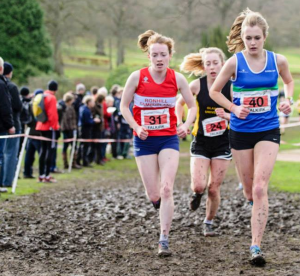 Both the under 20 men and women were defending their team titles from last year. Our ladies team of Katie Bristow 5th, Moira Stewart 9th and Mairi Brown 19th came the closest to doing so but had to be content with team silver. The gold medal eluded them by a mere 3 points.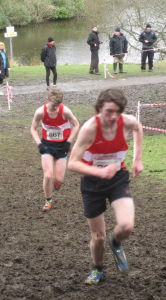 The under 20 men were less fortunate and finished outside the medals in 4th place. However, Ryan Thomson in his first year in this age group took individual bronze to emulate his under 17 bronze from last year. Ryan was followed home by Ross Stephen, 26th, Jacob Boyle, 31st and Liam Dale 32nd. The club's chances of a team medal were struck a fatal blow when world under 20 triathlete medallist, Grant Sheldon, was forced to drop out due to severe tummy cramp while lying a close 2nd.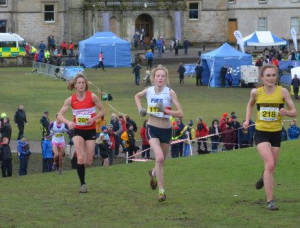 RHC fielded a senior women's team for the first time in this event and finished a creditable 10th in the team competition. In a highly competitive field of 248 runners Sarah Benson led the club home in 9th place with support coming from first year senior Alex Lamond 28th, international duathlete Kirsty Anderson 78th and international rower Caitie-Gorton Phillips 102nd. Sarah disappeared quickly after the race as she was rushing home to watch her husband Stuart on TV who was competing for GB in the 4 man bobsleigh event. The GB quartet narrowly missed out on the bronze medal in finishing 5th. However, this was the best Olympics performance by a GB team since 1998.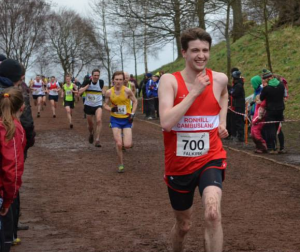 Attention now turned to the senior men in the final race of the day. The club had 3 key athletes from last year's silver medal team missing from their ranks. Last year's individual champion Wegene Tafese along with Davy Munro and Kerry-Liam Wilson were not available. However, the squad toeing the line were still hopeful of a medal. Things did not seem to be going to plan on the first lap when Stuart Gibson was forced to retire due to illness. Nevertheless, the Cambuslang runners dug deep and secured a welcome 3rd place thanks to excellent runs from debutant Kyle McLellan 16th, Robert Gilroy 17th, Iain MacCorquodale 18th, Ben Hukins 21st, Chris Wilson 31st in his first race for nearly 2 years and first year senior Bobby Bristow in 56 position. Bobby reacted well to the shouts from our supporters that he was now the 6th counter and gave his all to the team cause. 23 runners from the club finished the race. Jamie Reid 71st, Gordon Robertson 75th and Kenny O'Neill 93rd were inside the top 100 with Johnny MacNamara just outside in 104th spot. Shaun Butler in his first Scottish Cross Country Championship was a promising 117th 2 places ahead of the evergreen Eddie Stewart. Next in succession and within the first 200 came Colin Feechan who had a heavy fall early in the race, Jaz Pal, Kenny MacPherson, Stephen Paris and Scott Hunter. James Healy was next in 201st position closely followed by Alic Walkinshaw, Brian Campbell, Frank Hurley the leading age 60 runner, Mick O Hagan and Niall Bristow who was our final finisher in 288th place out of 566 competitors.
The club was pleased to have 2 family trios competing namely the Bristows from Shetland – Niall, Bobby and Katie and the Stewarts from Prague – Eddie, Moira and Gerron.
A big thanks is due to our athletes, coaches, supporters and family friends who all played their part on the day. Many thanks also to Barnie Gough and to Robert Rossborough who volunteered to help steward the races.
David Cooney
Join Cambuslang Harriers
Interested in joining one of Scotland's premier road and cross country running clubs as a member or a volunteer? We cater for runners of all abilities and offer regular training sessions based from our clubhouse in Cambuslang, we also have regular training on the track at the John Wright Sport Centre in East Kilbride, why not come along and join us?


All Content Copyright © 2007-2023, Cambuslang Harriers I Site design by No Lesser Panda