News Archive
Explore our archive of old news articles, click on one of the years below to see all the articles from that year.
Who are Cambuslang Harriers?
Cambuslang Harriers, since its formation in 1948, has become one of the premier cross country and road running clubs across all age groups in Scotland. We also have a very talented girls and ladies group who now regularly win major team honours.


A Busy Weekend for Cambuslang Harrriers in Scotland, England and in the Czech Republic
It was a busy and again successful weekend for club athletes competing in Scotland, England and the Czech Republic. Down south the Cambuslang M55 team of Frank Hurley, Paul Thomson, Dave Thom and Colin Donnelly were emphatic winners of the UK 055 Male Cross Country Relay Championships. Colin recorded the fastest time in his age group and Dave was 3rd fastest. Colin Feechan deserves thanks for being team manager, reserve and driver. Elsewhere Kenny MacPherson finished 3rd M45 in the Brampton to Carlisle 10 mile road race and Alasdair Campbell was the first athlete home in the Glossop Parkrun.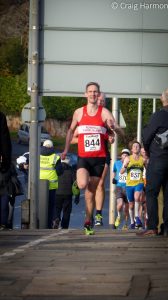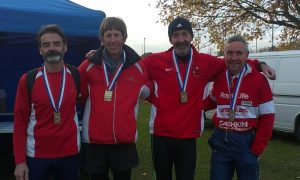 The Stewart family also performed well in the Czech Republic. Eddie, who was one of the mainstays of the record breaking Cambuslang senior team in the late 1980s before moving to Prague, showed that even within a month of his 60th birthday he is still a force to be reckoned with when winning an open 6K cross country race. Since resident in Prague Eddie has returned to Scotland to win the Scottish Masters O40, 45, 50 and 55 Cross Country Championship titles. His daughter Moira was the first U23 runner in the Czech Ladies Cross Country Championships and gained selection for their team in the forthcoming U23 European Championships. Moira is a former Scottish under 20 1500 Metres Champion and was a member of the Cambuslang Harriers ladies U20 team which won silver in the Scottish Cross Country Championship. His son Gerron, a sub 2 minute 800 metres runner, finished 16th in his first year in the U20 age group. It is not surprising that both Moira and Gerron are talented athletes given Eddie's running pedigree and their mother's as Mia herself was a senior Czech internationalist and is still winning Czech Masters Championship medals.
U20 athlete Eve Mackinnon running for Edinburgh University was an excellent 3rd in the Scottish Universities Ladies Cross Country Championship with Alex Lamond representing Strathclyde in 5th place. Both ladies should have done enough to gain selection for the Scottish Ladies University team in the forthcoming competition in Edinburgh against teams from the North, West and East of Scotland.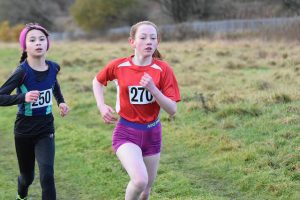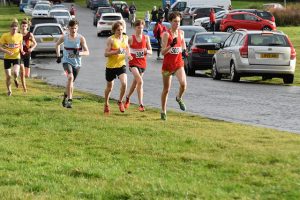 While a number of members were involved in a Glasgow endurance training session the main domestic racing focus for the club was on the Lanarkshire Cross Country Championships at Coatbridge where Cambuslang won a number of individual and team medals. U13 Niamh Riggins gained individual gold and with support from Millie Nicholl and Maura MacKinnon secured team bronze. The U13 boys team of Fearghus MacGregor, Stewart Millard and Robbie Woods went one better to lift team silver. In the U15 girls race Ruth Kelly won silver and Keir Crawford, Caoloan Millard and Michael Black combined well to take team silver in the U15 boys event. In the U17 boys event 2nd placed Drew Pollock led Ryan Stephen and Andrew Carey to team gold.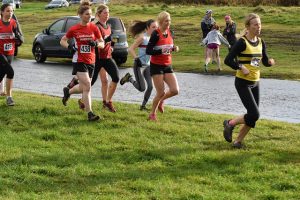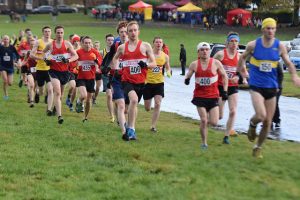 The U20, seniors and masters women and men also contributed to the club's success at the County Championships. The club had its largest representation ever in the ladies event with 7 athletes taking part including Claire Mennie and Julie Dell who were making their debut for the club. The trio of Kirsty O'Brien, Bernie O'Neil and Lesley McCardle finished 3rd team with Bernie being awarded the bronze O40 medal. Erica Christie missed out on a team bronze medal as she can't count as a team member until the 1st December.
The men too had a large representation with 17 athletes competing. U20 Brendan Carey who has been training consistently well was a clear winner in his age group. Not surprisingly with Ryan Thomson, Robert Gilroy and Alistair Campbell in first, second and fourth place the club were decisive winners of the team competition. Robert was also the first master O40 and Justin Carter runner up.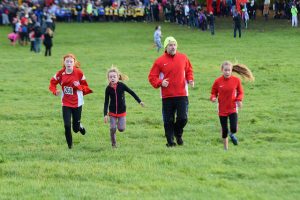 Athletics is not just about the runners it is also about the back up team of coaches, officials, parents and supporters. The club is therefore grateful to all those who volunteered their time to assist at the Lanarkshire event. Special mention should be made to Simon Gold who again stepped in to be one of the two required race volunteers having finished 4th earlier in the morning at the Tollcross Parkrun behind the winner Cambuslang's Shaz Hakeem. Justin Carter also acted as a timekeeper before lining up for the men's race. Unfortunately it can often be difficult getting volunteers to assist at Lanarkshire events and it would be good to think that new volunteers will come forward in the future rather than the club having to rely on its small band of regular volunteers.
David Cooney
Join Cambuslang Harriers
Interested in joining one of Scotland's premier road and cross country running clubs as a member or a volunteer? We cater for runners of all abilities and offer regular training sessions based from our clubhouse in Cambuslang, we also have regular training on the track at the John Wright Sport Centre in East Kilbride, why not come along and join us?


All Content Copyright © 2007-2023, Cambuslang Harriers I Site design by No Lesser Panda