News Archive
Explore our archive of old news articles, click on one of the years below to see all the articles from that year.
Who are Cambuslang Harriers?
Cambuslang Harriers, since its formation in 1948, has become one of the premier cross country and road running clubs across all age groups in Scotland. We also have a very talented girls and ladies group who now regularly win major team honours.


Cambuslang Harriers Masters medal both North and South of the border
Cambuslang Harriers masters athletes were out in force this weekend as they attempted to defend 3 Scottish and British XC team relay titles, whilst also fielding an M65 team for the first time at the British Masters XC relays at Long Eaton, Nottinghamshire.
This was the first time that the club has managed to field an M65 team in any event, with the outcome hard to predict, but the team of Peter Ogden, Barnie Gough and Frank Hurley were keen to lay down a marker for future participation in other events. The lads travelled down on Friday as their race, incorporated within the womens race, started at 12:15pm on Saturday, whilst the M55 team preferred to make a Saturday early morning start to arrive in Nottinghamshire before their 1:45pm start.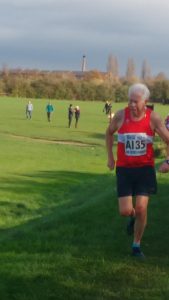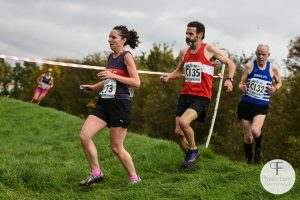 Peter Ogden was out on the first leg of the 3k lap and battled hard against the wind in the 2nd half of the race to finish in just over 15 minutes to hand over to Barnie Gough in 10thplace. Whilst taking one place, but more importantly closing the gap on a number of other teams, Barnie finished in 13:41 to hand over to Scottish masters internationalist Frank Hurley in 9th place. Whilst last years' winners Blackheath & Bromley and Rotherham Harriers were battling it out for gold and silver, bronze medal position was over 2 minutes ahead, surely too big a gap to close. After a steady start, Frank picked up on the flat, mainly firm, underfoot course and set about passing athletes at regular intervals and with this momentum he hauled in and moved into the bronze medal position well within the last kilometre to secure bronze medals for the team. This was a great effort by all three athletes, with Frank deservedly picking up the award for the fastest time of the day in 12:05.
The achievement was all the more remarkable as all 3 athletes have battled injury problems this year.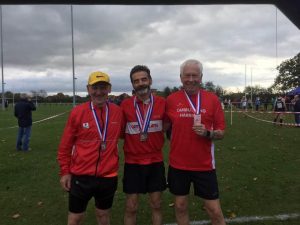 It was also great to see Anglo Jacqueline Etherington running for her English club Sunderland Harriers and finishing in 2nd place on the 1st leg in the W35 age group, with her club eventually picking up the bronze medals, and Jacqueline recording the 4th fastest time of the day in 11:46.
The M35/45/55 race started at 1:45pm with reigning British road race champions South London Harriers fielding another impressive M55 team over the cross country course, and indeed they dominated throughout to claim gold easily over the 4-stage race.
Competition was also expected from Dulwich, Sheffield RC, and Warrington AC as Cambuslang battled to medal once again.
Colin Feechan was out on leg 1 and came in on 6th position with a time of 11:58. Dave Thom took over and returned in 5th position, whilst also closing the gap on Sheffield on 4th place as he recorded 11:43, whilst South London, Dulwich and Warrington were in the medal positions. Alick Walkinshaw on leg 3, whilst recording the 5th fastest time of the day, put us in to the medal positions for the first time as he came home in 2nd place with a time of 11:08. Colin Donnelly was somewhat isolated on the last leg with victors South London well out of sight, but Colin still ran a great race to record the 2nd fastest time of the day in 10:46 to bring the team home to clinch the silver medals, well ahead of Warrington AC who clinched the bronze medal positions with a spirited run from Dave Norman.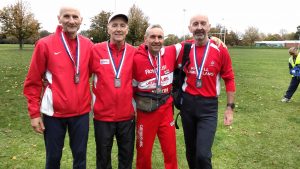 Credit must once again go to all involved in the organisation and marshalling of this event which once again went off on the day without a hitch.
Meanwhile over at Cumbernauld our over 40's mens quartet of Brian Douglas, Robert Gilroy, Justin Carter and club captain Iain Reid narrowly failed to retain their masters title, with Corstorphine AC finishing a few seconds ahead. With Stan MacKenzie failing to overcome his recent injury, our over 50's team of Des Dickson, Chris Upson and Dan O'Connell made a valiant attempt at retaining the over 50's title, but just missed out on a podium position as Chris recorded the 2nd fastest M50 time of the day.
On a less encouraging note however, the clash of dates for the BMAF and Scottish XC relays only served to highlight the lack of consideration for masters athletes events co-ordination and age group consolidation within Scottish and British Masters Athletics, with any future changes to avoid date clashes also extremely unlikely as our club is the only Scottish club who regularly plans and travels for these British Masters team events. Whilst the BMAF events cater for over 35/45/55/65's teams, Scottish Athletics support over 40/50's team races. This disparity in age groups will be no more evident in early 2018 when the Scottish Masters XC champs at Kilmarnock in February will issue medals for over 40's and over 50's teams, whilst 1 month later in Forres at the BMAF XC champs the team medals will be issued to over 35's, 45's, 55's and 65's teams. Despite the lack of consistency, we will continue to be represented at both events.

Join Cambuslang Harriers
Interested in joining one of Scotland's premier road and cross country running clubs as a member or a volunteer? We cater for runners of all abilities and offer regular training sessions based from our clubhouse in Cambuslang, we also have regular training on the track at the John Wright Sport Centre in East Kilbride, why not come along and join us?


All Content Copyright © 2007-2023, Cambuslang Harriers I Site design by No Lesser Panda