News Archive
Explore our archive of old news articles, click on one of the years below to see all the articles from that year.
Who are Cambuslang Harriers?
Cambuslang Harriers, since its formation in 1948, has become one of the premier cross country and road running clubs across all age groups in Scotland. We also have a very talented girls and ladies group who now regularly win major team honours.


Cambuslang Harriers Masters execute another raid South to bring back the Gold
Being Scotland's only entrants at the British Masters XC Relays champs, held in Long Eaton, England, and with healthy competition to make the 4-man M55 team, the team left East Kilbride a little before 7am with high hopes of bettering the 4th place showing in the BMAF Masters road relays in May, when they narrowly missed out on a podium position.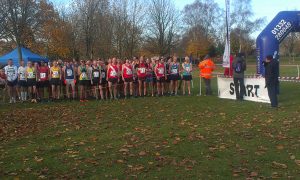 With some wintry conditions forecast en route, leeway for planned for any hold ups (thankfully only one 10-minute delay), and a nice breakfast stop, and we arrived in plenty time at Long Eaton at 12:15pm in time to see the ladies and M65+ 3-leg race starting. Plenty of club tents, a big start/finish sign, a well laid out course, and a plethora of runners all kitted out in their club colours added to the occasion. The team was declared, and a recce of the 3k course revealed it to be fairly flat, suitable for either studs or short spikes.
Although the XC races are not as popular as the road races, we were competing with 18 other teams for medals, with Woodford Green & Essex Ladies, ahead of us at the road relays and with whom we've have a number of great tussles over the years, looking particularly strong rivals.
Our race plan was to start well and to get into the mix, giving our mid-pack athletes someone to chase, before handing over to our strongest athlete Colin on the last leg.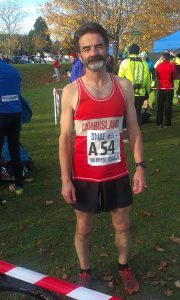 The experienced Frank Hurley, after his excellent 4th place last week in his last year as an M60 at the British & Irish XC International, was asked to get us off to a strong start, and whilst he said he was only getting warmed up when he finished the race, it was job done as he came home in 3rd place (11m35s), only 21 seconds behind Wolverhampton & Bilston in 1st and Salford Harriers in 2nd place. Woodford Green were back in 7th place with other contenders Sheffield RC in 9th place.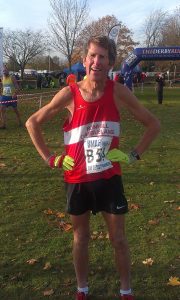 Paul Thompson was up next and the recently much travelled dual world masters champion set about his task with gusto, and finished having moved us up to 2nd place (11m13s) after overhauling the Wolverhampton athlete, the gap behind new race leaders Salford was down to 17 seconds. Bristol AC were now in 3rd place with Woodford Green and Sheffield RC up to 5th and 6th respectively.
Dave Thom's welcome return to form has been a big boost to the team, with his solid run at last week's international bringing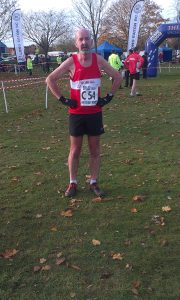 renewed confidence. Dave knew exactly what was required of him and took the lead half way through his leg at the only muddy part of the course, and by the end of the leg he had given the team a comfortable 29-second lead with an excellent 11m10s, the fastest 3rd leg time. The other medal positions remained the same with Woodford Green closing in to 4th place, some 1m50s behind.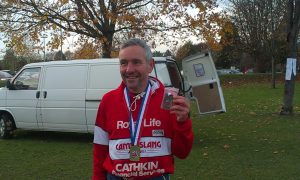 After anchoring the M50 team to Scottish XC relay victory in October, Colin Donnelly took off on the last leg, and after some serious knee injuries which threatened his career over the last few years, he is once again in superb form. Although the course was somewhat flat for this highly renowned hill runner, Colin was not hanging about as he made it look easy in recording the fastest M55 time of the day in 10m26s, over 30 seconds faster than anyone else. This saw the club finishing with an emphatic winning margin, over 2 minutes ahead of Woodford Green, with Sheffield RC moving in to the bronze medal positions on the last lap.
Often inadvertently overlooked by our English commentators, it was nice to see Mel James on the P.A. giving due credit to the farthest travelling team as Colin brought us home. Mel also confirmed that next years champs will return to Long Eaton, as race is growing in popularity with masters clubs.
Our post-race group warm down was all done together in club colours before we waited for the medal ceremony, with some appreciated nice comments from fellow runners.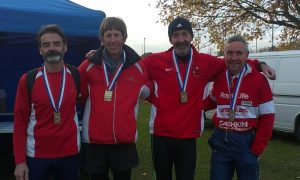 It was a very happy car on the way back up North, stopping off near Kendal for a nice pub dinner and a celebratory pint (or two!).
As usual the camaraderie, banter and stories were flowing throughout the journey in what turned out to be the perfect execution of our plan, and we were back in East Kilbride by 9:30pm as British Masters XC champs, with talk already about defending the title next year, with hopefully even more representation from the club as well as other Scottish Masters teams.
Join Cambuslang Harriers
Interested in joining one of Scotland's premier road and cross country running clubs as a member or a volunteer? We cater for runners of all abilities and offer regular training sessions based from our clubhouse in Cambuslang, we also have regular training on the track at the John Wright Sport Centre in East Kilbride, why not come along and join us?


All Content Copyright © 2007-2021, Cambuslang Harriers I Site design by No Lesser Panda