News Archive
Explore our archive of old news articles, click on one of the years below to see all the articles from that year.
Who are Cambuslang Harriers?
Cambuslang Harriers, since its formation in 1948, has become one of the premier cross country and road running clubs across all age groups in Scotland. We also have a very talented girls and ladies group who now regularly win major team honours.


UK VETS OVER 35 ROAD RELAY CHAMPIONSHIP AT BIRMINGHAM 12 MAY 2012
RONHILL CAMBUSLANG TAKE 25 SECONDS OFF THEIR WINNING TIME FROM LAST YEAR BUT HAVE TO SETTLE FOR SECOND PLACE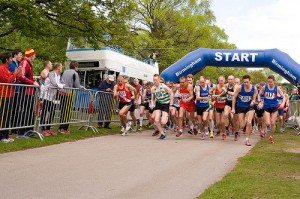 The club made 4 changes from last year's victorious team.  Out were Kerry Wilson(recuperating from his veteran victory and PB at the Belfast Marathon only 5 days earlier), Johnny MacNamara and Alan Ramage both recovering from injury and Mick O'Hagan who stepped down to travelling reserve.  Their replacements were Stevie Wylie and Charlie Thomson both on the comeback trail after repeated injuries, Martin McLaughlin who recently returned to the sport after an 18 year absence and super veteran Dave Thom.  These four partnered the remaining quartet from last year Robert Gilroy, Jamie Reid, Iain Campbell and Greg Hastie.  Johnny Mac, Jamie and Colin Feechan kindly volunteered to do the driving there and back as they did last year and this was greatly appreciated by all concerned.

Our expectations were very positive knowing we had a strong team.  However, we were aware that we would be facing a strong challenge from a number of top English clubs who would be out to take the scalps of the "Scottish raiders" – a phrase used by AW correspondent Martin Duff when we first won the over 40 race (as it was then) back in 1999.  We reckoned that Salford and Morpeth 2nd and 3rd last year would be in the reckoning along with previous winners Herne Hill.  Thames Hares and Hounds were also deemed to be dangerous having secured victory in this year's over 35 and over 45 national cross country championships.  However, the possible threat from last year's 4th placed Highgate slipped under our radar but as events were to unfold there was nothing we could have done on the day to repel their strong late surge.
Although Jamie, Colin and I had our thoughts on the running order we had a relaxed meeting in a Birmingham pub on the eve of the race and sounded out everyone's thoughts about possible legs.  We felt that it was important that people felt comfortable with the leg they were to run, particularly on the first and last legs.  Accordingly the experienced Charlie welcomed the opportunity to launch our title defence and in spite of lack of recent races and limited training he ran his usual committed and gutsy performance to come in a good 10th in 16.00 minutes.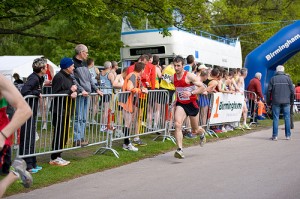 Possible rivals Salford and Morpeth were 3rd and 5th respectively with eventual winners Highgate down in 35th place.  Greg then ran a solid 16.20 to move us up 4 places with Salford moving into the lead, Morpeth dropping 1 place behind us and although Highgate advanced to 20th spot Greg had opened up a further gap of 26 seconds over them.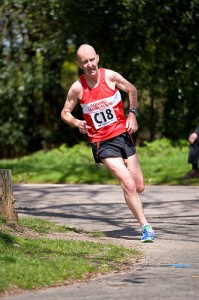 Dave, one of the two old men over 50 in the team, executed his task to gain a further place for us (16.52) only losing 3 seconds to the Salford athlete.  While the Morpeth challenge was evaporating Highgate began to show their hand with their runner pulling them up to 8th place with a speedy time of 15.31.  Highgate's Richard Scott (with a name like that he should have been in our team), had actually beaten our Chris Wilson in a recent ½ marathon in 68.13 and then recorded 2.24. 42 in the London Marathon.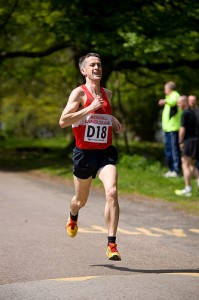 Leg 4 gave Martin, the baby of the team, the opportunity to stretch his comparatively young legs and he did his job well (15.43).  At the halfway stage we were now in 2nd place and only 13 seconds down on Salford.  Thames Hares and Hounds had now leapfrogged Highgate and we thought the threat from behind would come from the former rather than the latter.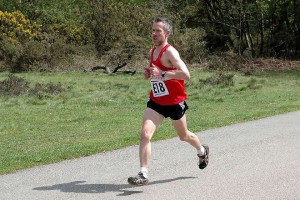 At the end of stage 5 the Salford runner had managed to add 5 seconds onto their lead from Jamie (16.05) with Leicester, the leading over 45 team just behind in a remarkable 3rd place. However, the determined Jamie had gained 6 seconds on Highgate who had been overtaken by Preston.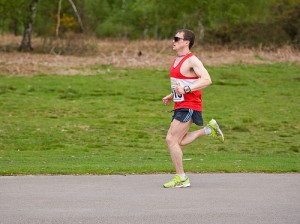 Robert (15.33) raised the Cambuslang hopes as he took us into the lead with Preston and Highgate advancing to second and third ahead of Salford and Leicester who convincingly won the over 45 six man title in record time.  Unfortunately Hugh Dodwell cancelled out Robert's fast run as both shared the fastest time on this leg.  Highgate's challenge was gaining momentum and their runner Ben Pochee recorded a superb 14.53, fastest 7th leg and 2nd fastest of the day to turn a 61 seconds deficit into a 21 seconds lead.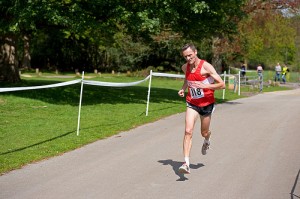 Yet Iain, another super vet, had run a valiant 16.18.  Salford slipped back into 3rd.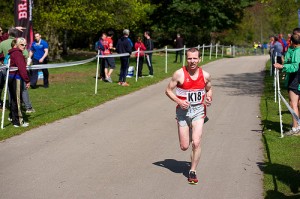 We still hoped that Stevie might retrieve the situation.  However, in spite of a strong 15.29 clocking, our fastest time of the day, Highgate's Ben Noad actually extended their lead with an impressive 14.59 which was the 3rd overall fastest time.   Ben's calibre can be evidenced in his 5K/10K personal bests of 13.48/28.47.  Not surprisingly Highgate broke our course record which we were also inside.  Salford held 3rd ahead of Preston and the fast finishing Thames Hares and Hounds.  The race statistics don't lie.  Highgate recorded 2nd, 3rd, 8th and =10th fastest times to our 7th (Stevie), =10th (Robert) and 16th (Martin).
All our athletes and supporters were pleased with our performance knowing that we had given our all but were beaten by a better team on the day.  To gain a silver UK team medal at any level is a most worthy achievement.  As usual it had been an exciting race with good sportsmanship being displayed by the leading contenders.  Debutant athletes to this event like Stevie and Martin were greatly impressed by the atmosphere, not to mention the friendly club banter.  We plan to return again next year and hope to maintain our exceptional record in this event.
DC
images © All rights reserved by Adrian Royle
One response to "UK VETS OVER 35 ROAD RELAY CHAMPIONSHIP AT BIRMINGHAM 12 MAY 2012"
Join Cambuslang Harriers
Interested in joining one of Scotland's premier road and cross country running clubs as a member or a volunteer? We cater for runners of all abilities and offer regular training sessions based from our clubhouse in Cambuslang, we also have regular training on the track at the John Wright Sport Centre in East Kilbride, why not come along and join us?


All Content Copyright © 2007-2023, Cambuslang Harriers I Site design by No Lesser Panda