News Archive
Explore our archive of old news articles, click on one of the years below to see all the articles from that year.
Who are Cambuslang Harriers?
Cambuslang Harriers, since its formation in 1948, has become one of the premier cross country and road running clubs across all age groups in Scotland. We also have a very talented girls and ladies group who now regularly win major team honours.


CAMBUSLANG HARRIERS MEN CONTINUE THEIR MEDAL RUNNING STREAK AT HAMILTON PARK RACE COURSE
Hamilton Park Race Course was the venue once again for the West District Cross Country Relay Championships on Sunday 15th October. While the young girls and boys teams were missing some runners due to it being the start of the October holiday week and the ladies were also without a few on account of holidays and injuries the men managed to field most of their distance squad. Cambuslang Harriers' 8 male teams made their presence strongly felt by finishing 2nd, 3rd, 7th, 12th and also 1st Masters' team over 40, 14th, 36th, 38th and 58th from 79 completed teams.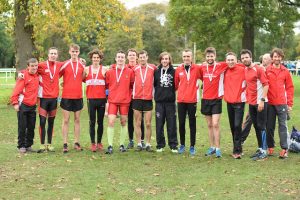 The under 20 and senior quartet of Gavin Smith, Stuart Gibson, Ben Hukins and Craig Jardine were pipped by 10 seconds for the gold medal by a well balanced and inspired East Kilbride team. Cambuslang had led from the start but were overtaken in the last half mile for pole position. However, Under 20 Gavin had the consolation of recording the fastest time of the day when coming home first on the opening 4K leg.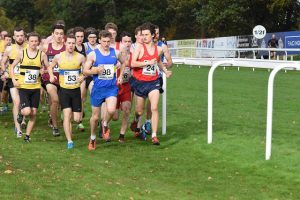 Throughout the 4 stages the B and C teams had their own close private tussle which in the end saw the C team of Struan Paton, Bobby Bristow, Alistair Campbell and Kyle McLellan take bronze medals while the B quartet of Jamie MacKinnon, Kevan Harvey, David Savage and Colin Reilly finished a worthy 7th. Not surprisingly the M40 team with Robert Gilroy and Iain Reid recording the 2 fastest times of the day and supported by Paul Kernohan and Justin Carter took the masters gold award and also 12th position overall. Not far behind in 14th spot came Ritchie Carr, Fraser Stewart, Matthew McKenna and Andrew Anderson. Two further Masters' teams composed of Des Dickson, Iain Nicholl, Scott Hunter and Mick O'Hagan and the O50 squad of Dan O'Connell, Alick Walkinshaw, Dave Thom and Colin Feechan finished 36th and 38th respectively. Thomas McDonald, Scott Sommerville, Kenny Finlayson and David Scott completed the Cambuslang teams in 58th position.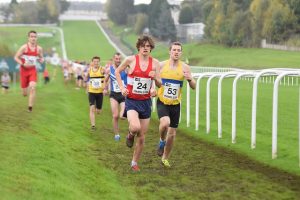 The Masters' ladies trio of Claire Mennie, Erica Christie and Jennifer Reid narrowly missed out on the bronze medals. Both Erica and Jennifer were gradually clawing back the deficit on 3rd place Garscube Harriers but in the end ran out of ground. Their overall position was 20th from 58 completed teams. Jennifer was rewarded with the 2nd fastest time in the F45 category and Erica was the fastest F 60. Not far behind in 26th position came Paula McAbe, Lesley McArdle and Lynn Angley.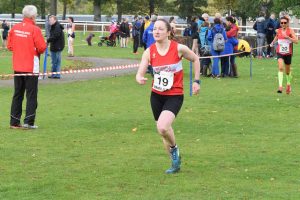 The running formation for the young female and male athletes was 3 legs of 2.5K for an under 13 runner, followed by an under 15 or another under 13 and finishing with an under 17 or 15 athlete. U13 Abbie McClue ran a storming opening leg to come home in 3rd place. U13 Millie Nicholl on leg 2 although competing against older opponents kept the club in 6th spot with U15 Niamh Riggins, one of the youngest on the final stint, anchored Cambuslang to a very creditable 8th position. An incomplete team of Eilidh Kennedy and Shona Carey was well placed after 2 legs and Mia Fagan and Chloe Burton also ran.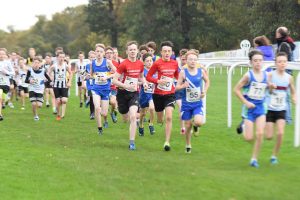 Unfortunately the young boys' event ended in confusion for Cambuslang. The A team of Lewis Roddis, Brodie Aitken and Drew Pollock were disqualified as Brodie was unable to complete his leg due to injury. Although Drew ran the final lap and his unofficial time was the fastest of the day, it does not officially count on account of the team disqualification. The trio of Michael Byrne, Robbie Woods and Andrew Carey were caught up in the proceedings and were also disqualified. However, Fearghus MacGregor, Michael Black and Ryan Stephen came home in 15th place and one position ahead of Steward Millard, Sean Friel and Keir Crawford from 52 completed teams.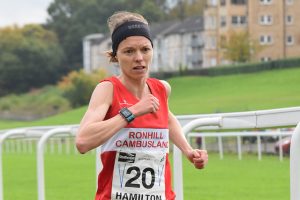 Cambuslang Harriers would like to thank Motherwell AC and the West District Committee for organising the event and the clubs' coaches, supporters and parents for the help and encouragement given on the day. Many thanks also to Barnie Gough for his input and to Colin Stephen, our ubiquitous photographer.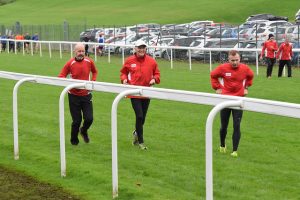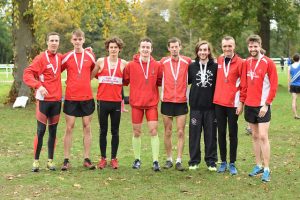 Join Cambuslang Harriers
Interested in joining one of Scotland's premier road and cross country running clubs as a member or a volunteer? We cater for runners of all abilities and offer regular training sessions based from our clubhouse in Cambuslang, we also have regular training on the track at the John Wright Sport Centre in East Kilbride, why not come along and join us?


All Content Copyright © 2007-2023, Cambuslang Harriers I Site design by No Lesser Panda