News Archive
Explore our archive of old news articles, click on one of the years below to see all the articles from that year.
Who are Cambuslang Harriers?
Cambuslang Harriers, since its formation in 1948, has become one of the premier cross country and road running clubs across all age groups in Scotland. We also have a very talented girls and ladies group who now regularly win major team honours.


THE WEST CROSS COUNTRY LEAGUE FINALLY GETS UNDERWAY
After much discussion the inaugural meeting of the West Cross Country League took place at Strathaven with a further 2 meetings planned for January and February at Kilmarnock and Bellahouston Park. Cambuslang Harriers' President Des Dickson had engaged with other West Club Officials to make the League happen. The thinking behind the League is to give more opportunities for athletes in the West of Scotland to race on the country as their fellow athletes in the North and East of Scotland have operated their own XC Leagues for several decades. The competition rules have been deliberately kept simple. Any athlete from the age of 9 upwards can compete. All he/she needs to do is to turn up on the day and wear the race number which his/her club has been allocated. Male and female runners compete together in the same age group category and thereafter results are classified according to age and gender.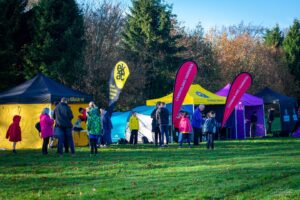 4 Cambuslang under 11 athletes were given a taste of cross country running and Brooke Walker, Gemma Drummond, Holly Greer and Noah Midwinter should benefit from their experience as will over 13 runners Rory Barclay and Jack Gillon. Promising new member Daibhidh Kinnaird underlined his potential in taking 7th spot in the over 15 event and Olivia McNichol finished a respectable 10th while Euan Reid and Emma Ritchie also gave a good account of themselves. At youth level Sam McCarthy and Chris Black were impressive 2nd and 3rd overall finishers while Grace Ferry was the club's female representative.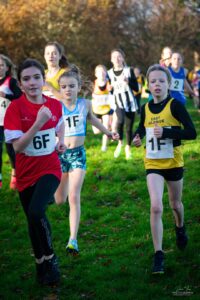 In the final event of the day Cambuslang supplied the leading male and female athlete. Gavin Smith and Eve MacKinnon were convincing senior winners while Gordon Robertson and Iain Reid were 2nd and 3rd in the M40 category and Nathalie Brohan 3rd master lady. Gavin received strong support from Jamie Mackinnon, Iain MacCorquodale and Alasdair Campbell in 6th 8th and 9th positions to clinch the senior team placing and George Pettit's strong performance meant that the M40 men were also first in their category. It was good to see both Alasdair and Iain competing again after a lengthy absence. Club Captain Richie Carr and new member Steven Fitzpatrick were also well placed and coach Iain Crawford had a good country workout. The vital backup support given to Eve and Nathalie from debutant Kathleen McLachlan and the indefatigable Erica Christie ensured that the ladies were 2nd in the combined seniors and masters placings. The club would like to thanks a number of people including our athletes, coaches, officials, parents, club volunteers, the West League officials and East Kilbride Athletics Club for hosting the event.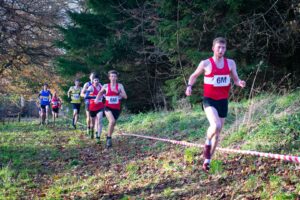 Elsewhere on the same day Craig Jardine who is now working in Oxfordshire finished 8th in the Berkshire, Buckinghamshire and Oxfordshire Associated Cross Country Championships. The following week Ewan Kennedy, Sam McCarthy and Hannah Addison travelled to Liverpool to test themselves against the cream of UK athletes in the British Athletics Cross Country Challenge Event. All 3 athletes acquitted themselves well with under 11 Ewan crossing the line in 19th place from 169 finishers, over 17 Sam in 43rd spot from 118 finishers and Hannah 98th from 359 competitors in the senior women's race. Ewan and Sam's participation in such a high calibre field can only be good for their future athletics development. At the same time the event was a good stepping stone for Hannah on her road to regaining full fitness after her break from competitive running.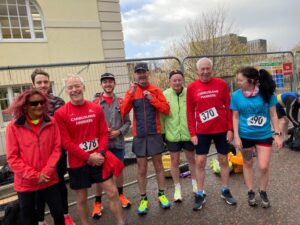 Members of Cambuslang Harriers have also been busy on the roads. Lesley Blackwood continued her good run of form to finish runner up in a pb of 1.23.42 in the Falkirk Half Marathon. Team mate Gerrard Higgins also set an excellent pb of 1.22.42 in spite of the wet conditions while new recruit Kathryn King's 1.38.49 clocking was on a par with her previous best time. 8 runners toed the line in the monthly Friday midday 3K run on the Green. Steven Fitzpatrick (10.00 minutes exactly) improved his pb by 10 seconds. He was followed home 38 seconds later by Tom Adams with Dave Thom, Iain Crawford, Paula McCabe, Erica Christie, Peter Ogden and Sandy Eaglesham being the other finishers. M60 Dave had the highest age graded performance for a male athlete with the score of 85.3% but his performance was overtaken by W65 Erica Christie's score of 92.3%.
DAVID COONEY
many more photos from the West League on out facebook page
https://www.facebook.com/media/set/?vanity=cambuslangharriers&set=a.618232340096831
Join Cambuslang Harriers
Interested in joining one of Scotland's premier road and cross country running clubs as a member or a volunteer? We cater for runners of all abilities and offer regular training sessions based from our clubhouse in Cambuslang, we also have regular training on the track at the John Wright Sport Centre in East Kilbride, why not come along and join us?


All Content Copyright © 2007-2023, Cambuslang Harriers I Site design by No Lesser Panda