News Archive
Explore our archive of old news articles, click on one of the years below to see all the articles from that year.
Who are Cambuslang Harriers?
Cambuslang Harriers, since its formation in 1948, has become one of the premier cross country and road running clubs across all age groups in Scotland. We also have a very talented girls and ladies group who now regularly win major team honours.


Seven Cambuslang Athletes Represent Scotland in the British and Irish Masters Cross Country International Championships
The Scottish Short Course Championships for all age categories over 15 were staged once again at Kirkcaldy. The over 15 and 17 athletes competed over 2K with the older groups covering 4K. Cambuslang Harrier 10th placed Daibhidh Kinnaird ran strongly in the U15 boys event and with support from Euan Reid and Alistair McLachlan the team finished 11th. In the same age group Olivia McNicol headed Martha Fleming. Under 17 Finlay Robb just got the better of Sam McCarthy on this occasion with Chris Black not too far behind which gave the trio 7th spot in the team competition. Gabriel Murphy was the 4th U17 Cambuslang athlete to finish. From a large field of 260 finishers the ladies' quartet of Hannah Addison, Nathalie Brohan, Kirsty O'Brien and Catriona Bain were 13th team with Erica Christie and Rachel Wardrope next to cross the line. Erica was rewarded with an individual bronze medal in the O60 age category for her sterling effort. In the men's competition the seniors narrowly missed out on a bronze medal even although only 7 seconds covered the 4 counters – Gavin Smith, Cameron Smith, Ryan Thomson and Jamie MacKinnon. 5th club finisher Fraser Stuart was only 8 seconds adrift of Jamie and was followed home by fellow seniors Chris McLew, Craig Jardine, club captain Richie Carr, Brendan Carey, M55 Chris Upson and Andrew Anderson. M40 Iain Nicholl pipped Colin Feechan who clinched the M60 individual silver medal while managing to hold off M55 Kevin Newberry. Club secretary Dave Thom got the better of fellow M60 club president Des Dickson ahead of the M50 trio of Dan O'Connell, Iain Crawford and Chris Paton.
On the same day Kieran and Richard Cooper both tackled the Tinto Hill Race and finished 3rd individual and 3rd M50 respectively. Andrew Anderson was again in action the following day when taking 5th spot in a time of 35.51 in the Strathaven Run with the Wind 10K. Grant Sheldon represented GB the same weekend in the World Triathlon Championship Series in Bermuda. After a strong swim Grant came out of the water alongside Olympic Silver Medallist Alex Yee and then quickly worked his way into the main bike pack. However, he was unfortunately involved in a minor crash on the first uphill which cost him valuable time and put him out of the front end of the race. Nevertheless, he valiantly carried on to complete the course.
The following week's highlight was the British and Irish Masters Cross Country International in Dublin. Seven proud Cambuslang athletes, namely M35 Stuart Gibson, M45 Justin Carter, M50 Mark Gallacher, the M55 pair of Chris Upson and Kevin Newberry and the M60 duo of Colin Feechan and Dave Thom, proudly lined up in their Scottish vests to take on runners from England, Wales, Northern Ireland and the Republic of Ireland. Unfortunately Paul Thompson who had won the M65 trial could not participate on account of injury. The magnificent 7 gave their all and there was an added bonus for Mark, Kevin and Chris as their age group teams won bronze medals. It was a dream weekend for Kevin who only returned to competitive running 20 months ago after an absence of nearly 3 decades to gain his first Scottish vest and a team medal into the bargain.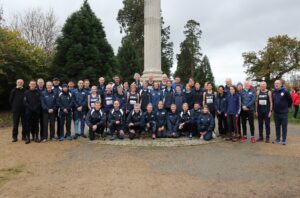 Over the same weekend as the Masters XC International 2 local 10K road events took place on the Saturday and Sunday. With the Newton 10K right on the club's door step it was not surprising that Cambuslang athletes featured prominently at the convivial prize giving ceremony held afterwards in the local hosterly. The club supplied the winning male and female runners in the form of Richard Carr (35.08) and Lesley Blackwood (37.54) and the leading M40, 50, 60 and 70 male finishers courtesy of George Pettit, Mark King, Des Dickson and Frank Hurley with a runner up spots for W40 Julie Reid and M50 Tony McCutcheon. There was a breakthrough for new member Tom Adams in 7th place who reduced his pb by 80 seconds to record a time of 37.54. M40 Iain Nicholl was just over 38 minutes and M40 Gary Lyon was 25 seconds under the 40 minutes mark. Masters David Scott, Dan O'Connell and Iain McLachlan were next home ahead of newcomer Kathyrn King who made a promising debut of 44.14, 40 seconds clear of Paula McCabe. A quartet of development runners in the M50 age bracket – John Henderson, Colin Dow, Alan Anderson and Chris Paton – then finished in times ranging from 46.02 to 49.05. Next to follow them over the line, also from the development group, were Kathmar Dow, Suz Ross and Tina Campbell. A special mention goes to John McCluskey who guided partially sighted Raymond Ward round the course. Two Cambuslang young athletes Jack Gillon and Aiden O'Connell finished 2nd and 11th in the accompanying 3K.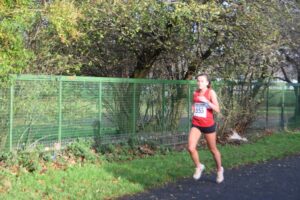 Bellahouston Park the next day was the scene for the Jimmy Irvine 10K. Ryan Thomson made his intentions clear from the start as he stretched out the field in the opening stages with only Shettleston Harrier Chris McGarrity trying to hold onto his tail with M40 Gordon Robertson isolated in 3rd place ahead of the chasing pack. The first 3 positions remained the same throughout although Ryan relentlessly continued to pull away further from his pursuers. His excellent winning time of 30.50 brought him home exactly 1 minute ahead of his Shettleston opponent while Gordon was comfortably the leading M40 in a time of 33.07. Ian Hodge broke 36 minutes by 5 seconds in spite of nursing an ongoing niggle. M50 athletes Richard Cooper (37.03) and Mark King (37.46) were 2nd and 4th in their age category and David Marshall returning to competitive action after illness took the M60 prize with the respectable time of 39.52.
David Cooney
Join Cambuslang Harriers
Interested in joining one of Scotland's premier road and cross country running clubs as a member or a volunteer? We cater for runners of all abilities and offer regular training sessions based from our clubhouse in Cambuslang, we also have regular training on the track at the John Wright Sport Centre in East Kilbride, why not come along and join us?


All Content Copyright © 2007-2023, Cambuslang Harriers I Site design by No Lesser Panda