News Archive
Explore our archive of old news articles, click on one of the years below to see all the articles from that year.
Who are Cambuslang Harriers?
Cambuslang Harriers, since its formation in 1948, has become one of the premier cross country and road running clubs across all age groups in Scotland. We also have a very talented girls and ladies group who now regularly win major team honours.


CAMBUSLANG HARRIERS LIFT 3 TEAM MEDALS AT THE WEST DISTRICT CROSS COUNTRY CHAMPIONSHIPS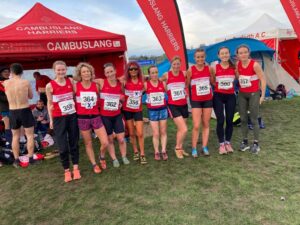 A number of Cambuslang Harriers contested the West District Cross Country Championships at Kilmarnock. First off for the club were Ross Barclay and Jack Gillon in the U13 Boys Event. Both ran well to achieve 17th and 22nd place. U15 Olivia McNicol finished ahead of Martha Fleming and in the corresponding Boys' Race Daibhidh Kinnaird reinforced his potential by taking 5th spot and thus clinched an automatic berth in the U15 West Team for the Inter District Championships in January. Lewis Cook and Euan Reid added their support to help Cambuslang to 5th position in the team competition. The Harriers were represented by Grace Ferry, Lucy McGrandle and Eilidh Kennedy in the combined U17 and 20 Ladies Race. Likewise, the U17 trio of Sam McCarthy, Finlay Robb and Chris Black lined up beside the U20 due of Lewis Roddis and Theo Carter. The 3 under 17 men packed well to land the bronze medals and there was an added bonus for Sam who automatically sealed his place in the West Inter District Team. Lewis, building up his fitness again after illness, got the better of Theo. In the penultimate event the senior/master ladies fielded 9 runners, which is a record turnout for the club. 6th placed Eve MacKinnon led Hannah Addison, Kirsty O'Brien and super vet Jacqui Thomson to 4th in the team standings. This quartet was followed home by Catriona Bain, Kathleen McLachlan, Erica Christie, Julie Reid and Rachel Wardrope. Jacqui, Kathleen and Erica secured 7th place for the master ladies. Eve became the 3rd Cambuslang athlete to gain an automatic West Inter District vest. A large contingent of 24 senior and master men lined up for the final race of the day. In the 6 to count senior team competition the club won bronze but lifted the gold in the 3 to count M40 championship. Gavin Smith, Fraser Stewart and Jamie MacKinnon in 5th, 8th and 14th slots spearheaded the Cambuslang challenge and were supported by near veteran Iain MacCorquodale and fellow veterans Gordon Robertson and Iain Reid. Kerry-Liam Wilson, the leading M50 on the day sealed a convincing team victory for the masters. Stuart Gibson who is gradually improving his form after a lengthy injury split Iain and Kerry-Liam. Next came Chris McLew, club captain Richie Carr, M40s, Justin Carter and George Pettit, Owen Walpole, Chris Upson, Steven Fitzpatrick, Andrew Anderson, the leading M60 Colin Feechan, Kevin Newberry, Mick O'Hagan, Stan Mackenzie, Tony McCutcheon, Ryan Donnelly, Dan O'Connell and Iain Crawford. Both Gavin and Fraser can also look forward to the January Inter District Championship. It is still possible that other club athletes such as Finlay Robb, Hannah Addison and Jamie Mackinnon may be given one of the remaining discretionary places.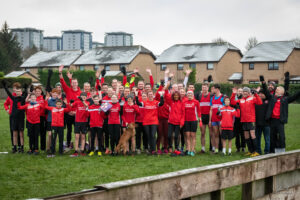 The club held its annual Xmas Handicap event around the grounds of Cambuslang Rugby and Sports Club. The under 13 athletes participated in a one lap race with the over 15 runners covering 2 laps. The rationale behind a handicap event is to set athletes off according to their known fitness with the slowest runner(s) going off first and the fastest last, the scratch man/woman. Ideally all runners should finish close to one another. 16 young athletes participated in their handicap race and U13 Rory Barclay with the fastest time was first over the line. U11 runner Ewan Kennedy's actual time was the next quickest with Keira Gallacher recording the fastest time by a girl. All participants were rewarded with a selection box for their efforts. There was an excellent turnout of 40 athletes for the over 15 handicap run. Liam McShane managed to hold off a fast finishing Gabriel Murphy by 4 seconds to breast the tape first. Seniors Gavin Smith and Lesley Blackwood were the quickest overall with times of 12.46 and 16.00 minutes respectively. The best age group times were recorded by U15 athletes Olivia McNicol and Daibhidh Kinnaird, U17 Sam McCarthy, U20 Zak Povey, M/W 40 Iain Reid and Carole Setchell, M50 Brian Douglas, M/W60 club president Des Dickson and Erica Christie and M70 Frank Hurley.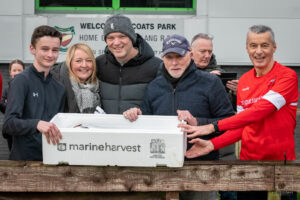 On behalf of the club President Des Dickson expressed his thanks to Bob Burt and Marine Harvest for their donation of a fresh salmon for the club handicap race winner Liam. Following the run club members attended their Christmas lunch. At the lunch they received an update from Lorraine Mullen on the fantastic range of Christmas gifts donated by club members to support vulnerable children and young people. Des also thanked all involved in setting up the cross country course, drawing up the athletes' handicap allowance, recording the results and marshalling the course. A special thanks was given to Owen Reid for his work in planning the lunch which was enjoyed by everyone.
David Cooney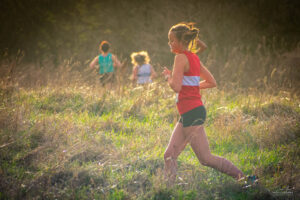 Join Cambuslang Harriers
Interested in joining one of Scotland's premier road and cross country running clubs as a member or a volunteer? We cater for runners of all abilities and offer regular training sessions based from our clubhouse in Cambuslang, we also have regular training on the track at the John Wright Sport Centre in East Kilbride, why not come along and join us?


All Content Copyright © 2007-2023, Cambuslang Harriers I Site design by No Lesser Panda