News Archive
Explore our archive of old news articles, click on one of the years below to see all the articles from that year.
Who are Cambuslang Harriers?
Cambuslang Harriers, since its formation in 1948, has become one of the premier cross country and road running clubs across all age groups in Scotland. We also have a very talented girls and ladies group who now regularly win major team honours.


SO NEAR AND YET SO FAR FOR MOIRA STEWART
Spare a thought for Moira Stewart who clocked an Olympic Marathon qualifying time of 2.29.28 on Sunday in Prague but will miss out on a place in the Czech team as 3 other rivals have clocked faster times. The Cambuslang qualified athlete was only 10 seconds off the final Olympic place which went to an athlete who had competed the previous week on a potentially faster course in Austria. Having narrowly missed out on an Olympic Marathon qualifying time by 9 seconds 8 weeks previously and knowing beforehand that one Czech lady (2.28.16) had already done the qualifying time on a flat Dutch airport course Moira went the distance once more in the hope of qualifying for one of the two remaining places. Her GPS readings throughout showed her to be on schedule to achieve her objective and the realisation that her readings had been inaccurate hit her with only 1K to go and it was too late to claw back the time required. In spite of her brave effort circumstances had worked against her.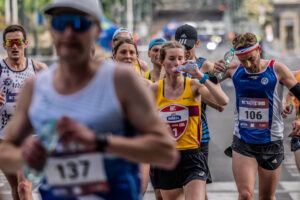 The 13 lap Prague course around the Old Town may have been attractive to the spectators but was less so for the runners who had to contend with sections on cobbled streets and tramlines plus a headwind along the Vitava riverbank. Unfortunately too it was difficult for the athletes to gauge their pace accurately as the laps were just short of 3K and there were no official markers on the course to indicate key intermediate stages. Moira and her group relied instead on their GPS watches which confirmed they were adhering to their 3.30K schedule to achieve an overall time of 2.27/2.28 but unknown to them their readings had been affected by the high surrounding buildings of the old town. The cruel realisation of the false GPS readings only hit Moira in the last 1K. Her reflection on this costly mistake is most revealing.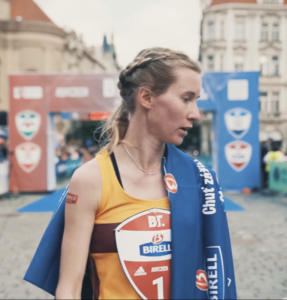 "I knew the time the girl had run the week before. That is why we went for 3.30K pace which we thought we were running at all the time. I saw I was not going to make it when I checked my watch about 1K from the finish and saw the terrifying time. We also did not know the lap was short of 3K. Therefore, my coach and I thought we were running as planned."
Moira was naturally devastated to miss out on the final Olympic place by such a small margin to an athlete whom she had previously beaten 5 weeks earlier when she lifted the 10,000M track championship title for the 5th consecutive year in a time of 33.35.02 and also in the 2020 World Half Marathon Championships. Moira is left to wonder what might have been. What if there had been accurate distance markers on the course? What if her GPS had not been affected by the surrounding high buildings? What if it had been a head-to- head race and finally what if she had not run a marathon 8 weeks beforehand? Hopefully she will soon get over her disappointment and take some consolation from her 2 sub 2.30 marathons in the space of 8 weeks and gaining a national marathon silver medal. Her initial 2 marathon performances very much suggest that she can go even faster at this distance. Incidentally only 1 Scottish and UK Athlete, Stephanie Davis (2.27.16), has run faster this year than Moira.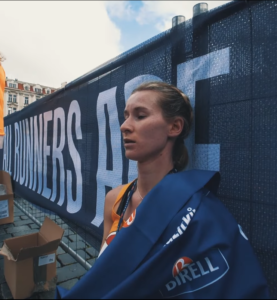 For the record the men's race was very much a tactical one between 4 Kenyans and 4 Ethiopians until the last 5K when the 4 Kenyans prevailed with their times ranging between 2.10.16 to 2.10.29. The women's race saw a 3 way contest between 2 Kenyans and an Ethiopian athlete with the Kenyans occupying the first and third places. All 3 recorded fast times of 2.20.14, 2.21.46 and 2.22.39. The first European and Czech lady who was making a comeback after giving birth and has a pb of 2.26.31 was 5th in 2.27.07 while Moira was the 2nd European and Czech athlete in 2.29.28.
Closer to home Gavin Smith and Jamie MacKinnon recorded good times at the BMC Meeting in Manchester over 5,000m and 1,500m respectively. Gavin clocked a pb of 14.49.26 for the longer event with Jamie's time of 3.53.11 in his 2021 track debut being just outside his pb. In another socially distanced permitted race Mark Gallacher showed excellent form in setting a pb of 16.47 and breaking the M50 Gypsy Brae course record by 22 seconds.
6 Cambuslang members also performed well in the monthly Virtual 3K on the Green. Kirsty O'Brien was 3rd lady in a time of 11.57, Eddie Carr 1st M60 in 12.09, Iain Crawford 2nd M50 in 12.23, Paula McCabe 5th lady in 12.38, Jacqueline McLew 2nd F50 in 13.05 and Peter Ogden 1st M70 in 15.35.
Cambuslang athletes were very prominent in the Virtual Mull of Kintyre Half Marathon and 10K races. Husband and wife duo Kenny and Jennifer Campbell running on home territory won their categories with times of 1.17.07 and 1.32.34 respectively while Kieran Cooper (1.19.06) took 2nd place ahead of his dad Richard (1.28.38). Locally based Stuart McGeachy opted for the shorter distance in which he finished a good 3rd in a time of 37.17.
David Cooney
Join Cambuslang Harriers
Interested in joining one of Scotland's premier road and cross country running clubs as a member or a volunteer? We cater for runners of all abilities and offer regular training sessions based from our clubhouse in Cambuslang, we also have regular training on the track at the John Wright Sport Centre in East Kilbride, why not come along and join us?


All Content Copyright © 2007-2023, Cambuslang Harriers I Site design by No Lesser Panda