News Archive
Explore our archive of old news articles, click on one of the years below to see all the articles from that year.
Who are Cambuslang Harriers?
Cambuslang Harriers, since its formation in 1948, has become one of the premier cross country and road running clubs across all age groups in Scotland. We also have a very talented girls and ladies group who now regularly win major team honours.


CAMBUSLANG HARRIERS PERFORM ON TRACK AND ROAD
12 Cambuslang athletes lined up for the BMC 800M and 3,000M events at Linwood Stadium on Friday 4th June. U23 Chris McLew recorded an excellent personal best of 1.53.99 while Laurence Heyes and under 17 Lewis Roddis were fractionally outside their pbs with respective times of 2.2.95 and 2.9.94. In the 3000M U23 Gavin Smith continued his fine vein of form to record 8.25.33 thus smashing his lifetime best by 15 seconds. 3 other athletes made even more spectacular improvements of 32, 37 and 63 seconds with U23 Andrew Carey (9.3.61), U20 Aaron Grew (9.7.52) and fellow U20 Zak Povey (9.16.52) reaping the benefits of their consistent training through lockdown. The quartet of M40 Gordon Robertson (9.13.50), club captain Richie Carr (9.29.97), M50 Mark Gallacher (9.54.17) and M60 Dave Thom (10.52.53) will have benefitted from their track speed session. U17 Jonathan Dow in his first track race clocked the promising time of 10.13.17.
The following day the club hosted 3 road races with a suitable time gap between each event on the favoured Shawfield course. The customary and well rehearsed Covid safety precautions were in place. The 3K junior event attracted 21 entrants. The first 2 athletes home Gavin Kelly (11.03) and Christopher Black (11.21) improved on their Xmas handicap runs by 23 and 36 seconds respectively. Newcomer Duncan Mendez and Jay Gallagher crossed the line together in 11.57 while the next 8 runners broke the 13 minutes barrier with times ranging from 12.13 to 12.50. Their order in crossing the finishing line was Ross Noble, Cammy Finlayson, Dean Edmunds with a staggering 4 minutes improvement on his Xmas effort, leading girl Olivia McNicol, Lewis Cook, Euan Kennedy, Lucy McGrandle and Cammy Taylor. Rachel Wardrope towed Ana Bradley, Emma Ritchie and Euan Reid (a 78 seconds reduction on his Xmas time) to sub 13.34 performances. The final placings came from Erin Kearny, sisters Martha and Grace Fleming, Morvern Crawford and Sam Lindsay. All participants will have benefitted from their 3K experience.
The senior 3K had a smaller field of 13 runners mostly made up of new members who were experiencing their first race. The leading athlete U20 Theo Carter, the son of Justin, ran a commendable solo time of 9.57 while the first female newcomer Lesley Blackwood was equally dominant with her impressive 10.52 performance which is a lady's course record. Debutant Ronnie Islip (11.52) managed to hold off coach Simon Gold by 1 second and another debutant Jonathan Forrester by 4 seconds. Jacqui McLew (12.52) prevailed over newcomer Sarah Simpson by 7 seconds. Jacqui was delighted to go under 13 minutes for the first time having had her training significantly curtailed in recent years due to a longstanding injury. 3 other recent recruits Julie Reid, the wife of former club captain Iain, coach Karen Goldie and Gerry Duddy were 37, 7 and 2 seconds inside the 14 minutes mark. Tina Campbell (14.24), Lorraine Mullen (14.59) and Suzy Ross (15.21) gave a good account of themselves in their first competitive outing.
The senior 5K provided several course pbs and some close finishes from the 25 participants. Only 4 seconds separated the leading 3 athletes, all in the M35 category, with Iain MacCorquodale, Iain Hodge and Stuart Gibson recording times of 16.19, 16.20 and 16.23 seconds respectively. This was a rare but welcome appearance on the roads for former club captain Iain who is more at home on the hills and especially on a muddy cross country course. Runner up Iain Hodge continued his noticeable improvement since joining the club during lockdown and participating in structured club sessions by taking another 12 seconds off his pb while Stuart laid down a benchmark to build on in further competitive events. There was an even closer finish between M45 Stevie Wylie and M35 Iain McDonald crossing the line together in 16.46 which was 34 and 16 seconds quicker than their Xmas recordings. Breaking 17 minutes for the first time was a significant breakthrough for Iain after several near misses. The next 9 finishers, all under 18 minutes, crossed the finishing line in quick succession. Ben Stafford (17.15) made an impressive debut 3 seconds ahead of M50 Mark King who improved his course pb by 7 seconds. Only 4 seconds separated Ross Stephen (a course pb of 17.28), U17 Lewis Roddis (17.31), 45 Justin Carter (17.32) and U20 Keir Crawford (course pb of 17.32). M40 George Petitt was next home in a course pb of 17.41 ahead of M45 Iain Nicholl (17.57) with U15 Sam McCarthy only 1 second adrift in a promising debut at the longer distance. The subsequent trio of M45 Kenny Finlayson (18.38), newcomer Chris Smith (18.40) and U17 lady Millie Nicholl (18.41) were in the sub 19 minutes bracket. This was an eye-catching time by Millie which took 14 seconds off the ladies course record held by Eve Mackinnon. M60 Dave Thom who had run the 3,000m the previous evening recorded 19 minutes exactly, 11 and 12 seconds ahead of M65 Frank Hurly and M40 Gary Millar who both set course pbs. M45 Willie Fairley 's clocking of 20.18 headed new member John Henderson by 4 seconds with M50 Dan O'Connell and M45 Scott Hunter registering times of 20.45 and 20.54. Stuart Ogden, another newcomer, set a benchmark time of 23.38.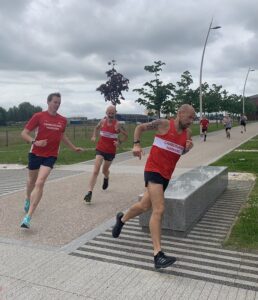 Our thanks go to David Stirling who organised the 3k and 5k time trials and acted as timekeeper. He was ably supported by an excellent band of volunteers who marshalled and helped everything to go so well.
In the same week the club were guests at the Fernhill School Health Week where Iain Crawford, Rachel Wardrope, Pamela Stephenson, Ritchie Carr and Des Dickson put over 100 pupils and some teachers through their paces in an action packed progamme.
Like all clubs we are indebted to all who volunteer regularly to support Cambuslang Harriers as without these unsung heroes and heroines we would not be able to be the community club we are.
Join Cambuslang Harriers
Interested in joining one of Scotland's premier road and cross country running clubs as a member or a volunteer? We cater for runners of all abilities and offer regular training sessions based from our clubhouse in Cambuslang, we also have regular training on the track at the John Wright Sport Centre in East Kilbride, why not come along and join us?


All Content Copyright © 2007-2023, Cambuslang Harriers I Site design by No Lesser Panda