News Archive
Explore our archive of old news articles, click on one of the years below to see all the articles from that year.
Who are Cambuslang Harriers?
Cambuslang Harriers, since its formation in 1948, has become one of the premier cross country and road running clubs across all age groups in Scotland. We also have a very talented girls and ladies group who now regularly win major team honours.


CAMBUSLANG HARRIERS OVER 50 MEN WIN SCOTTISH AND UK CROSS COUNTRY RELAY MEDALS
Cambuslang Harriers O50 male runners won team medals over consecutive weekends both in Scotland and in England. The M50 trio of Brian Douglas, Mark Gallacher and Chris Upson lifted the silver medals at the Scottish XC Relays held over the testing and muddy Cumbernauld course. Brian, on the comeback trail after a prolonged injury, handed over to Mark in 7th place, who in turn overtook 3 runners before Chris passed 2 more. The W50 counterpart team of Jacqui Thomson, Erica Christie and Bernie O'Neill finished an excellent 4th at the same event. The club's B M50 trio of Dave Thom, Mick O'Hagan and Kevin Newberry were the first M50 B squad in 10th position while the C team of Des Dickson, Dan O'Connell and Willie Fairley were 22nd. The M40 quartet of George Pettit, Gordon Robertson, Justin Carter and Gary Lyon and the W40 team of Nathalie Brohan, Carole Setchell and Julie Reid were both inside the top 10 finishing teams in 6th and 10th spots respectively. Iain Nicholl, Iain Crawford and Chris Paton ran in an incomplete M40 B team. Gordon, Jacqui on her club debut and Chris Upson had the satisfaction of achieving the fastest, second fastest and 3rd fastest times in their age groups. A well balanced senior ladies A team of Lesley Blackwood, Eve MacKinnon, Millie Nicholl and Hannah Addison finished 9th equalling the best ever position previously achieved while the B quartet of Georgia Freeman-Mills, Kirsty O'Brien, Rachel Wardrope and Catriona Bain gave a good account of themselves in 32nd spot out of 54 finishing teams. The men's A squad of Jamie Mackinnon, Cameron Smith, Fraser Stewart and Gavin Smith put in a very solid performance to come home in 8th position. The B quartet of U20 Lewis Roddis, Craig Jardine, Stuart Gibson and Mike Christoforou occupied a creditable 19th spot while the C team of Owen Walpole, Steven Fitzpatrick, Andrew Anderson and Tom Adams completed the club's senior men's placings just outside the top half of the 92 complete teams.
Unfortunately due to a clash with the schools' October holiday week the club could not field any under 13 female athletes in the opening leg of the Young Athletes Relays to allow our under 15 and 17 year olds to participate in the 2nd and 3rd legs. However, the young males were able to assemble 3 complete teams plus one U13 individual. The A trio of Rory Barclay, Lewis Cook and Sam McCarthy worked their way steadily through the large field to finish 19th while the B squad of Logan Morrison, Euan Reid and Chris Black can be pleased with their 32nd place. Flynn Osbourne, Jack Gillon and Gabriel Murphy in the C team (56th) gained useful experience at this level of national competition as did Kyle Morrison on the opening lap. The club would like to thank all our volunteers who willingly give up their time to coach our athletes, to enter teams and issue race numbers on the day, to erect and dismantle the club tents and to cheer on our runners.
The O55 male team of Kevin Newberry, Colin Feechan, Dave Thom and Chris Upson made the long journey south to compete in the British Masters Athletics Federation XC Relays at Long Eaton in Derbyshire. Previously this event has proved to be a happy hunting ground for Cambuslang Harriers and the quartet added to the club's record of success at this venue by taking team bronze. Dave, Kevin and Chris had the luxury of travelling down by car the day prior to the race. However, Colin spent the Friday flying back home from his holiday in Corfu. He set out early on race day at 6.30am to drive the 300 miles to Long Eaton to join his team mates. 2 consecutive days of long-distance travel is not the best preparation for racing. If it had only been an individual race Colin might have thought twice about undertaking the lengthy car journey but his services were required for the 4 men relay event. Kevin, whose training had been interrupted by injury, brought the club home in touch in 6th place with a time of 11.46. Colin's time of 11.49 then advanced the red and whites into 4th position and Dave's clocking of 11.42 helped to cut back the gap on 3rd placed Brighton Phoenix. Going into the last leg Chris had an 18 seconds deficit to make up if he was to anchor Cambuslang to the bronze medal position. This is the type of situation which he relishes and he was up for the challenge. Not only did he pass his Brighton opponent but he was 19 seconds clear of him by the finish. Although Chris ran the glory leg all 4 runners' contribution was vital to the outcome. The club was given a very warm reception at the post race prizegiving in appreciation of the fact that Cambuslang had been the only Scottish club to make the journey down south for this British Championship Event. Thereafter, it was another long drive back to Scotland.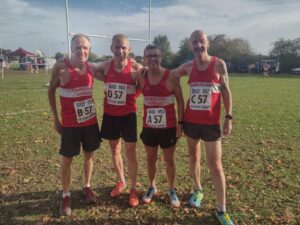 Club members Kenny Finlayson and Stuart McGeachy flew to Frankfurt to participate in the Marathon Event. M45 Kenny's aim was to break the 3 hours barrier for the first time having been just outside his target by a mere 59 seconds in April of this year in the Manchester Marathon. A half marathon pb time of 82.16 at Glasgow in early October suggested his preparation was going well. On marathon race day Kenny displayed excellent even paced running to reach halfway in a time of 1.29.03 and with a 2nd half split of 1.29.52 he achieved his desired time of 2.58.55. The race did not go so well for club mate Stuart McGeachy whose time of 3.06.07 fell short of his 2.40.01 pb from the 2019 London Marathon. Stuart's preparation had gone well as evidenced by his half marathon pb of 73.49 4 weeks earlier. However, a combination of going out too fast in the early stages and the surprisingly warm temperature for late October of 22 degrees led to a drop off in his pace. Realising also that a pb was no longer on he settled on just finishing and conserving energy for subsequent races back in Scotland.
A few weeks earlier James Smith, Andrew Blain and Paula McCabe took part in the scenic Loch Rannoch Marathon. James, a regular Ironman competitor, made the top 10 with his finishing time of 3.10.31 while there were significant personal bests for Andrew and Paula. Their recordings of 3.21.00 and 3.30.21 lowered their previous best performances by 16 and 13 minutes. Paula had the added bonus of finishing 4th lady overall and the first W35. Chris Campbell (1.36.38) took 17th place out of 160 finishers in the associated half marathon.
Ryan Thomson, the day after his return from altitude training in the Pyrenees, set the fast time of 15.11 in a solo run at the hilly Pollock 5K Parkrun. A number of Cambuslang runners were involved in the monthly Friday lunch time 3K on the Green. Alasdair Campbell was the first club athlete home in 2nd place in a time of 9.06 with 2 other athletes, Euan Duernberger (9.25) and Steven Fitzpatrick (10.10) also inside the top 10. Andrew Anderson (10.25), M60 Dave Thom (10.35) and Tom Adams (10.36) were all comfortably under 11 minutes. Club President Des Dickson (11.18) was the 2nd M60 behind Dave Thom with Paula Mc Cabe (12. 32) the 6th lady and Peter Ogden (13.13.43) the 2nd M70. Finally Stuart Gibson had a good workout achieving a top 10 finish over a traditional XC course at Lasswade as part of his preparation for the forthcoming Masters International XC Meeting in Dublin.
David Cooney
Join Cambuslang Harriers
Interested in joining one of Scotland's premier road and cross country running clubs as a member or a volunteer? We cater for runners of all abilities and offer regular training sessions based from our clubhouse in Cambuslang, we also have regular training on the track at the John Wright Sport Centre in East Kilbride, why not come along and join us?


All Content Copyright © 2007-2023, Cambuslang Harriers I Site design by No Lesser Panda