News Archive
Explore our archive of old news articles, click on one of the years below to see all the articles from that year.
Who are Cambuslang Harriers?
Cambuslang Harriers, since its formation in 1948, has become one of the premier cross country and road running clubs across all age groups in Scotland. We also have a very talented girls and ladies group who now regularly win major team honours.


SEPTEMBER ROUNDUP
4 Cambuslang athletes, Colin Feechan, Dave Thom, Chris Upson and Jacqueline Etherington flew the flag for the club in the European Track and Non Stada Championships in Italy. All 4 either achieved or indeed exceeded their private expectations and did themselves, their families, club, Scotland and Great Britain proud by bringing home 5 individual European gold, 2 individual bronze medals, 2 team gold and 1 team silver as well as setting 2 new age group Scottish Masters records. Colin who had only turned 65 on the eve of the Championships put on an impressive display of strong running to lift within the space of 11 days the individual gold medal in the 10,000M track, the 8K cross country, the 10K road and half marathon events. What made the achievement all the more remarkable was that his training and racing had been severely curtailed since April due to ongoing hamstring issues. His only competitive outing since then had been at the Scottish Masters Cross Country Trial on 9th September. Club treasurer Colin remarked that the combined achievements "highlight once again that Cambuslang Harriers, male and female, can compete successfully at the highest level in Europe."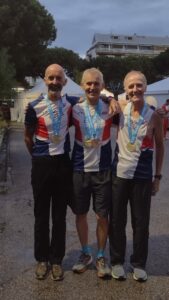 M60 Dave had set the ball rolling by earlier claiming his age group 10,000M title after putting in a strong 2nd half to leave his rivals behind. Finishing 5th in the cross country competition he was a member of the gold medal M60 team which included Chris Upson. Club secretary Dave was unfortunately pipped for the M60 bronze in the 10K road event while sharing the same time as the bronze medallist but led the GB team to silver in the team event. Chris who was edged out in the home straight for the M60 1500M bronze medal had the consolation of setting a new Scottish age group best time. His near individual medal miss later spurred him on to capture the M60 cross country individual bronze medal and a subsequent team gold. Although this was his 6th major championships this was the first time that he felt he was really competing for the medals. Chris considered the championships to have been "a great experience and fantastic representation by the club".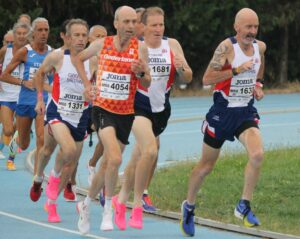 Jacqueline who had recently moved into the W45 age group achieved her twin objectives of making the podium and of setting a new Scottish age group best time for the 2K steeplechase event. Her bronze medal award duly delivered the desired new age group record. She just like the other 3 put everything into their events and her comment that "the guys were amazing and I was whacked" sums up the level of commitment and effort shown by all 4. The Cambuslang quartet was well supported during the championships by the GB team managers Archie Jenkins and Lynne Marr who are also members of Cambuslang Harriers. Their important contribution, not only to the Cambuslang representatives' successes but to all of the GB distance athletes, was much appreciated and valued.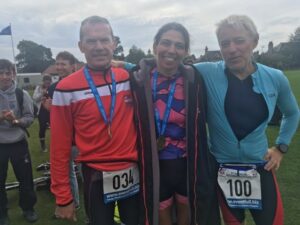 The Scottish Duathlon held at St Andrews brought the triathlon season to a close. Club members Stan MacKenzie and Nathalie Brohan came out on top in their respective age groups Nathalie not only took the W45 title she was also crowned the overall female champion. Stan MacKenzie lifted the M60 gold medal. Two great achievements Kirsty O'Brien was disappointed at having to miss the event due to sustaining a calf injury while competing in the Dumfries Half Marathon. She had hoped to have made it 5 out of 5 W40 national victories.
The Scottish Veteran Harriers held their trial for the upcoming Masters British and Irish Cross Country International at Tollcross Park where the event will be staged in November. The spectators if not the athletes, were blessed with unexpected warm and humid weather for September. 6 Cambuslang participants namely M35 Colin Reilly, M40 Stuart Gibson, M60s Dave Thom and Chris Upson, new M65 Colin Feechan and M70 Frank Hurley gained automatic selection to the Scottish team on the day. Both Justin Carter and Erica Christie narrowly missed out on an automatic spot but were subsequently selected. Stan MacKenzie who did not do the trial was given a discretionary M60 place on account of his recent good form. New M45 member John Speirs and M65 Paul Thompson were named as reserves.
The Lanarkshire Championships at Crown Point also brought the curtain down on track competition. The club's younger athletes acquitted themselves well by winning 5 medals. U15 Daibhidh Kinnaird captured the 1500M gold medal while fellow U15 Euan Reid's pb gained him an 800M bronze medal. Promising U13 Ewan Kennedy in his first season in that age group took a silver medal over the same distance as did Brooke Walker in her U13 competition. U11 Rory Dodds in his first track race came away with a 600M silver medal.
Colin Donnelly continued his amazing mountain running career. He won his 3rd masters age group individual gold medal in the World Mountain Running Championships. Competing in his last year in the M60-64 age group he convincingly swept the opposition aside in the short uphill event held in Madeira. Colin's achievements for 2023 do not end here as he lifted the Scottish and UK M60 Hill Championship Series Titles. Club mates Alasdair Campbell and Justin Carter finished 2nd and 3rd in the Scottish senior men and M50 categories respectively.
On the road Callum Tharme made a huge breakthrough in the Vitality 10K in London. He lowered his pb from 30.49 to 29.34 which gave him 3rd place. Nearer home at Dumfries John Speirs won his first West District medal wearing the red and white vest when he was awarded the M40 silver medal. Kirsty O'Brien was on schedule to replicate John's silver medal but for a calf injury she sustained at the 8 miles mark. Although bravely soldiering on she was relegated to the bronze medal position in the closing stages. U23 athlete Andrew Carey made a very promising marathon debut when recording the excellent time of 2.27.44 for 11th place in the Warsaw Marathon. On the same day in the Berlin Marathon M35 Steven Fitzpatrick's time of 2.35.54 was only 3 minutes outside his pb.
Cambuslang's 75th AGM in September was memorable as Kirsty O'Brien was appointed club captain. Thus, for the first time in the 75 years history of the club a female captain was elected. She replaced Richie Carr who was warmly thanked by club president Des Dickson for his most encouraging, positive and energetic engagement with new and current members alike during his captaincy.
David Cooney
Join Cambuslang Harriers
Interested in joining one of Scotland's premier road and cross country running clubs as a member or a volunteer? We cater for runners of all abilities and offer regular training sessions based from our clubhouse in Cambuslang, we also have regular training on the track at the John Wright Sport Centre in East Kilbride, why not come along and join us?


All Content Copyright © 2007-2023, Cambuslang Harriers I Site design by No Lesser Panda