News Archive
Explore our archive of old news articles, click on one of the years below to see all the articles from that year.
Who are Cambuslang Harriers?
Cambuslang Harriers, since its formation in 1948, has become one of the premier cross country and road running clubs across all age groups in Scotland. We also have a very talented girls and ladies group who now regularly win major team honours.


AUGUST AND EARLY SEPTEMBER ROUNDUP OF EVENTS
August and early September was a busy time for Cambuslang's road, track and hill runners as well as triathletes. There was a number of local road races along with the Ladies World Marathon Championships in Budapest where Moira Stewart represented the Czech Republic. In very warm and humid conditions she performed very well to record the time of 2.34.02 for 26th place. The temperature was already 24 degrees at the 7.00am starting time and reached 28 degrees by the finish.
At the Bute 10K Chris Upson lifted the M60 award while senior ladies Catriona Bain and new member Natalie McWilliams finished 3rd and 5th in their category. Kirsty Wright was also 3rd lady finisher at the Jim Young Marymass 10K at Irvine while Erica Christie took the W60 honours just ahead of another newcomer Marie Kane. Stuart Gibson in 7th spot led home Callum Wright and 2nd placed M70 Sandy Eaglesham.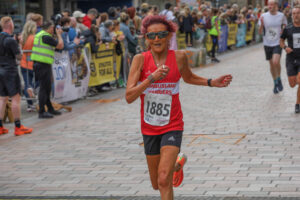 The Paisley 10K attracted a greater number of club athletes. Gordon Robertson in his first race after injury ran strongly to take the M40 prize. Mark King and Richard Cooper were placed 2nd and 4th in the M50 category with new M40 Andrew Anderson splitting them. Next home were Tom Adams, leading M60 Chris Upson, Kevin Farmer, newcomer James O'Neil and Nick Saunderson. Georgia Freeman Mills was the first female club across the line ahead of Kathyrn King and the W60 prizewinner Erica Christie. Georgia, Mark and Kevin were also involved in the Tour of north Clydeside which consisted of 3 races on canal paths over 5 days. Catriona did all 3 and secured the 2nd lady prize for the series. Mark competed in 2 events finishing first M50 on both occasions while Kevin in his only race was first male. Scottish Half Marathon Champion Fraser Stewart had the honour of representing Scotland in the Antrim Half Marathon. He was well placed at the halfway mark but then began to feel unwell. However, he did not want to drop out and continued albeit he was slowing down. He managed to cross the line in the still respectable time of 69.25 and was taken immediately to the first aid tent to recuperate. New member John Speirs and Catriona Bain travelled to Linlithgow for the RunWright 5K. in spite of having represented the RAF in the Inter Services 10K 2 days previously his time of 16.44 was only 3 seconds outside his pb. Conversely Catriona lowered her pb by 3 seconds to 19.24. A quintet of Cambuslang Harriers was well placed at the Cumbernauld 10K. Steven Fitzpatrick finished runner up, Iain McDonald 4th, Mark Gallacher 1st M50 and Chris Upson 1st M60. Stephen Shakespeare also put in a good performance. On the Parkrun scene it was great to see Kyle McLellan reappear after a 2 years absence. He had taken time out to shake off a persistent injury and then to do rehab. He tentatively dipped his toes in the water by participating in 3 Parkruns on 3 consecutive weekends and duly recorded 3 wins. Hopefully Kyle can avoid injury and continue his build up to get back to the form of a number of years ago when he was crowned the Senior West District Cross Champion and the Scottish Universities 10K Road Champion. Dave Thom and new M60 Chris Upson went head to head for the M60 record at the Drumpellier Parkrun. On this occasion Dave got the better of Chris by 20 seconds to break the old record. It will be interesting to watch the forthcoming tussles between the 2 of them during the cross country season. Finally Callum Tharme made a promising half marathon debut in the Big Half Marathon in London recording a time of 67.32 for 14th position in the open race.
Jamie MacKinnon maintained his consistent record of taking the bronze medal in the Scottish Senior Men 1500M Championships. He now has 4 such medals. However, with just a few strides away from the finishing line a gold medal seemed likely but he unfortunately stumbled and fell and was passed by 2 other athletes. He did manage to crawl over the line to rescue the bronze medal. Callum Tharme in the 5000M went one place better and picked up his first senior track medal while team mate Cameron Smith was 8th. Gavin Smith who had entered for both events in which he was a possible medallist was unable to run due to illness. Chris McLew was outside of the 800M medals in 4th place although he was the 2nd Scottish runner home. The Scottish Championships are open to non Scottish athletes and the gold and bronze medals went to athletes from the Cook Islands and England. U17 Chris Black was only a few seconds outside his pb in his 1500M age group heat. U15 athletes Daibhidh Kinnaird and Euan Reid made it through to their 1500M final in which Daibhidh secured 4th spot and Euan 11th. Euan had the consolation of clocking a pb in his heat. At the Linwood Open Graded Track Meeting U17 Sam McCarthy also set a pb in the 3000M. Competing in different heats M60 Chris Upson bettered his fellow M60 club mate Dave Thom's time by 1 second.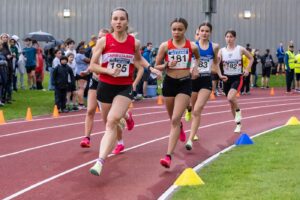 The club was well represented across the age groups at the Monument Mile held at Stirling. There were personal best performances from Jamie MacKinnon, U20 Zak Povey, Steven Fitzpatrick, U17 Sam McCarthy, Eve MacKinnon, M45 John Speirs, M60 Dave Thom and Rachel Wardrope. Both Steven and Rachel enjoyed the feel- good factor of winning their respective heats. U20 Lewis Roddis and M50 Mark Gallacher were only a few seconds down on their pb times while coach Iain Crawford battled well.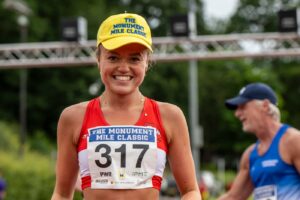 Shettleston Harriers put on the first of their 2 Open Graded Meetings at Crown Point. In the 800M event U15 Jack Gillon and Brendan Carey produced pbs with strong performances also coming from U13 Ewan Kennedy, U17 Gabriel Murphy, U20 Lewis Roddis and the evergreen M60 Chris Upson. M50 Mark King and Georgia Freeman-Mills enjoyed a good speed endurance session in the 3000M. The Livingston Open Graded Event was sandwiched in between the 2 Shettleston Meetings. Eve MacKinnon and U15 Euan Reid lowered their 1500M times at Livingston while the U15 duo of Angus O'Neil and Jack Gillon set benchmarks in their first recorded 1500M races. The focus at the 2nd Shettleston Meeting for Cambuslang athletes was the 800M, 1500M and 5000M events. Daibhidh Kinnaird showed a good turn of speed to lower his pb for 4th place in the U15 Boys Derek McLean Memorial 800M Final. In the 1500M Chris Upson not only set a pb of 4.37.98 at the age of 60 but he also broke the existing Scottish Record which will of course be subject to ratification. U15 athlete Euan Reid missed out on a pb by just over 1 second and fellow 15 Angus O'Neil delivered another sub 5 minutes clocking. Jacqueline Etherington in her final race as a W40 lifted the gold medal in the BMAF 2K Steeple Chase Event. She now goes forward to the European Masters Championships at Pescara in Italy where she will be joined by fellow club athletes Dave Thom, Colin Feechan and Chris Upson. Unfortunately Kevin Newberry has had to withdraw due to injury. There is further club involvement as former Cambuslang multi master medallist Archie Jenkins and former member Lynne Marr will be part of the BMAF Management Team at the Championships.
Join Cambuslang Harriers
Interested in joining one of Scotland's premier road and cross country running clubs as a member or a volunteer? We cater for runners of all abilities and offer regular training sessions based from our clubhouse in Cambuslang, we also have regular training on the track at the John Wright Sport Centre in East Kilbride, why not come along and join us?


All Content Copyright © 2007-2023, Cambuslang Harriers I Site design by No Lesser Panda