News Archive
Explore our archive of old news articles, click on one of the years below to see all the articles from that year.
Who are Cambuslang Harriers?
Cambuslang Harriers, since its formation in 1948, has become one of the premier cross country and road running clubs across all age groups in Scotland. We also have a very talented girls and ladies group who now regularly win major team honours.


Cambuslang Harriers Senior Ladies make Scottish Cross Country Relay History
The West District Relay Championships at Alexandra Park ushered in the autumn cross country season. Unfortunately the weather the day before and on the morning of the event resulted in numerous road closures due to flooding. Some clubs such as Inverclyde AC could not travel and Cambuslang Harriers lost the services of Kenny Campbell who was due to run the first leg for the M40 team. Kenny and his wife Jennifer had set out early from their home in Campbeltown but had to abandon their journey on account of road flooding and an avalanche. M50 Mark King and senior lady Georgia Freeman-Mills were also late call offs due to train cancellations. Senior A team athlete Colin Reilly who ran to the course had to wade through the flooded road at Shawfield which was closed to traffic. Not surprisingly the testing undulating course was made more challenging by the muddy conditions. However, in spite of the elements the club fared very well. The M40 quartet had a convincing team win, the senior ladies were narrowly pipped for the gold medal by Shettleston Harriers, the W40 ladies earned a splendid bronze medal, the senior men finished 4th, the young male athletes 5th and the young female athletes 18th.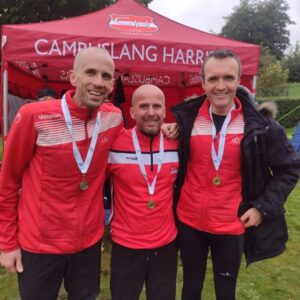 The opening relay race of the day featured U13 Brooke Walker, U15 Erin Kearney and U17 Grace Ferry. Brooke ran a stormer to cross the line in 4th place to hand over to Erin with Grace on the last leg. Their overall 18th placing was a good achievement. First year U13 Eve Campbell underlined her potential when placing 26th on the opening leg. 5th placed Ewan Kennedy, also a first year U13, got the boys' team off to an excellent start. Daibhidh Kinnaird, with the 5th quickest U15 time, advanced one place and 9th fastest Sam McCarthy only dropped one spot in a highly competitive U17 last leg. The Reid brothers, Fraser and Euan, started off the B team and with Gabriel Murphy on the anchor leg the trio sealed a creditable 16th position. Fraser in his first competitive race on the country can be well pleased with his effort. Both brothers are coached by their dad Iain who has an excellent running pedigree at young athlete, senior and master levels. Aiden O'Connell and Angus O'Neil gained valuable experience on legs one and two.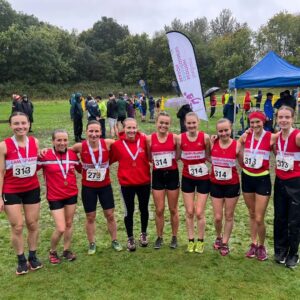 The senior and master ladies were next up on the programme. Hannah Addison launched Cambuslang's challenge by coming home a close 3rd on the first leg. Eve Mackinnon quickly proceeded to open up a lead on defending champion Shettleston Harriers. Debutant Stefanie Tucker had the unenviable task of holding off Irish Internationalist Fionnula Ross who had her in her sights. Although the Cambuslang athlete was running strongly her Shettleston rival was gradually pulling her in and eventually passed her. However, Stefanie was now on her tail and managed to stay within 4 seconds of Fiona by the time the tape was reached. Both ladies had given their all in what was an exciting climax to the race. Fiona was rewarded with the fastest clocking of the day and Stefanie recorded the 4th best time. With Eve and Hannah being the 5th and 8th fastest overall the ladies team silver was very well deserved. The masters' competition was held in conjunction with the seniors and it was therefore more difficult to chart the progress of the W40 trio of Jacqueline Etherington, Julie Reid and new club captain Kirsty O'Brien. At the prizegiving the ladies were presented with team bronze medals much to their delight. Jacqueline who a few weeks earlier had won the European W45 bronze medal put the Cambuslang team into 4th spot, a position which Julie held before Kirsty advanced to 3rd. This was Julie's first ever team medal which she proudly showed to her 2 sons and husband Iain. The senior B team of Catriona Bain, Natalie McWilliams and Rachel Wardrope ran well in the conditions for 16th place as did U20 Eilidh Kennedy in an incomplete C team.
The Cambuslang ladies' welcome success meant that the men had a hard act to follow. However, the M40 team of John Speirs, Stuart Gibson, Iain MacCorquodale and Gordon Robertson rose to the challenge to reclaim the team title from Garscube Harriers who had defeated Cambuslang last year by 15 seconds. In the13 year history of the M40 team competition the club's record is an impressive read of 12 gold medals and 1 silver medal. John in his first team race for the club came home a close 2nd and new M40 Stuart took the lead which the second and fastest M40s of the day, Iain and Gordon, were unlikely to throw away. The club finished 2 other M40 teams, albeit one was a M50 team comprising recent European M60 10,000M gold medallist Dave Thom, Mark Gallacher, Justin Carter and M60 European Cross Country bronze medallist Chris Upson. This vintage squad was 5th overall and a 3rd M40 team in 15th spot was also a M50 team in disguise in the form of Dan O'Connell, Gary Miller, development athlete Alan Anderson and Willie Fairley. Dan's services earlier in the day to the club were also vital as he brought the club tents with him which were so vital in such wet weather. The senior men quartet of Colin Reilly, Kevan Harvey, Jamie MacKinnon and Gavin Smith in 4th place came close to the bronze medals. U20 Seonaidh MacInnes made a promising cross country debut for the B team. His leg 1 placing of 8th helped U20 Lewis Roddis, debutant Callum Matthews on the comeback trail after a lengthy injury and Kevin Farmer to 16th position in the team standings. Seonaidh has just come down from North Uist to study in Glasgow and is following in the footsteps of fellow islander Iain MacCorquodale who made a similar journey 21 years previously. There were also useful performances from Theo Carter, Tom Adams, Callum Wright, David Wardrope, Simon Gold and Chris Paton.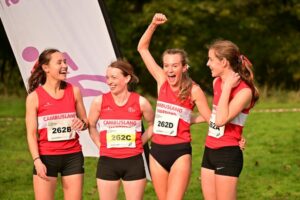 The weather pattern in the days before the Scottish Cross Country Relay Championships mirrored that before the District Championships. This was particularly true in the North East of Scotland where the public was advised not to travel which meant that the competition was missing teams from Aberdeen and Dundee. However, when competitors gathered at the race venue in Cumbernauld everyone was surprised to discover that the weather had turned dry and the sun had even come out. As in the West Relays Brooke Walker made a good start for the young female athletes when finishing in 10th place. Subsequent legs by Erin Kearney and Grace Ferry put the club in 35th position overall. Both Eve Campbell and Kiera Gallacher, whose dads Brian and Mark are also members, competed well. The young male athletes recorded their highest finishing place for some time as Ewan Kennedy, Daibhidh Kinnaird and Zach Seenan combined well to occupy 5th spot. Coaches Colin Stephen and Iain Reid were naturally delighted with their performances. The B trio of Fraser and Euan Reid and Cian Kearney finished a respectable 35th team. U13 runners Flynn Osbourne and Aiden O'Connell and U15 athletes Rory Barclay and Angus O'Neil were given the opportunity to participate in a national championship.
The senior ladies were relishing the challenge which was awaiting them to get onto the rostrum for the first time ever in the national cross country relays. With 4 to count for this event Stefanie Tucker, Eve MacKinnon and Hannah Anderson were joined by Katie Clubb previously known as Bristow. Katie had last represented Cambuslang in a team event as far back as 2018. In the intervening years she had returned to her native Shetland to work there, had got married and started a family and of course there was the infamous Covid lockdown period. She still kept in touch with her coach Mike Johnston who devised schedules first to rehabilitate her after long term injuries and then to build up her fitness again. A promising time of 18.12 for the Inverness Campus 5K in late July indicated that she was moving in the right direction. Some group training sessions which sometimes included Springburn's Michelle Sandison helped to improve her fitness further. After the opening 2 legs Edinburgh University and Shettleston Harriers were in the driving seat but Cambuslang's Hannah Addison and Eve MacKinnon had put the club in a good position in 4th place to contest the bronze medal from fast starting Edinburgh AC and from a strong Edinburgh University B team. Although losing a little ground to the university B squad athlete Katie made up ground on her Edinburgh AC opponent. An exciting last leg had now been set up and so it proved to be. Stefanie went out hard quickly overhauling her Edinburgh AC rival and then proceed to closed in on hill running specialist Isla Hedley of the university B team. The Cambuslang athlete managed to open up a gap but her now pursuer had not yet given up the fight. However, Stefanie tightened the screws on the latter part of the course and opened up a safe gap of 26 seconds by the finish. After crossing the line she was mobbed by her 3 jubilant team mates. Hannah, Eve, Katie and Stefanie had made club history by becoming the club's first female team to capture a Scottish Cross Country Relay medal and in Cambuslang's 75th anniversary year too. Mike Johnston who coaches all 4 was able to present them with their medals in his role as Convenor of the Road and Cross Country Commission. All 4 have previously won team medals in younger age groups in the Scottish Cross Country Championships. At U17 level Hannah gained team silver in 2015 while representing her previous club Corstorphine AC and Eve and Katie picked up bronze medals for Cambuslang in 2013 and 2011. Katie has also had the honour of being a member of the U20 Cambuslang gold and silver medallist teams of 2013 and 2014 while Stefanie secured an U20 bronze medal in 2019 in the colours of Glasgow University. The B team of Rachel Wardrope, Natalie McWilliams, Julie Reid and Erica Christie acquitted themselves well as did Marie Kane on her cross country debut. Nathalie Brohan, Jennifer Campbell and club captain Kirsty O'Brien finished a splendid 5th in the W40 relay event.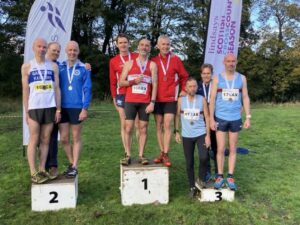 Once more the Cambuslang ladies had laid down a challenge to the male athletes. Perhaps inspired by their efforts the men responded by taking the M40 and M50 titles and finishing 4th in the senior men's event. The Cambuslang masters executed 2 different approaches to their team victories. The M40 quartet of John Speirs, Iain MacCorquodale, Kenny Campbell and Gordon Robertson worked their way to the front and ended up comfortable winners ahead of Garscube and Gala whereas the M50 trio of Chris Upson, Mark Gallacher and Justin Carter led from start to finish although they were closely tracked all the way by a very strong Garscube team with Cumbernauld 3rd. Cambuslang's M40 teams have an impressive record over the last 25 years in this event. Out of the 24 M40 competitions staged (not held in season 2020-21 due to the Covid 19 pandemic) that age group has accumulated a total of 17 medals, 13 of which are gold and 4 silver. The record for the M50s is statistically even more impressive as the older age group has lifted 10 possible medals from 11 competitions, 6 of which are gold, 3 silver and 1 bronze. Indeed, the only time the M50s have been outside the medals was in 2017 when the M55 quartet of Colin Feechan, Dave Thom, Alick Walkinshaw and Colin Donnelly secured silver medals in the BMAF Cross country Championships on the very same day.
The Cambuslang senior men A quartet came within 18 seconds of a bronze medal thanks to the sterling efforts of Kevan Harvey, Jamie MacKinnon, Mike Christoforou and Gavin Smith. Kevan handed over to Jamie in 8th position who then gained a further place. Mike held 7th spot and Gavin finished with a flourish to elevate the team to 4th , their highest position since 2018. Cambuslang's senior men B squad of Seonaidh MacInnes, Callum Matthews, Kyle McLellan and Steven Fitzpatrick combined well for 19th spot. It was good to see Kyle competing again after a very lengthy injury spell. Hopefully with some consistent training behind him the 2015 West District senior cross country champion can get back to full fitness. Theo Carter, Callum Wright and Kevan Farmer ran the first 3 legs for the senior C team. The club also fielded a second M40 and M50 team. The M40 quartet was made up of the younger Mark Gallacher and 3 M50 athletes, namely Willie Fairley, David Wardrope and cross country debutant Iain Wallace while the M60 trio comprised of club president Des Dickson, tent organizer Dan O'Connell and Garry Miller. U20 athlete Zak Povey who represented Glasgow University on this occasion produced one of his best cross country runs ever.
Quadruple M65 European Champion Colin Feechan continued his excellent form to knock 3 seconds off the 30 year old Scottish age group10,000M track record which had been set by fellow Cambuslang athlete Willie Marshall. Colin clocked the excellent time of 37.27.09 at Cumbernauld immediately prior to the Scottish Veteran Harriers AGM. Willie's M70 Scottish record of 40.12.88 posted in 1999 still survives.
Several club athletes have been flying the flag for Cambuslang recently on the road in half and full marathons. Ryan Thomson trimmed his best half marathon time down to 66.11 in Manchester and Moira Stewart was not far off her pb when clocking the excellent time of 70.44 in Malaga for 3rd place, sandwiched between 4 Kenyan athletes. Elsewhere Steven Fitzpatrick recorded a marathon pb of 2.31.44 in Dublin, John Speirs improved his time to 2.44.39 in Frankfurt, Ian Hodge lowered his pb to 2.45.39 in Amsterdam and Gerry Higgins achieved a life time best of 2.53.26 in York. Fraser Stewart delivered a solid 2.29.31 performance also in Frankfurt while James Smith was satisfied with his Loch Rannoch time of 3.11.04.
David Cooney
Join Cambuslang Harriers
Interested in joining one of Scotland's premier road and cross country running clubs as a member or a volunteer? We cater for runners of all abilities and offer regular training sessions based from our clubhouse in Cambuslang, we also have regular training on the track at the John Wright Sport Centre in East Kilbride, why not come along and join us?


All Content Copyright © 2007-2023, Cambuslang Harriers I Site design by No Lesser Panda