News Archive
Explore our archive of old news articles, click on one of the years below to see all the articles from that year.
Who are Cambuslang Harriers?
Cambuslang Harriers, since its formation in 1948, has become one of the premier cross country and road running clubs across all age groups in Scotland. We also have a very talented girls and ladies group who now regularly win major team honours.


SAM AND KIRSTY LEAD CAMBUSLANG HARRIERS UNDER 17 MEN AND SENIOR LADIES TO TEAM GOLD IN THE SCOTTISH TRAIL RUNNING CHAMPIONSHIPS
Members of Cambuslang Harriers have been very active in recent weeks off road, on road and track as well as well as participating in triathlon events.
The club picked up an individual gold, 3 individual bronze medals and 2 team gold medals at the Scottish National Trail Race at Falkland Estate in Fife. Sam McCarthy ran superbly to take first place and with strong support from bronze medallist Finlay Robb and 7th placed Chris Black the U17 trio were convincing winners. Cameron Taylor was the 4th Cambuslang athlete to finish. The senior women also scooped team gold thanks to the collective efforts of Kirsty O'Brien, Nathalie Brohan, Paula McCabe and Rachel Wardrope. Highly placed in 5th spot Kieran Cooper led a trio of masters' athletes, namely M40s Justin Carter, George Pettit and M50 Chris Upson to 5th team. They were followed home by Richard Cooper, M60 Stan MacKenzie, Mick O'Hagan, Des Dickson, Dan O'Connell and newcomer Mark Williamson. Chris and Stan were awarded bronze medals in their respective age groups. The U15 trio of Lewis Cook, Daidhidh Kinnaird and Euan Reid came close to securing team bronze. There were non championship development races for U11 and U13 runners which gave Brooke Walker, Douglas Gallie, Aiden O'Connell, Gemma Drummond and Megan O'Brien a taste of trail running which is quite different from road running. There was an added bonus for Brooke when finishing 3rd in her age group.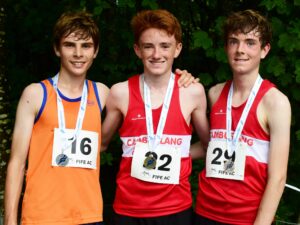 The Scottish Masters held their trial at Tollcross Park to select their team for the forthcoming British and Irish Masters Cross Country International to be held in Dublin in November. The first 3 finishers in the 4 age bands between 35 and 54 years of age and the first 2 finishers in the different age groups over 55 would gain automatic selection with the remaining places being filled by the selectors according to recent form in other races. Under this criterion 5 Cambuslang athletes earned automatic selection. M65 Paul Thompson was first in his age group, M55 Chris Upson and M60 Dave Thom were 2nd and M35 Stuart Gibson and M45 Justin Carter were 3rd in their age categories. M60 Colin Feechan who finished 3rd may be given one of the discretionary places. Club president Des Dickson took the 5th M60 position in the trial.
M60 Colin Donnelly, a former Scottish, UK, European and World Mountain Running Champion, showed his durability when taking the individual silver medal in his age group in the World Mountain Running Championship. He also led the M60 GB team to gold medals.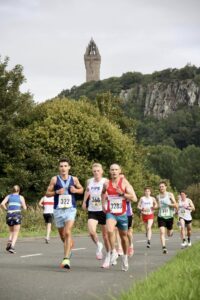 The red and white vests popped up at various road races in Scotland and England with the biggest representation being at the Stirling 10K. Although the event was a non-championship one it still attracted a large quality field. Fraser Stewart in finishing 3rd set a road pb of 29.59 with Mike Christoforou 29 seconds behind in 6th place. M40 Gordon Robertson, 2nd in his age category, was the next Cambuslang athlete home exactly on 32 minutes. The stand out performance by a Cambuslang athlete came from first year U20 Millie Nicoll who finished a very close runner up. Her superb time of 34.47 took a massive 61 seconds off her pb and puts her to the top of the Scottish rankings and 3rd in the UK. She is progressing well under the guidance of club coach Colin Stephen. New member Steven Fitzpatrick crossed the line 5 seconds behind her also setting a new pb. Thereafter M40 George Pettit, 2nd M50 Mark Gallacher, Euan Duernberger and M50 Chris Upson finished within 2 minutes of one another. M40 Ian McNair headed Erica Christie, the 2nd W60, with Rachel Wardrope next to finish. Down south Cameron Smith set a pb of 30.47 when securing the bronze medal in the Midlands Championship. Closer to home the Bothwell 10 and 5K races were restored to the calendar. Shaun Butler used his local knowledge to breast the tape with Tom Adams in 7th position. They were followed home by the M50 trio of John Henderson, Alan Anderson, and Chris Paton, M70 Peter Ogden and the W40 pair of Anne-Marie Masterton and Suz Ross. Club coach Simon Gold contested the shorter 5K. In the Kyles 10 miles race Cambuslang athletes supplied both the female and male winners thanks to the efforts of Lesley Blackwood and Stuart McGeachy. Fellow M50 runners Iain Crawford and Chris Paton also had a good workout on this scenic but arduous course. Moving up the distance again Paula McCabe set a pb in the Great North Run. M40 Scott Hunter completed 3 races in the space of 5 days in the Tour of North Clydeside and finished 5th overall while Erica Christie participated in the final event and lifted the W60 award.
The 2 Shettleston Harriers Open Graded Meetings and the Lanarkshire Track Championships, all held at Crownpoint Stadium, brought the track season to a conclusion. The first Open Grade afforded athletes the opportunity to compete in the 800M and 3000M events while the second meeting offered 1500 and 5000M races. U11 Ewan Kennedy, U15 Euan Reid, U17 Jonathan Dow and U20 Lewis Roddis recorded the fastest age group times in their respective heats while there was 2nd fastest age group clockings for U15 athletes Daidhidh Kinnaird and Naomi Wylie and 3rd fastest age times for U13 Megan O'Brien and U17 Chris Black. Jonathan, Lewis and Chris all recorded personal best times. U17 Sam McCarthy registered a pb in the 3000M while Luke Biggart and Georgia Freeman-Mills made promising debuts at this distance. M55 Chris Upson and M50 Mark King were the 2 fastest in their age groups. In the 1500M event Lewis, Jonathan and Sam continued their streak of respectively lowering their pbs to 4.12.60, 4.24.34 and 4.26, while Scott Hunter had a brisk workout over the same distance. There were some impressive performances in the 5000M races. In her 5K track debut Millie Nicholl recorded the excellent time of 17.24.47 which surpasses her road pb and places her in 2nd place in the U20 Scottish rankings. Luke Biggart (16.31.99) and Georgia Freeman-Mills (19.00.55) similarly improved on their road times. Chris Upson at the age of 59 remarkably set a 5 seconds pb of 17.19.55 while M50 Mark King posted the respectable time of 17.55.16. There was medal success in the Lanarkshire 1500M Championship for Finlay Robb, Sam McCarthy and Lewis Roddis. Finlay and Sam gained gold and silver medals in the U17 event while U20 Lewis took the senior silver medal. Sam lowered his pb once again. U11 Athletes Niall Smith, Brooke Walker and Douglas Gallie gained valuable experience in the 600M event. U15 Daidhidh set an 800M pb while fellow U15 Euan Reid and U17 Chris Black were close to their personal best times.
Grant Sheldon was one of 4 triathletes to represent Great Britain in the World Triathlon Cup Karlovy Vary in the Czech Republic. Grant put in another top performance to finish 5th overall ahead of his 3 GB team mates. In a triathlon season which is shortly coming to a close he can look back in satisfaction on finishing 5th in the Commonwealth Games for Scotland and first UK triathlete and also on being the leading UK competitor and 15th overall in the European Championships. His current residency and training in France is working well for him.
David Cooney
Join Cambuslang Harriers
Interested in joining one of Scotland's premier road and cross country running clubs as a member or a volunteer? We cater for runners of all abilities and offer regular training sessions based from our clubhouse in Cambuslang, we also have regular training on the track at the John Wright Sport Centre in East Kilbride, why not come along and join us?


All Content Copyright © 2007-2023, Cambuslang Harriers I Site design by No Lesser Panda