News Archive
Explore our archive of old news articles, click on one of the years below to see all the articles from that year.
Who are Cambuslang Harriers?
Cambuslang Harriers, since its formation in 1948, has become one of the premier cross country and road running clubs across all age groups in Scotland. We also have a very talented girls and ladies group who now regularly win major team honours.


CAMBUSLANG ATHLETES REPRESENTING GB, THE CZECH REPUBLIC AND SCOTLAND
Members of Cambuslang Harriers have recently been in action at the European Triathlon and Athletics Championships in a very warm Munich, the Scottish U17 and Senior Track Championships in Aberdeen, the Scottish National Mid Distance Triathlon Championship in Aberfeldy, the Antrim Half Marathon and in various local road races.
Grant Sheldon followed up his 5th place for Scotland in the Commonwealth Games by coming home in 15th spot and first finisher for the GB team in the European Triathlon Event. These 2 excellent performances have helped to reinstate Grant into the World's Top 100 Rankings. Moira Stewart representing the Czech Republic looked to be very comfortable alongside the leaders up to 25 kilometres but, as can happen in the marathon, she was forced to drop back and she finished the course in 2.43.03. This experience will stand her in good stead when she embarks on her next marathon.
There was medal success for Eve and Jamie Mackinnon (not related) over 5000M and 1500M at the Scottish Track Championships in Aberdeen. Eve added the Senior 5000M bronze to her recent Scottish 10K bronze. Now settled back in Glasgow and training consistently under the watchful eye of former Scottish Endurance Coach Mike Johnston she is now fulfilling the potential she showed as an U17/20 athlete. Jamie, also coached by Mike, lifted his 3rd senior 1500M bronze medal in a closely fought and open race in which the first 6 finished within 2 seconds of one another. Jamie's late surge meant that team mate Gavin Smith narrowly lost out on 3rd place with Chris McLew in 6th spot. All 3 Cambuslang athletes have set impressive pbs over this distance in recent weeks with Gavin, Jamie and Chris having clocked times of 3.45.70, 3.47.24 and 3.47.62. Chris ended his track season on a high 9 days later in Trafford where he lowered his 800M pb to 1.51.84. 3 Cambuslang athletes contested the 5000M. Ryan Thomson, the fastest in the field, forced the pace from the start which benefited the athletes sheltering behind him in the windy conditions. Unfortunately he was not able to sustain the pace and he dropped back to 6th place (14.42.51) in the closing stages. Club mate Cameron Smith (14.39.83) was one of the athletes to overtake him. Both Ryan and Cameron had earlier in the season significantly improved their personal best times to 13.54.74 and to 14.32.75. Andrew Carey using the race as a sharpner before the Antrim Half Marathon set a pb of 15.45.25. There was also a 1500M pb for first year U17 Sam McCarthy (4.28.21) to add to his further improvement this season over 800M, 3000M and 5K road. Finally on the track M50 Mark Gallacher represented the Scottish Masters Team in the Inter Area Match over 1500M and 3000M and achieved a pb at the shorter distance and was close to a pb in the longer event.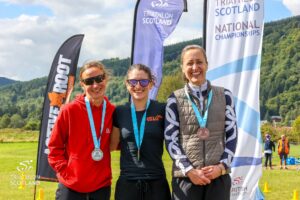 Prolific Scottish Triathlon Medallist Kirsty O'Brien added 4 more Scottish medals to her impressive portfolio when finishing 1st W35 lady and 3rd overall in the Scottish Sprint Triathlon Championships and then followed this up with double silver in her age group and overall in the longer Scottish Mid Distance Triathlon Championships. Her fellow Cambuslang runner James Smith gained the silver medal in the M30-34 category.
Fraser Stewart and Mike Christoforou were both selected to represent Scotland in the Antrim Half Marathon on account of their excellent road performances during the summer. Fraser, on his Scottish debut, recorded a pb time of 66.22.5 while Mike was not far behind in a time of 67.04.9. This was a good workout for Mike who is preparing for his first ever marathon in early October. Andrew Carey too had a fine run (71.58.2) in his first valid outing over the 13.1 miles distance.
The red and white vests of Cambuslang athletes have been noticeable at numerous road events throughout Scotland. M40 Stuart McGeachy and Lesley Blackwood were the male and female victors in the over distance Dunoon 10K. Ian Hodge, 3rd male finisher, and Veronica Connochie were the 2 other club representatives. 3rd placed Kieran Cooper, Stuart Gibson, Ian Hodge and leading M50 Richard Cooper scooped the team award in the Irvine 10K with Chris Upson being the 2nd M50 runner. Stuart who is building up his fitness again after a persistent achilles issue was also well placed in the Dundonald 10K. The ladies team of Georgia Freeman Mills, Erica Christie and Julie Reid were worthy runners up in the Paisley 10K. There were good performances too by the men. Gordon Robertson scooped the M40 award, Iain McDonald set a pb of 33.41, M40 George Pettit and 2nd placed M50 Mark King broke 36 minutes by 28 and 10 seconds respectively.
Chris Upson showed his durability by lifting the M50 prize at the Bute 10K, the Bellahouston 10K and the Canal Canter 9K where he also finished 3rd overall. Another prolific competitor, Erica Christie, was 1st lady super vet at the same Canal event. Lesley Blackwood was the runner up lady while Ian Hodge was 2nd over the shorter 6K distance. Georgia Freeman-Mills was a good 3rd at the Bellahouston 10K and Mark king was the runner up to Chris in the M50 category. Erica was back in action the following day when coming home 1st W65 in the 3K on the Green. M60 Dave Thom, M50 Mick O'Hagan and M70 Peter Ogden were respectively first in their age groups with M65 Sandy Eaglesham taking a 2nd spot and senior lady Rachel Wardrope and M50 Iain Crawford securing 3rd age group placings.
The 9.30am Saturday 5K Parkruns provide athletes with the opportunity to test their current fitness or to have a steady run in the company of others. There have been multiple podium placings for Cambuslang athletes over the last few weeks. Kerry-Liam Wilson and Euan Duernberger have placed first on 3 occasions while Iain McDonald and new member Steven Fitzpatrick have 2 such wins. There have been single first spots also for Carole Setchell, Paula McCabe, Richard Cooper, Mick O'Hagan on his welcome comeback after injury, Fraser Stewart, Ian Hodge, U17 Gabriel Murphy with a pb, Brendan Carey, Lewis Roddis also in a pb time, Michael Barker and Alasdair Campbell. Runner up spots have gone twice to Mark King and Justin Carter and once to Paula McCabe, Richard Cooper, U17 Sam McCarthy and Millie Nicholl, while Rachel Wardrope, Richard Cooper, Jonathan Dow and Stan MacKenzie, another athlete on the comeback after a prolonged injury, have a 3rd place to their credit.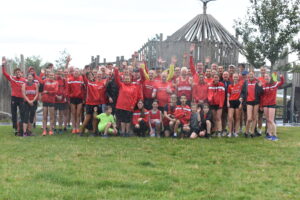 49 members participated in the Drumpellier Parkrun prior to holding a barbecue at the club's base in Coates Park. The idea was to pair the younger athletes with more experienced seniors to encourage them over the 5K distance. Both the run and the barbecue were a huge success and a big thanks is owed to all who helped organise the twin events. Cambuslang provided 11 of the first 13 finishers and pbs were set by winner Lewis Roddis, Finlay Robb, Chris Black, Ewan Kennedy, Emma Ritchie and Lucy McGrandle with both U18 Millie Nicholl and U11 Ewan Kennedy setting course age group records
Finally Jennifer Campbell who has stepped up her mileage over the last 2 years put her long distance training to good effect when finishing 3rd lady overall and first W50 in the Speyside Way Ultra which covers 35.5 miles and climbs of 2,133 feet.
David Cooney
Join Cambuslang Harriers
Interested in joining one of Scotland's premier road and cross country running clubs as a member or a volunteer? We cater for runners of all abilities and offer regular training sessions based from our clubhouse in Cambuslang, we also have regular training on the track at the John Wright Sport Centre in East Kilbride, why not come along and join us?


All Content Copyright © 2007-2023, Cambuslang Harriers I Site design by No Lesser Panda