News Archive
Explore our archive of old news articles, click on one of the years below to see all the articles from that year.
Who are Cambuslang Harriers?
Cambuslang Harriers, since its formation in 1948, has become one of the premier cross country and road running clubs across all age groups in Scotland. We also have a very talented girls and ladies group who now regularly win major team honours.


Ronhill Cambuslang Harriers Men retain the Masters O40 and 50 Cross Country Team Titles at Forres.
14 athletes from RHC made the long and treacherous journey to and from Forres. Fortunately the heavy snow and blizzard like conditions experienced on the A9 were not reciprocated at Forres. Thankfully conditions at Grant Park were cold but mainly dry.
In the opening race for women and men over 65 Jennifer Reid worked her way through the field to finish a creditable 24th from 78 contestants while Peter Ogden was 7th in his age category despite suffering from stomach cramp over the last half mile.
The Cambuslang men dominated the O40, 50 and 60 age groups winning the 2 available team titles along with 4 individual golds, 1 silver and 1 bronze. After a brisk start by Jim Tole of Metro Aberdeen the Cambuslang trio of Jamie Reid, Kerrry-Liam Wilson and Kenny Campbell eased in tandem into the first 3 positions although the Aberdeen runner was not far off the pace. As they disappeared into the trees for the final circuit of the hilly wooded paths it was anyone's guess as to what the order would be when emerging onto the firm grassy section for the final run in to the line. Kenny emerged first closely followed by Kerry-Liam and Jamie in hot pursuit with the Metro athlete still slightly adrift. The places remained the same with Kenny finishing in 29.15 only 9 seconds ahead of Kerry-Liam with Jamie a further 2 seconds back. Kenny and Jamie took the O40 gold and silver with Kerry-Liam the O45 gold. Greg Hastie with a fast finish secured 14th place and sealed the 040 team title for the club ahead of Corstorphine and Metro Aberdeeen.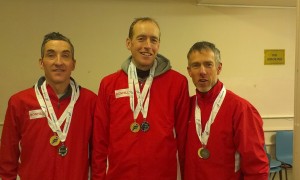 Next home for Cambuslang in an incredible 20th spot was Eddie Stewart who made his annual journey from Prague to represent the club. Not surprisingly he again won the M55 gold in his last year of this age category to add to his previous victories as an O40, 45, 50 and a younger 55. Stan MacKenzie who had only returned from working in China the previous day battled against jet lag to finish 3 places behind Eddie and lifted the individual M50 bronze. Chris Upson in 31st spot sealed the M50 team title from Strathearn Harriers. Mick O'Hagan closed in next followed by Frankie Barton who took the M60 gold. It was good to see Frankie put his recent injury problems behind him. Colin Feechan who had been unwell during the week, Tony McCutcheon and Dave Thom were our 3 final finishers.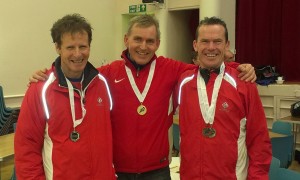 Many thanks and well done to all our runners who helped the club maintain its longstanding and outstanding record in this event. In the last 21 years the O40 team has won 17 gold and 3 silver medals while the O50 team has recorded 6 out of a possible 7 victories. A special thanks must be made to our drivers Colin, Jamie, Tony and Jennifer/Kenny who got everyone there and back safely in what can only be described as scary conditions.
Finally a big thanks to Alex Jackson and Ron Morrison representing Scottish Athletics at Forres and to Forres Harriers themselves who efficiently organised the event. The free soup, biscuits and tea and coffee put on by our hosts after the race were most welcome and appreciated by all.
David Cooney
Join Cambuslang Harriers
Interested in joining one of Scotland's premier road and cross country running clubs as a member or a volunteer? We cater for runners of all abilities and offer regular training sessions based from our clubhouse in Cambuslang, we also have regular training on the track at the John Wright Sport Centre in East Kilbride, why not come along and join us?


All Content Copyright © 2007-2023, Cambuslang Harriers I Site design by No Lesser Panda