News Archive
Explore our archive of old news articles, click on one of the years below to see all the articles from that year.
Who are Cambuslang Harriers?
Cambuslang Harriers, since its formation in 1948, has become one of the premier cross country and road running clubs across all age groups in Scotland. We also have a very talented girls and ladies group who now regularly win major team honours.


THE SCOTTISH MEDAL HAUL FOR CAMBUSLANG HARRIERS CONTINUES
The Scottish 10K Road Championships was incorporated for the first time into the Babcock Shettleston 10K Event staged over a 2 lap course in Glasgow Green. 18 Cambuslang members toed the starting line in expectation of some good individual and team performances and they were not disappointed in this respect. At the post race presentation 4 national individual and 2 team medals were awarded to club members. Club secretary Dave Thom continued his current purple patch to come home first in the M60 age group and club president Des Dickson showed a return to form in taking the silver medal in the same age category. Their achievements demonstrate that it is possible to combine club committee and coaching duties with competitive running. Erica Christie once again gained a podium place as the 3rd W60 lady in the race. Ryan Thomson's senior bronze medal in a time of 30.43 was another indication that he is getting back to his pre injury form. He was ably backed up by the consistent Mike Christoforou (30.55) in 4th spot with the improving Colin Reilly in a pb of 31.45 closing in in 12th place to clinch the team gold medals. The senior men have picked up 6 Scottish team awards so far this year with 2 gold, 1 silver and 3 bronze. There has been a good spread of medals among members. Mike has 4, Ryan 3, Gavin Smith 3, Fraser Stewart 3, Kevan Harvey 2, Chris McLew 2, Callum Tharme 2 and one a piece for Jamie MacKinnon, Colin Reilly, Steven Fitzpatrick, Grant Sheldon and Iain Murphy.
The senior bronze ladies team of Kirsty Wright, Kirsty O'Brien and Georgia Freeman Mills, whose times ranged from 40.23 to 41.41, also continued the successful run of national medal awards to the ladies. They have now acquired 3 Scottish team bronze medals for this year with 7 athletes having played their part. Lesley Blackwood and Kirsty O'Brien have 2 each and Eve MacKinnon, Hannah Addison, Nathalie Brohan, Kirsty Wright and Georgia Freeman-Mills have one each.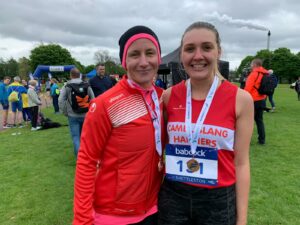 There were good solid runs from Stuart Gibson (32.42), Steven Fitzpatrick (34.10), a trio of M50 athletes Justin Carter (35.05), Mark King (35.13) and Brian Douglas (36.14), Callum Wright in a pb of 38.58, Kevin Farmer (42.47), Rachel Wardrope in a pb of 43.17, club coach Iain Crawford (45.36) and Paula McCabe (46.04). Chris McCarron recorded a 10K time of 37.36 on the same weekend at Forres in Morayshire.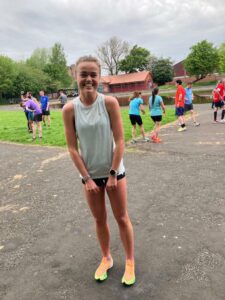 Cambuslang runners have also filled the first 3 places in various Parkruns during the last few weeks. Alasdair Campbell, Iain McDonald, Kieran Cooper, Mark Gallacher, Steven Fitzpatrick, Mark King, Rachel Wardrope and Paula McCabe have all been first over the line with Stan MacKenzie and Chris Smith in 2nd and 3rd spots. 2 athletes in particular have significantly reduced their 5K times. Last year Rachel Wardrope had a best time of 21.18 but she has now lowered her time to 19.41. Chris Paton who had only taken up running during Covid as part of the club's development group, is now sitting on a time of 22.34. Both athletes are reaping the benefits of the organized club endurance and speed sessions which they regularly participate in. Chris is the father of Struan who was a multi Scottish medallist through the U13 age groups to U20 level. While visiting Chester Hannah Addison chose a Half Marathon event to execute her long steady Sunday run which she completed in her targeted time of one hour twenty nine minutes and nineteen seconds.
After a quiet winter due to injury Moira Stewart returned to competition in early April in the Prague Half Marathon. She was the first Czech Republic athlete to finish in the excellent time of 72.43 although she was headed by 6 other ladies of Kenyan or Ethiopian origins. One month later in the Prague Marathon she finished 7th again behind 6 African runners. However, Moira (2.31.54) was a clear winner of the Czech Republic title. She had been on schedule for a sub 2.30 clocking until the closing stages. Nevertheless, in spite of reduced training time over the winter she can be very pleased with her recent exploits.
Cambuslang hill runners have also made their presence felt. In early May Kieran Cooper was chosen to represent the West of Scotland in the Inter District Hill Championships held in the Lake District. Chris Upson also flew the flag for the club in Spain. Although still 59 he is allowed to compete in European events as a M60 because he will reach that age during this year. Competing in the Confrides Primavera Trail Marathon, a 41.6K trail with an elevation gain of 2,545M on rough and rugged mountain tracks, he captured the M60 award after nearly 6 hours of running by the huge margin of 27 minutes. In spite of severe foot pain due to inadequate shoe support Chris hung in there to the end. He was then relieved to take off his shoes which were duly put in the nearest bin. Back in Scotland the Scottish Hill Running Championships were held across the water on the Island of Arran. The runners start and finish at Ormidale Park and therefore have a one mile run in and back on the road to and from Goatfell. Once off road the athletes encounter trail, rough hill track and scrambling up steep granite boulders to reach the dramatic summit at 879M above sea level and then return by the same route, thus covering a distance of 9.6 miles. Alasdair Campbell produced one of his best hill performances to date to secure the Scottish senior bronze medal in the fast time of 77.50. Justin Carter (91.17) also delivered the goods, without having trained specifically for the event, to be awarded the M50 silver medal in the Scottish Championships. Legendary hill running specialist Colin Donnelly, a former Scottish, UK, European and World Champion over different age groups, clinched the M60 title by almost 5 minutes in finishing only 38 seconds behind Justin. Chris Upson only one week after his epic ultra mountain trail race ran a very creditable time of 97.22.
The Linwood Open Graded Track Meeting at the start of May provided the opportunity for Mark King, Dave Thom and Scott Hunter in the 3000M and Chris Upson in the 1500M to work on their leg speed. Cameron Smith set a 1500M pb of 3.52.66 and an outdoor 3000M best time of 8.26.86 over 2 successive weekends at Loughborough. Jamie MacKinnon, the current Scottish indoor silver medallist and the bronze outdoor medallist, acquitted himself well in his first race for Scotland at the Loughborough International over the iconic mile distance. His early season opening time of 4.10.75 was only just over 1 second outside of his best time. Eve MacKinnon travelled down to London to participate in the Night of the 10,000M PBS at Parliament Hill. In a highly competitive heat Eve stuck to her task well to record a time of 36.17.83 which puts her in 4th place in the current Scottish Ladies Rankings. She can be pleased with her first attempt at this distance on the track. Several of the club's younger athletes showed good early form at the West District Track Championships at Kilmarnock. First year U13 Ewan Kennedy took the 800M silver medal with a 2 seconds improvement on his pb. U15 Daibhidh Kinnaird picked up the 1500M bronze medal in a tight race. In the same age group Euan Reid took a massive 16 seconds off his 800M pb in his heat and later finished a very creditable 6th in the final. Sam McCarthy also finished 6th in the U17 1500M final while Gabriel Murphy achieved a pb in the same race. U17 Chris Black in 6th spot fractionally missed out on an outdoor 800 pb.
David Cooney
Join Cambuslang Harriers
Interested in joining one of Scotland's premier road and cross country running clubs as a member or a volunteer? We cater for runners of all abilities and offer regular training sessions based from our clubhouse in Cambuslang, we also have regular training on the track at the John Wright Sport Centre in East Kilbride, why not come along and join us?


All Content Copyright © 2007-2023, Cambuslang Harriers I Site design by No Lesser Panda