News Archive
Explore our archive of old news articles, click on one of the years below to see all the articles from that year.
Who are Cambuslang Harriers?
Cambuslang Harriers, since its formation in 1948, has become one of the premier cross country and road running clubs across all age groups in Scotland. We also have a very talented girls and ladies group who now regularly win major team honours.


RESULTS ROUNDUP FOR CAMBUSLANG HARRIERS
Members of Cambuslang Harriers have been very active in recent weeks competing on road, track and hills in Scotland, England, Wales, the Czech Republic and the USA.
The main road focus in Scotland was the Scottish SRI Chinmoy 5K Road Championship held on a flat but blustery course at Silverknowes in Edinburgh. The general consensus was that the strong winds slowed the athletes' times. Previously both men and women have run together but this year for health and safety reasons the men set off 5 minutes before the women. The harriers fielded 21 male and 5 female athletes plus Andrew Carey and Keir Crawford representing Glasgow University. Mike Christoforou (14.35) finished an excellent 9th out of 451 finishers and with support from Kevan Harvey (15.03) and 4th placed M40 Gordon Robertson (15.39) Cambuslang were 5th team. Sandwiched between Kevan and Gordon was Andrew Carey who lowered his pb by 40 seconds to 15.30. U15 and U17 runners were also allowed to participate but were not eligible for any championship awards. U17 athletes Lewis Roddis, Finlay Robb and Jonathan Dow and U15 Sam McCarthy were pulled along to fast times of 16.06, 16.59, 17.08 and 16.28. Lewis and Jonathan improved their pbs by a few seconds with Finlay only 2 second outside his personal best. Sam ran his best race to date when finishing first in his age group and posting an impressive debut time of 16.28. M35 Colin Reilly was 9 seconds behind Lewis and U20 Luke Biggart (with a 39seconds pb), M40 Stuart McGeachy and Ian Hodge were comfortably under the 17 minutes mark. U20 Keir Crawford's time of exactly 17 minutes took a staggering 3 minutes and 39 seconds off his 2020 best time. Mark Gallacher (17.16) ran a well timed race to snatch the M50 silver medal on the line. Next club athlete home was U17 Millie Nicholl who not only took 2nd in her age group behind the Scottish Cross country Champion but also trimmed her pb by 2 seconds to 17.46. M55 Kevin Newberry, 7 seconds behind Millie, in his comeback season after an absence of 3 decades plus shaved a further one second off his pb. Millie's dad Iain recorded 18.12 and Chris Smith made a significant breakthrough in reducing his pb from 19.39 to 18.47. Dave Thom who had raced the Helensburgh 10K the evening before finished 5th M60 in 19.07. W40 Nathalie Brohan who has been training regularly at the club made her official race debut to finish 6th in her age category in the promising time of 20.07 which was only 3 seconds slower than near M70 Frank Hurley's time. David Scott and Chris Campbell had a close tussle throughout and both were given the same time of 20.17. Triathlete Kirsty O'Brien was 9 seconds under the 21 minutes barrier while Ian McNair, Eddie Carr and coach Iain Crawford were 16 seconds, 22 seconds and 30 seconds respectively over 21 minutes. U20 Rachel Wardrope (22.50) narrowly edged out W65 Erica Christie by 5 seconds.
There have been a number of other good road performances elsewhere. In England Owen Walpole(34.28) and Craig Jardine (32.37) finished 3rd in their 10K races in Exeter and Oxford and Craig also recorded a 5K pb of 14.54 at Battersea. In the Helensburgh 10K Chris Upson was the leading M50 in the time of 36.39 with Justin Carter 18 seconds behind and Dave Thom 4th M60 (40.07) Stephen Walker completed the club finishers in 53:24. Prior to that race Chris was the first veteran to complete the Balfron 10K. Cambuslang Harriers also took the male and female honours at Strathclyde Park thanks to U20 Aaron Grew in a time of 16.13 and Lesley Blackwood equalling her pb of 18.43 while Gerry Duddy achieved a pb of 22.26. There were other Parkrun podium places for Justin Carter, Mark King, Richard cooper, Peter Ogden, Paula McCabe and Iain McDonald. Finally on the roads triathlete Nathalie Brohan showed no signs of fatigue, when 2 days after the Scottish 5K, she finished first lady and 14th overall in the hilly Strathaven Half marathon clocking the good time of 1.33.33.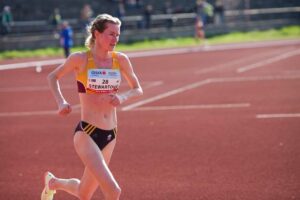 Moira Stewart set a 10000M Championship Best when winning the ladies Czech Republic title in a personal best time of 32.51.74. She broke clear at 2K and then ran solo in the windy conditions for the remaining 8K to finish 50 seconds ahead of her nearest rival. Her next competition is likely to be the European Cup 10000M to be held in France at the end of May. Meanwhile in the USA Gavin Smith has been working his way back to full fitness after injury. He set a pb of 1.54.19 for 800M and followed this up a week later with back to back performances of 3.51.13 and 15.01.23 for 1500M and 5000M. Lewis Roddis, now a junior on the track, set a 5 seconds 800m pb of 2.04.4 at Grangemouth. Ryan Thomson who has just returned from altitude training in Flagstaff Arizona has been selected to represent Scotland in the 3000M event at the Loughborough International. He deserves his selection having set a pb of 8.04.29 for the distance in February.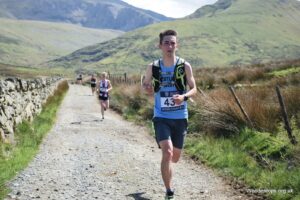 Kieran Cooper after some early season good hill results was selected to represent the West District in the Inter Counties Mountain Event at Llanberis in Wales and he fully justified his selection when finishing first west runner in 27th place in a very competitive race. Alasdair Campbell returned to competition after a lengthy injury and achieved 6th spot in the Clachnaben Hill Race which is the opening event of the 2022/Scottish Hill Running Championship. He then participated in the gruelling Stuc a Chron race at Strathyre which involves a 15000M climb and descent. His time of 2.26.49 gave him 21st position. Both races should help build up his fitness again. Gerron Stewart, Moira's younger brother, showed good form to record a victory in an off road 10K race in Prague.
Well done and happy birthday to Jennifer Campbell who recently celebrated her 50th birthday by running continuously for 50 miles. Both Bernie O'Neil, Erica Christie and Jacqueline McLew will be looking forward to her competing in the shorter events for the W50 team.
David Cooney
Join Cambuslang Harriers
Interested in joining one of Scotland's premier road and cross country running clubs as a member or a volunteer? We cater for runners of all abilities and offer regular training sessions based from our clubhouse in Cambuslang, we also have regular training on the track at the John Wright Sport Centre in East Kilbride, why not come along and join us?


All Content Copyright © 2007-2023, Cambuslang Harriers I Site design by No Lesser Panda