News Archive
Explore our archive of old news articles, click on one of the years below to see all the articles from that year.
Who are Cambuslang Harriers?
Cambuslang Harriers, since its formation in 1948, has become one of the premier cross country and road running clubs across all age groups in Scotland. We also have a very talented girls and ladies group who now regularly win major team honours.


Cambuslang Masters flying the flag for Scotland
The car was full, stories were being regaled, the banter was flowing, no one (present or absent) was spared. It could only mean one thing – Cambuslang Harriers are on their travels again. The venue was once again Sutton Park in Sutton Coldfield, Birmingham for the British Masters Road Relay championships. Ever since the club picked up its first medals at this event (Gold in 1999 with an 8-man M40 team), we have regularly travelled to this blue ribbon masters race and had picked up 18 medals (8 golds, 6 silver and 4 bronze) over various age groups until this year. The defined age groups and leg numbers have changed over the years, but any colour of medal is highly prized by the athletes in competition. The tough course, which many an athlete has succumbed to over the years, has been tweaked quite recently and has probably an even tougher start now, with the finishing straight of Heartache hill still present, is now measured at 5.04km long.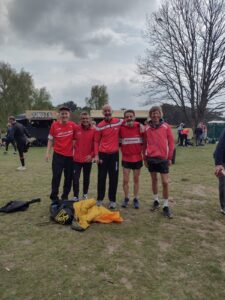 As the only Scottish club represented, two teams were entered this year, with targets of a top half finish for our M55's out of 35 entries, and a podium finish for our strong and experienced M65's team out of 20 entries, in an age group where we have never previously medalled.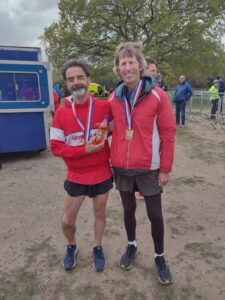 After an overnight stay, both teams started in dry but breezy conditions in the 3rd race of the day, the combined M55/M65 race over 3 legs. Paul Thompson and Colin Feechan were on 1st leg duties for the M65's & M55's repectively. Paul preceded to run a stormer, judging his leg to perfection after a steady start. Not only was he 8th overall, but his time of 19:14 gave the team a commanding lead of just under 2 minutes from Southampton AC with Salford Harriers over 2 minutes behind. With no other M65 athlete able to break the 20 minute mark this was unsurprisingly the fastest time of the day. Meanwhile Colin brought the M55 team home in 25th place in 20:48.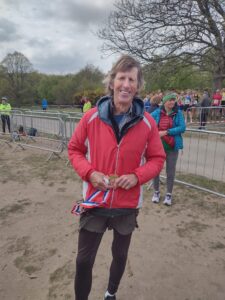 Evergreen Frank Hurley was out on leg 2 for the M65's and he also rose to the occasion recording the fastest 2nd leg time with 20:34, the 4th fastest time of the day, to increase the lead to a massive 4 minutes over Norfolk with Barnet & District moving in to 3rd. Dave Thom was on 2nd leg duties for the M55's and had improved their position to 18th with a time of 20:37.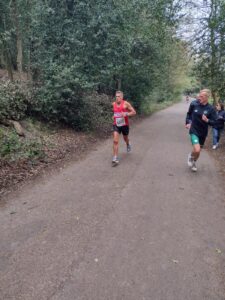 Frankie Barton has been an invaluable member of many winning Cambuslang teams over the years and his recent return to competitive running is a welcome boost to the club. Frankie eased round for the M65's on the last leg with a time of 20:57, over 3 minutes clear of Norfolk with Oxford City coming through to claim the bronze. Kevin Newberry was making his event debut for the M55's on the last leg, returning to the sport recently after a 30-year hiatus. After picking up individual M55 bronze and team gold at the recent BMAF 10k champs held within the Grangemouth 10k, he continued with his fast improving form to lift the M55's to 14th overall with a time of 19:11, recording the 6th fastest for the 3rd leg.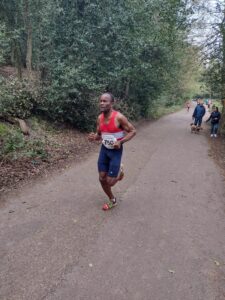 Thanks must go to all officials who made the event successful once again, but special mention must go to our very own Archie Jenkins (6-time medal winner at this event) and Lynne Marr who were performing officiation duties on the day to their usual highly professional standards.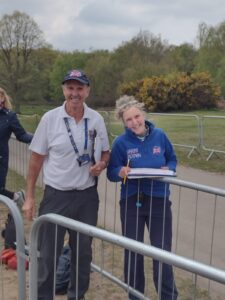 Join Cambuslang Harriers
Interested in joining one of Scotland's premier road and cross country running clubs as a member or a volunteer? We cater for runners of all abilities and offer regular training sessions based from our clubhouse in Cambuslang, we also have regular training on the track at the John Wright Sport Centre in East Kilbride, why not come along and join us?


All Content Copyright © 2007-2023, Cambuslang Harriers I Site design by No Lesser Panda