News Archive
Explore our archive of old news articles, click on one of the years below to see all the articles from that year.
Who are Cambuslang Harriers?
Cambuslang Harriers, since its formation in 1948, has become one of the premier cross country and road running clubs across all age groups in Scotland. We also have a very talented girls and ladies group who now regularly win major team honours.


CAMBUSLANG HARRIERS' COACHES AND OFFICIALS GAIN NATIONAL RECOGNITION.
Cambuslang Harriers Head Coach and former Scottish Endurance Lead Coach Mike Johnston was appointed Convenor of the Scottish Road Running and Cross Country Commission at the recent Scottish Athletics AGM. His previous experience as National Coach and his wide knowledge of the Scottish endurance scene make him an ideal appointment for this role. Fiona Pollock, the club's Welfare Officer, and Assistant Coach Pamela Stephen have been short listed for the Scottish Athletics Volunteer of the Year Award. Their nomination is well deserved for their longstanding and dedicated work with our younger athletes.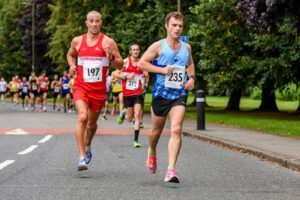 The Scottish 10K Road Championship returned to Stirling after having been cancelled last year due to Covid. While the club did not feature in the men's team awards 3 Scottish individual medals were won by Gordon Robertson, Millie Nicholl and Dave Thom. The senior men's hopes of gaining an 11th consecutive team medal were dashed when in form Fraser Stewart had to call off on the morning of the race due to illness. Nevertheless, the trio of Mike Christoforou, Gordon Robertson and Ian MacDonald acquitted themselves well to finish 6th team. Mike was pleased with his sub 31 minutes clocking of 30.53 as he is steadily getting back to his best after a prolonged period of injury. Gordon was delighted to lift the M40 title and to set a personal best of 32.27 while Ian's time of 34.26 was a 33 seconds improvement on his previous best. M40 runners Justin Carter (35.15), Gordon McDonald (35.17) and George Pettit (35.35) crossed the line in close formation with Justin's son Theo next in a new pb of 36.22. Perhaps the most eye catching Cambuslang performance of the day came from under 17 Millie Nicholl who finished 4th lady overall and 2nd under 20 in her outstanding 10K debut time of 36.58. Her time is all the more remarkable when you consider her 5K road pb is 18.38 and yet she ran at 18.29 pace for 2 consecutive 5Ks. Millie now sits proudly at the top of the UK rankings for an U17 year old. Dave Thom's time of 39.29 secured him the M60 bronze medal while Chris Smith narrowly missed breaking the 40 minutes barriers for the first time by a mere 8 seconds. He nevertheless had the consolation of reducing his pb by 67 seconds. Club president Des Dickson on the comeback trail after injury was satisfied with his clocking of 41.50. Next home was M50 Iain Crawford in the useful time of 45.38 followed by Jacqueline McLew in a season's best of 48.05, Julie Reid in a pb of 49.07 and U20 Rachel Wardrope (51.05).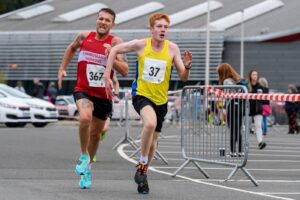 Continuing with road running Mike Christoforou was the only club representative at the Edinburgh Half Marathon. Unfortunately he missed the mass start due to a navigational error to the starting line and had to weave his way through the large field which was not ideal. Not surprisingly his efforts to dodge in and out of the stragglers caused him to tire in the later stages. However, he still had a good workout with his chip time of 72.08 giving him the 7th quickest time of the day. Meanwhile Justin Carter and Alasdair Campbell put in good performances on the Scottish hills. Justin took the M40 award at the Birnam Hill Race while Alasdair was 4th at the Eildon Hills Race.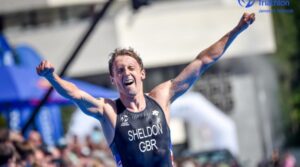 GB Triathlete Grant Sheldon earned himself an impressive podium place in the World Triathlon Cup held in the Czech Republic. He worked his way strongly through the chasing pack in the final discipline, the 10K running event, to take the silver medal thanks to recording the 2nd fastest running time of the day of 31.04. This was an apt reward for Grant's dedication, perseverance and commitment to the sport.
The club is looking forward in the coming weeks to the return of the traditional cross country events which were cancelled last year.
David Cooney
Join Cambuslang Harriers
Interested in joining one of Scotland's premier road and cross country running clubs as a member or a volunteer? We cater for runners of all abilities and offer regular training sessions based from our clubhouse in Cambuslang, we also have regular training on the track at the John Wright Sport Centre in East Kilbride, why not come along and join us?


All Content Copyright © 2007-2023, Cambuslang Harriers I Site design by No Lesser Panda