News Archive
Explore our archive of old news articles, click on one of the years below to see all the articles from that year.
Who are Cambuslang Harriers?
Cambuslang Harriers, since its formation in 1948, has become one of the premier cross country and road running clubs across all age groups in Scotland. We also have a very talented girls and ladies group who now regularly win major team honours.


Medals Galore at BMAF / Grangemouth 10k
15 of our masters athletes donned the red and white vest on Sunday at the Grangemouth Round The Houses 10k, which incorporated the British Masters 10k championships. It is not too often that British Masters events are held in Scotland and we were determined to make our mark individually and in team performances. Our athletes didn't disappoint and 13 of them came away with one or more medals after some outstanding runs.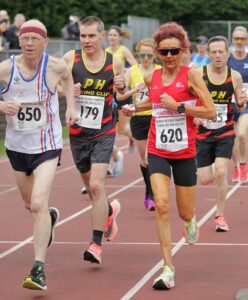 Our only female athlete Erica Christie won the W65 gold medal in 47:12 with the first 3 W65's all under 48 minutes.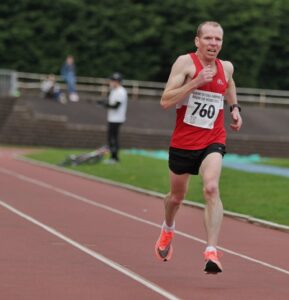 Our first finisher was Stevie Wylie who had a cracking run to finish in 33:32 and M50 gold, with Kerry-Liam Wilson next to claim the silver in 34:36. With Justin Carter winning the M45 bronze in 35:58, and with back up from Mark Gallacher in 36:26, the M45-M54 gold was secure.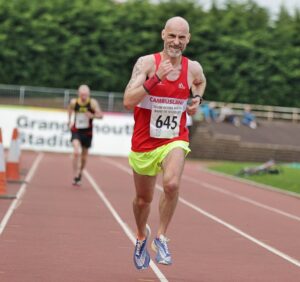 Ian Hodge was 4th M35 in 35:42, and with solid runs from George Pettit (36:56) and Gary Lyon (39:54) this was good enough to gain the bronze M35-44 medals.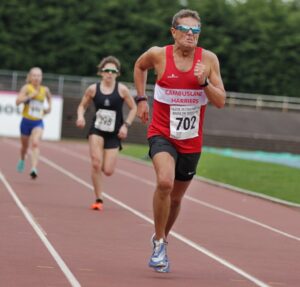 Next to cross the line were M55's Chris Upson (37:07) and fast improving Kevin Newberry (37:23), who claimed M55 silver and bronze respectively. With Dave Thom taking M60 bronze (40:13) with back up from Colin Feechan (41:24), the M55-64 team gold was also in the bag.
Last but not least to secure medals were our M65+ athletes. It was great to see Frankie Barton in the red and white again after a few years absence, and he recorded an excellent time of 39:18 to secure M65 silver, with evergreen Frank Hurley winning the M65 bronze with 40:45. Our 3rd counter to help secure the M65+ gold medals was M70 Peter Ogden (53:54), a great reward for being a Cambuslang harrier for over 40 years now.
Whilst many of our athletes have travelled far and wide to secure British Masters medals before, it was particularly pleasing to see Ian, George, Gary and Kevin collect their first British masters medals, giving them the appetite to collect many more.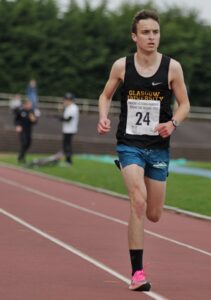 Not to be outdone by the "auld yins", the 10k race also incorporated the Scottish Universities 10k championships and Andrew Carey, representing Glasgow University, secured gold with a time of 33:16.
All in all, a good day at the office!
Join Cambuslang Harriers
Interested in joining one of Scotland's premier road and cross country running clubs as a member or a volunteer? We cater for runners of all abilities and offer regular training sessions based from our clubhouse in Cambuslang, we also have regular training on the track at the John Wright Sport Centre in East Kilbride, why not come along and join us?


All Content Copyright © 2007-2023, Cambuslang Harriers I Site design by No Lesser Panda