News Archive
Explore our archive of old news articles, click on one of the years below to see all the articles from that year.
Who are Cambuslang Harriers?
Cambuslang Harriers, since its formation in 1948, has become one of the premier cross country and road running clubs across all age groups in Scotland. We also have a very talented girls and ladies group who now regularly win major team honours.


Individual And Team Medals For Cambuslang Harriers At The Lanarkshire Cross Country Championships
The Lanarkshire Cross Country Championships was moved from its traditional Coatbridge venue to Kirkland Park in Strathaven. The new undulating course promoted by East Kilbride AC was a welcome change from the flatter Drumpellier Park trail. In spite of several absences across the 5 year age groups Cambuslang Harriers lifted 4 individual gold medals, 6 silver and 3 bronze medals in addition to 3 team victories and 1 runner up spot .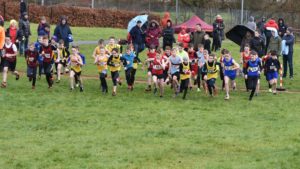 The under 11 girls and then the under 11 boys kicked off the racing programme. These championships offer one of the few opportunities during the winter season for this age group to gain competitive experience. Our 4 athletes Emma Ritchie, Freya Fairweather, Catherine McNicol and Emily Tullett all finished within 11 seconds of one another to gain 6th spot in the team competition. Unfortunately the club did not have a 3rd runner to support Jamie McCarthy and Harrison McLure who were 3rd and 12th in their race. This was an impressively gutsy run by Jamie given that he has only turned 9 and was unwell in the days leading up to the race.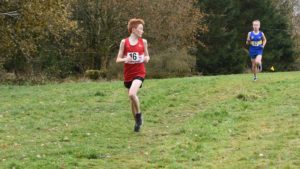 The under 13 girls fielded 7 representatives and their 3 counters of Olivia McNicol, Lucy McGrandle and Emma Kennedy were just outside the medals in 4th position. Olivia too just lost out on the individual bronze medal but can be really pleased with her performance as this is her first year in her age group. The club's other finishers were Grace Ferry, Amy McGoldrick, Martha Fleming and Ines Morrice. The under 13 boys team of Sam McCarthy, Reece Duncan and Chris Black in first, third and fifth spots were decisive team winners. Never out of the first three and often pushing the pace Sam put in an impressive uphill finish to breast the tape while Reece put in a final lung bursting surge to overtake several rivals to secure the individual bronze medal. Jay Gallacher also did well to achieve a top 10 place with Lewis Cook and Dylan Stefani 15th and 16th.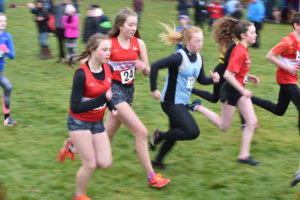 The under 15 girls maintained Cambuslang's momentum with Abbie McLue and Eva Ritchie occupying the first 2 places and with good support from Eilidh Kennedy took team gold. Morvern Crawford and Grace Fleming offered back up support. The under 15 boys had only 2 runners. Fearghus MacGregor was 4th and Dean Edmonds 11th. Unfortunately our under 17 ladies and men lacked a 3rd runner on the day to complete teams. Shona Carey and Peggy Nan Rodger finished 4th and 6th while Jack MacKinnon and ZaK Povey were a clear first and second.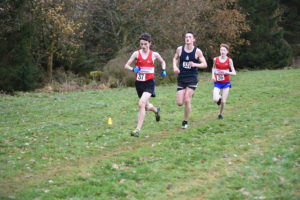 The penultimate race of the day which involved the under 20, senior and master ladies went well for the club. Rachel Wardrope took the under 20 gold medal, Kirsty O'Brien the senior silver and Bernie O'Neil the master silver. Lynn Angley backed up Kirsty and Bernie well to clinch team gold. Lesley McArdle who had come up from London where she is now working had been our 3rd counter until Lynn overtook her in the closing stages. Lynn reaped the benefit of her recent consistent training. It was great to have Lesley competing again for the red and whites and hopefully she will have a smoother journey when she returns for the West Cross Country Championships in early December. Cambuslang's other 2 female finishers were Alex Lamond and Paula McCabe. Alex took another step forward in her comeback after a lengthy injury and Paula who prefers the road had a rare outing on the country.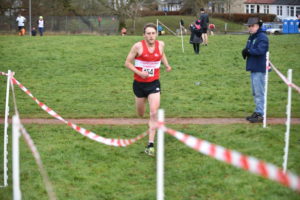 The closing act of the day was the men's race with the same 3 different age groups. The club was well represented with 11 members on the starting line. Pre race favourite Grant Sheldon set out his stall with a very fast opening and by the finish had built up a comfortable lead of 73 seconds over his nearest rival. The Scottish 10K road champion was testing out his fitness after a lay off due to a broken wrist. With support from vice captain Ritchie Carr in 4th place and from Scottish M45 master internationalist Justin Carter the club secured team silver sandwiched between East Kilbride and Shettleston Harriers. Next home for the club was Iain McDonald who had earlier in the day finished 2nd in the Tollcross Parkrun. He was followed home by Kai Newell who lifted the under 20 silver medal. M50s Mick O'Hagan and Dave Thom had a battle for the next Cambuslang athlete to cross the line with Mick's younger legs prevailing. Club president Des Dickson, Frank Hurley and club coach Iain Crawford were the final finishers for the club.
As ever the club would like to thank those members and parents who gave up their time to support our athletes and to carry out the necessary voluntary duties so that the championships could take place. The final men's race was almost cancelled as there were not sufficient volunteer marshalls to assist in the recording of times and places. Our 2 volunteers including Al Campbell had stayed in post but volunteers from other clubs had disappeared. However Fiona and Pamela stepped in at the last minute to ensure that the race could go ahead. It seems to be a generable problem for clubs to persuade volunteers to offer their services and this is an area for our committee to look at. We have a small group of people willing to take their share but need to expand our numbers. The more volunteers we have the frequency of the times when required will be reduced.
David Cooney
Join Cambuslang Harriers
Interested in joining one of Scotland's premier road and cross country running clubs as a member or a volunteer? We cater for runners of all abilities and offer regular training sessions based from our clubhouse in Cambuslang, we also have regular training on the track at the John Wright Sport Centre in East Kilbride, why not come along and join us?


All Content Copyright © 2007-2023, Cambuslang Harriers I Site design by No Lesser Panda