News Archive
Explore our archive of old news articles, click on one of the years below to see all the articles from that year.
Who are Cambuslang Harriers?
Cambuslang Harriers, since its formation in 1948, has become one of the premier cross country and road running clubs across all age groups in Scotland. We also have a very talented girls and ladies group who now regularly win major team honours.


Cambuslang Senior And Masters Men Retain Their West District Cross Country Championships Titles
This year's West District Cross Country Championships were held on a hilly Balloch course made even more challenging by the persistent rain which poured down on the runners thus making the course slippery in places. All who ran and all coaches and supporters in attendance deserve a medal for braving the monsoon elements. The Cambuslang senior and masters men along with the under 17 men were certainly in the medals. The senior men lifted their 3rd successive team title, the masters men their 5th successive team gold and the U17 men gained their 4th team silver in a row. The senior men hold an incredible record in this event with 26 team victories, 12 silver and 4 bronze medals thus amassing 42 team medals over a period of 45 years. An individual senior silver for Craig Jardine and individual bronze medals for senior Fraser Stewart and M40 Kenny Campbell were further icing on the cake.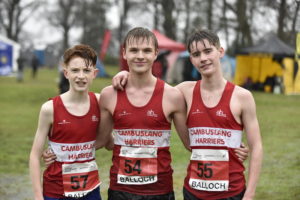 The under 13 girls then followed by the under 13 boys opened the proceedings. Lucy McGrandle and Olivia McNicol acquitted themselves well to cross the line in quick succession in 21st and 24th places. In the under 13 boys event Sam McCarthy in 11th spot achieved his goal of a top 12th finish to gain automatic selection for the West District team for the Scottish Inter Counties in January. Sam was well supported by Reece Duncan, Chris Black, Dylan Stefani and Lewis Cook with the team being a creditable 4th.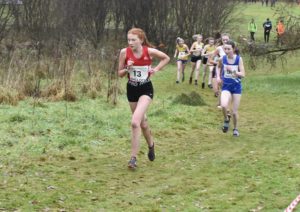 U15 girl Abbie McClue in 7th place will also represent the West in January. With support from Eva Ritchie and Eilidh Kennedy the trio finished 5th team. Unfortunately we only fielded 2 under 15 males and therefore could not complete a team. There was however some consolation for Feargus MacGregor who secured the final automatic place for the Inter Counties. Finlay Robb ran strongly throughout for 24th position.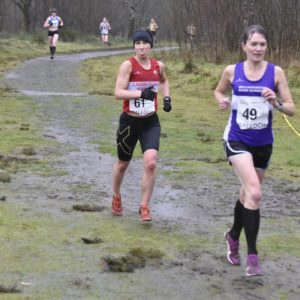 The under 17 ladies race was a mirror image of the under 15 boys with only 2 Cambuslang competitors taking part as Shona Carey was unwell. 7th placed Susie McLaughlin comfortably filled an automatic spot for the West Inter Counties team and Peggy Nan Rodgers stuck to her task well in the deteriorating conditions. Unfortunately under 20 Rachel Wardrope was forced to retire mid race due to feeling unwell. Cambuslang did manage to have an U17 men's team in spite of the late withdrawal of Lanarkshire Champion Jack MacKinnon due to illness. The trio of Brodie Aitken, Michael Black and Zak Povey packed well together for the team silver with the added bonus of West District selection for Brodie and Michael. The under 20 men also ran with the under 17s albeit running an extra loop. Illness also played a part in the club not finishing a team. Struan Paton although unwell started but not surprisingly had to pull out mid race. Chris McLew and Andrew Carey recorded 9th and 14th place respectively.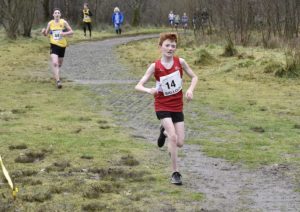 The senior and masters ladies did well to finish 7thin the senior ladies competition and 6th in the ladies masters event. Master athletes are allowed to count for their senior team as well as their masters team. Senior lady Kirsty O'Brien led home masters Bernie O'Neil, Jennifer Campbell and Lyn Angley to count for the senior team and Bernie, Jennifer and Lynn were the counters for the masters. Next home for the club was Lesley McArdle who is building up her competitive fitness again.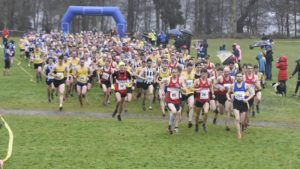 The final race of the day incorporated the senior and masters men. By now the course had cut up even further and some dramatic falls on the course were anticipated. Some of our athletes who will remain anonymous duly obliged. With 6 counters in the top 16 Cambuslang were clear winners ahead of Shettleston and Inverclyde and the club was unofficially 4th as the next 6 club runners occupied 18th to 40th spot. The winning sextet was spearheaded by silver and bronze medallists Craig Jardine and Fraser Stewart with very strong support from Ryan Thomson 4th, Alasdair Campbell 6th, Stuart Gibson 11th and Colin Reilly 16th. The first 4 are automatic picks for the West team. This was a most welcome return to form by Craig after a relatively quiet period while Fraser made up for last year when he lost out in a desperate sprint to the line. Colin continued his improved form to gain his first ever west team medal. The finishing order of the next 6 runners was Jamie MacKinnon, M40 Kenny Campbell, Ritchie Carr, M40 Ben Hukins, M40 Stuart McGeachy and Andrew Anderson. With Kenny, Ben and Stuart 3rd, 4th and 5th in the M40 category another emphatic masters team victory was achieved again over Shettleston and Inverclyde. A further string of Cambuslang athletes crossed the line in the order of Justin Carter, Iain McDonald, Gordon McDonald, Johny Macnamara, Mick O'Hagan, Dave Thom, Frank Hurley, Dan O'Connell, Des Dickson, Iain Crawford, David Stirling and Peter Ogden.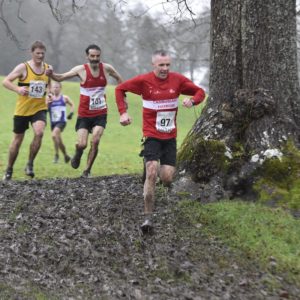 In very wet days such as last Saturday having the 2 club tents there is essential and a debt of gratitude is owed to those who assisted in erecting and dismantling the tents. It would be good to have more helpers though. Thanks are also due to the coaches, supporters and to Colin Stephen who captured all the action in camera. Finally the club would like to offer its thanks to the promoting club Dumbarton AC in their centenary year.
David Cooney
Join Cambuslang Harriers
Interested in joining one of Scotland's premier road and cross country running clubs as a member or a volunteer? We cater for runners of all abilities and offer regular training sessions based from our clubhouse in Cambuslang, we also have regular training on the track at the John Wright Sport Centre in East Kilbride, why not come along and join us?


All Content Copyright © 2007-2023, Cambuslang Harriers I Site design by No Lesser Panda