News Archive
Explore our archive of old news articles, click on one of the years below to see all the articles from that year.
Who are Cambuslang Harriers?
Cambuslang Harriers, since its formation in 1948, has become one of the premier cross country and road running clubs across all age groups in Scotland. We also have a very talented girls and ladies group who now regularly win major team honours.


CAMBUSLANG HARRIERS EXCEL ON TRACK, ROAD AND HILLS
The running scene is gradually opening up again with the opportunity for athletes to compete in head to head competition with Covid safeguards in place. For example, the number of competitors in an event may be limited or athletes start in waves according to predicted times. Members of Cambuslang Harriers have recently participated in and performed well on the track, road and hills.
Under 23 Gavin Smith, who is USA bound to take up an athletics scholarship there, smashed his 1500M personal best by 5 seconds to record the excellent time of 3.49.34 at the British Milers Event in Manchester. Under the watchful eye of coach Mike Johnston Gavin has also set track life time bests this season at one mile, 3000M and 5000M.
Mark Gallacher, who recently moved into the M50 category and is now back with his boyhood club, is another athlete showing a spring in his step. Moving down a distance he took 7 seconds off his 800m pb when winning his heat in the Pitreavie Open Graded Meeting with a time of 2.14.5.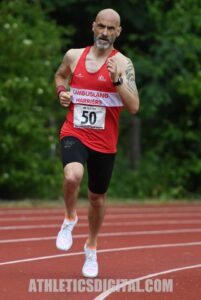 Ryan Thomson eased himself back into racing mode at the Midsummer Night 10000M Classic in Leeds with a respectable clocking of 30.49.76 and followed this performance up 6 days later with the worthy time of 14.32 for a close up 3rd place in the Wigan Fast 5K Road Race. He was pleased to take in the 2 races inside such a short time and feels that this will benefit him in his next competition.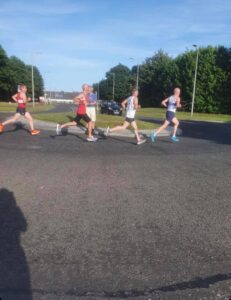 The Scottish Veteran Harriers hosted their Clydebank 5K Road Event for athletes over the age of 35. Instead of the usual one race 2 races were held in order to ease social distancing. 7 athletes represented Cambuslang Harriers in the A race. The club provided the first 2 finishers with M35 Colin Reilly (15.47) edging M40 Gordon Robertson by 4 seconds. M50 Mark Gallacher took 6th place overall and first in his age category with a pb of 16.38. Stevie Wylie also dipped under 17 minutes by 6 seconds for 3rd spot in the M45 group with Mark King's time of 17.46 giving him the same position in the age 50 grouping. M65 Frank Hurley, the leading M65, was timed exactly at 19 minutes. M60 Dave Thom was on schedule for a sub 19 minutes recording but unfortunately felt unwell in the closing stage. In spite of this he managed to cross the line in a time of 19.59 for 2nd age position. M45 Scott Hunter and M70 Peter Ogden lined up in the B race with Scott recording 22.15 and Peter 24.34. Meanwhile M55 Stan Mackenzie blew off the cobwebs after a prolonged period of injury to deliver a 40.06 performance in the Forres 10K which secured him the leading over 50 placing.
Father and son Richard and Kieran Cooper along with Justin Carter participated in the 16K/1240M Durisdeer Hill Race and gave very good accounts of themselves. Kieran's excellent 3rd place gained him a podium place with his father narrowly edging Justin by 9 second for 13th and 14th spots. Fraser Stuart made his hill debut in the tough Lairig Ghru Race which follows the historic drove route between Braemar and Aviemore covering 43KM and rising to 2733 feet. To comply with Covid Safety Procedures the 212 participants set out in a waved start format. Fraser who had prepared diligently for this event delivered an outstanding performance to take 3rd place in a time of 3.11.02 and left a number of experienced hill specialists in his wake. He now plans to recover before concentrating on 10K and half marathon road races.
David Cooney
Join Cambuslang Harriers
Interested in joining one of Scotland's premier road and cross country running clubs as a member or a volunteer? We cater for runners of all abilities and offer regular training sessions based from our clubhouse in Cambuslang, we also have regular training on the track at the John Wright Sport Centre in East Kilbride, why not come along and join us?


All Content Copyright © 2007-2023, Cambuslang Harriers I Site design by No Lesser Panda