News Archive
Explore our archive of old news articles, click on one of the years below to see all the articles from that year.
Who are Cambuslang Harriers?
Cambuslang Harriers, since its formation in 1948, has become one of the premier cross country and road running clubs across all age groups in Scotland. We also have a very talented girls and ladies group who now regularly win major team honours.


GRANT SHELDON FINISHES 5TH FOR SCOTLAND IN THE COMMONWEALTH GAMES INDIVIDUAL TRIATHLON EVENT
Cambuslang Harrier Grant Sheldon in his 3rd Commonwealth Games achieved his best position to date when finishing a superb 5th ahead of some of his more fancied rivals in the Individual Triathlon Event at Birmingham. In a star studded line up he came through strongly in the 3rd and last discipline, the 5K run, to move up to 5th behind event winner England's Alex Yee, New Zealander Hayden Wilde and 2 Australians. His time of 15.15 on the hilly Sutton Coldfield course, the scene of numerous medal winning performances over the years by our Masters, was the 5th fastest split on the day. With only one full day's rest Grant then led off the Scottish Mixed Relay Team. Grant, Beth Potter, Cameron Main and Sophie Green combined extremely well to take 5th place, the highest ever finishing position by Scotland. Grant's mum and dad, Carol and Brian, and his uncle David Marshall were there to cheer him on and were justifiably proud of his achievement. Grant first started off as a swimmer before turning to the triathlon. Although his main focus is understandably on the triathlon he competes for Cambuslang Harriers whenever possible. He takes inspiration from his grandfather Willie Marshall who was a multi Scottish, UK, European and World Champion Masters Distance Runner. Grant first ran for Cambuslang in 2010 in the Scottish Cross Country Championships as an U17 youth and helped the club to team silver. The following year he won the U20 individual title leading Cambuslang to team bronze and was also a member of the silver winning team in 2012. His 2nd overall and first U20 placings led to both senior and U20 team victories in the 2014 Scottish Road Championships. He also won Scottish 10K Road individual gold in 2017 and 2019 and silver in 2018 leading his teammates to 2 team gold medals and one silver. Finally in a rare track appearance in 2017 he secured gold in the 5000M Scottish Championships.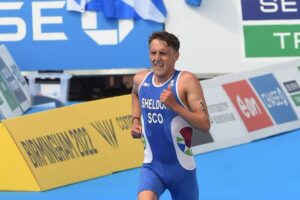 There have been a number of impressive performances on the track by Cambuslang members. Seniors Gavin Smith, Jamie MacKinnon, Chris McLew and Ryan Thomson, U17 Sam McCarthy and M50 Mark Gallacher have all achieved 1500M personal best times of 3.45.70, 3.47.24, 3.47.62, 3.52.24, 4.28.61 and 4.32.87. As well as setting his 1500M pb Mark also doubled up in the 3000M for the Scottish Masters in the UK Inter Area Track Meeting and was only 1 second outside his pb. Over the longer 5000M distance Fraser Stewart, Colin Reilly, Eve MacKinnon and M50 Mark King have recorded times of 14.52.57, 16.42.13, 17.27.77 and 17.53.95. Eve's strong track debut in this event confirms her recent good form on the roads. Some younger runners participated in the Livingston Open Graded Meeting. U15 athletes David Kinnaird and Euan Reid won their 800M heats, while U17 Jonathan Dow was 2nd in his heat ahead of fellow U17 Chris Black.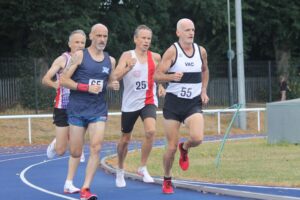 Cambuslang runners have also acquitted themselves very well on the roads. In the Podium 10K at Barrowford in the North of England Ryan Thomson was the first Scottish athlete to cross the line in 4th place in the speedy time of 29.53 while Andrew Carey set a 10 seconds pb of 31.47. There was a pb performance too by Cameron Smith (14.30) over the shorter 5K event with Kevan Harvey clocking 15.11. Kevan was in shape to break his pb of 15.02 but he unfortunately felt lethargic throughout his race. The reason for his lack of energy manifested itself the following day when he took ill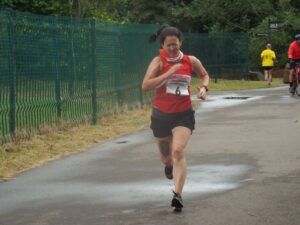 After an absence of one year the LSK Masters Road Relays for athletes over 35 was staged over the usual circuit round Strathclyde Park Loch. Previously the M35 and M50 quartets had won their respective age groups while the over W35 trio had finished 5th. This was always going to be a hard act to follow. However, the Cambuslang teams rose to the occasion to retain the 2 male team titles and to gain 3rd place for the ladies' team. A well balanced M35 team of club captain Richie Carr, Ian Hodge, Alistair Campbell and Gordon Robertson, 2nd fastest runner overall on the day, were over 2 and a half minutes ahead of Garscube with Greenock Glenpark 3rd. The M50 quartet of club secretary Dave Thom, Chris Upson, Richad Cooper and Mark Gallacher had an even greater lead over Cumbernauld and Victoria Park. M60 Dave, in finishing 2nd on the opening leg, set up his younger team mates well for the following 3 legs and with Chris, Richard and Mark 4th, 3rd and 2nd fastest overall team victory was assured. The 3rd placing for the ladies was the icing on the cake for the club. Paula McCabe came home 4th on the opening leg which was maintained by Bernie O'Neil with Erica Christie pulling up to 3rd behind Giffnock North and Greenock Glenpark on the final leg. Another pleasing aspect of this event was the participation of a number of athletes from the development group who had joined the club during the Covid outbreak such as Julie Reid who ran well on the opening leg for the B team. Also Iain McLachlan, Stephen Shakespeare, Alan Anderson, John Henderson and Chris Paton put in good performances. Cambuslang's M35 and M50 B teams were the first B teams to complete the course thanks to George Pettit, Brian Douglas, Gary Lyon, Iain McLachlan, Dan O'Connell, club president Des Dickson, John Henderson and Chris Paton. Stephen Shakespeare and Alan Anderson ran the first 2 legs for the M35 C team.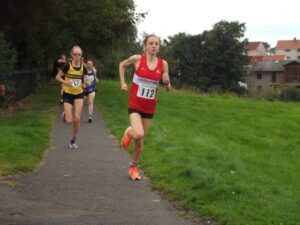 Millie Nicholl and Mark Gallacher were the leading under 17 ladies and over 50 male athletes in the Kilmaurs 5K Road Race. Millie, who is currently ranked number one over 10K in the UK for her age group, lowered her 5K pb to 17.28. Mark had to produce a final fast 1K to shake her off by 9 seconds. Millie's dad Iain on his comeback after injury clocked a solid 18.26 while the ever-consistent Erica Christie was 2nd lady O60 in a time of 21.56. Continuing with events in Ayrshire George Pettit was 2nd M40 at the Millport 10 Miler with M40 David Scott just edging out Paula McCabe who took 42 seconds off her pb.
Cambuslang Harriers have also been prominent at Parkruns over the last few weeks. There have been first places for Iain McDonald, Kerry-Liam Wilson, Chris Upson, Richie Carr, Kieran Cooper and Sam McCarthy. Incidentally both Kieran and Sam set age group course records. Kieran has also had a 2nd placing to his credit as have Justin Carter and Georgia Freeman-Mills while Carole Setchell, Michael Barker, Mark King, Iain Hodge and Richard Cooper have occupied 3rd spots.
David Cooney
Join Cambuslang Harriers
Interested in joining one of Scotland's premier road and cross country running clubs as a member or a volunteer? We cater for runners of all abilities and offer regular training sessions based from our clubhouse in Cambuslang, we also have regular training on the track at the John Wright Sport Centre in East Kilbride, why not come along and join us?


All Content Copyright © 2007-2023, Cambuslang Harriers I Site design by No Lesser Panda