News Archive
Explore our archive of old news articles, click on one of the years below to see all the articles from that year.
Who are Cambuslang Harriers?
Cambuslang Harriers, since its formation in 1948, has become one of the premier cross country and road running clubs across all age groups in Scotland. We also have a very talented girls and ladies group who now regularly win major team honours.


CAMBUSLANG MASTERS MEN ARE AMONG THE MEDALS
The last few weeks have been a quieter time for members of Cambuslang Harriers. The major event during this period has been the Scottish Masters Track Championships held at Dundee. Although only 3 members participated, they lifted 5 medals between them. M55 Chris Upson won double gold medals, M50 Mark Gallacher silver and bronze and M60 Dave Thom a silver medal. Chris was victorious in both his 800 and 1500M races, Mark secured his bronze in the 800M with a pb and silver in the 1500M while Dave gained silver in the M60 5000M age group.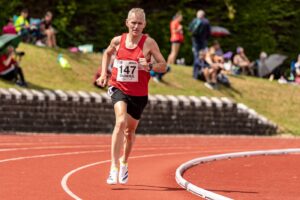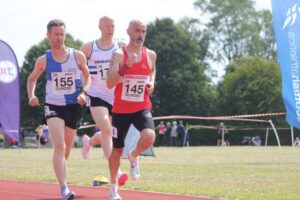 Meanwhile Cameron Smith, Jamie MacKinnon and Ryan Thomson were competing in England. Cameron, in his first outdoor track race since 2019, took 52 seconds off his previous best to clock the excellent time of 14.32.75 in the Milton Keynes 5000M PB Special. He selflessly took out the pace going through the 3000M in 8.42.23 to ensure a fast overall time. Although giving ground to 2 opponents in the closing stages Cameron was pleased with his first track outing of the season. Likewise, Jamie MacKinnon was satisfied with his 2022 track debut in the BMC 1500M at Trafford. His time of 3.49.52 was only a mere 0.03 seconds outside his pb which augurs well for the remainder of the track season. Ryan moved down to the 1500M from the longer 3000 and 5000M distances at which he has recently set impressive pbs. While he clocked a solid time of 3.54.64, he is currently in great shape to reduce that time much further.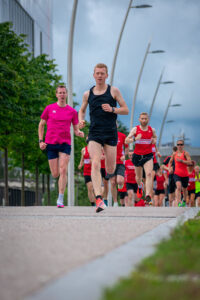 The main focus for members has been on road racing. The club, courtesy of David Stirling, Richie Carr and Dave Thom, set up 2 events for members over 3 and 5K on the nearby flat Shawfield circuit. U17 athletes Jonathan Dow and Chris Black and M40 Gary Lyon were initially locked together with M70 David Cooney adrift from the start. However, Jonathan opened up a decisive gap on Gary who in turn pulled away from Chris with David dropping further back. This order was maintained to the finishing line which gave respective times of 10.05, 10.36, 11.12 and 14. 54 to the 4 competitors. M50 Iain Crawford who started the 5K recorded a time of 13.14 for the 3K distance. A mixture of experienced and novice runners lined up for the 5K. Newcomer Euan Duerenberger threw down the gauntlet from the start to take an early lead from club captain Richie Carr over the first 2 of the 4 ½ laps. However, Richie gradually pulled him back and subsequently opened up a clear lead. Both athletes can be happy with their sub 17 minutes times of 16.49 and 16.58 in the windy conditions. The next 4 runners M35 Andrew Anderson (18.13), M45 Brian Douglas (18.21), James Smith (18.29) and new member Tom Adams (18.54) all broke the 19 minutes barriers. This was a productive workout for Andrew and Brian who are both returning from injury. Gary Miller (19.22) and Gerry Higgins (19.29) edged out the leading 2 ladies and fellow triathletes – newcomer Nathalie Brohan (19.42) and Kirsty O'Brien (20.06). New members Andy Blain (20.17) and Stephen Shakespeare (20.43) finished ahead of a quartet of more experienced runners, namely M65 Frank Hurley (21.09), W50 Bernie O'Neil (22.26), U20 Rachel Wardrope (22.31) and W60 Erica Christie (22.41). All 3 ladies had a good tussle throughout with the positions chopping and changing. Development runners Alan Anderson and husband and wife Colin and Kathmar Dow who have only recently taken up running with the club can be pleased with their recordings of 23.10, 24.08 and 25.33.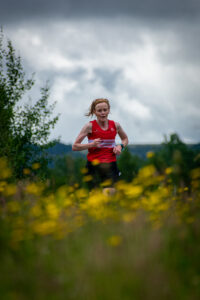 4 club athletes participated in open road races. Chris Upson and Mark Gallacher continued their good form when the former took the M50 prize in the Crieff 10K and the latter the M50 award in a mile road event in Edinburgh. Mark also had the satisfaction of recording a pb of 4.46 which puts him 2nd in the All Time Scottish M50 Road Mile Rankings. Fellow M50 Kerry-Liam Wilson turned out in his local Girvan Half Marathon Race and came home first in the hot temperature with a time of 77.5. M35 Ian Hodge travelled up to Inverness for the 5K and put in a good performance (16.52) in windy conditions.
Various Parkruns over a 2 week period attracted a number of Cambuslang runners. There were first places for Paula McCabe, Stuart Gibson, IaIn McDonald, Georgia Freeman-Mills, Kerry-Liam Wilson and Kieran Cooper with runner up spots for Ian Hodge, Carole Setchell, Justin Carter and bronze placing for Richard Cooper and Euan Duerenberger. Both Kieran and Richard flew the flag for Cambuslang while on holiday in France. There were also fine performances from Mark King, Michael Barker, Kevin Newberry, Eddie Carr, who ran from Carmunock to Strathclyde Park by way of a warm up, John Kelly, Sandy Eaglesham and John McCluskey. John deserves a special mention and thanks for doing his customary guide runner to support Raymond Ward.
David Cooney
Join Cambuslang Harriers
Interested in joining one of Scotland's premier road and cross country running clubs as a member or a volunteer? We cater for runners of all abilities and offer regular training sessions based from our clubhouse in Cambuslang, we also have regular training on the track at the John Wright Sport Centre in East Kilbride, why not come along and join us?


All Content Copyright © 2007-2023, Cambuslang Harriers I Site design by No Lesser Panda