News Archive
Explore our archive of old news articles, click on one of the years below to see all the articles from that year.
Who are Cambuslang Harriers?
Cambuslang Harriers, since its formation in 1948, has become one of the premier cross country and road running clubs across all age groups in Scotland. We also have a very talented girls and ladies group who now regularly win major team honours.


CHRIS CAMPBELL SCALES THE HEIGHTS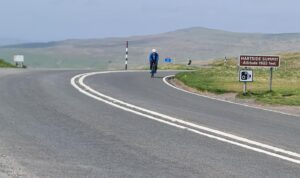 Cambuslang member Chris Campbell not only climbed the 3 peaks of Snowden, Scafell Pike and Ben Nevis in succession but also cycled between all 3 Welsh, English and Scottish highest mountains. His target was to accomplish this mammoth feat inside the time of 72 hours. Starting in Wales at 2.30am on Friday 17th June he amazingly covered the 25.5 miles and 11,000 feet of mountain climbing and 450 miles of cycling with 17,500 feet of climbing mostly into a head wind inside a remarkable 67 hours. Another way of measuring his 3 Peaks Self Propelled Achievement is to consider that Chris was on foot for 12 hours and on the bike for 38 hours which left him only 17 hours to snatch some food and sleep. He was motivated to raise funds for 2 charities close to his heart namely Wateraid and Motor Neurone Disease Charity My Name'5 Doddie which helped to spur him on in the early hours of the morning when he was cold, tired and wishing he was tucked up in bed. Chris was deeply grateful to his support team without whom none of this would have been possible. His niece Tina did all 3 mountain climbs and his brother Tony did most of the cycling with him too while club members Iain McNair assisted on Scafell and Andrew and Gail Blain on Ben Nevis. Chris and all his team are to be congratulated for their worthy endeavours.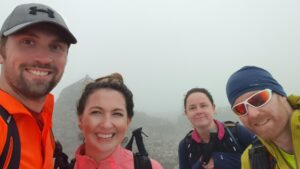 https://www.justgiving.com/team/3peaksrunandcycle
https://www.justgiving.com/fundraising/Chris-Campbell29
While Chris was engaged in his 3 Peaks Challenge 23 club members lined up for the popular Friday evening Brian Goodwin 10K Road Race hosted by Bellahouston Harriers. Eve MacKinnon, only 5 days after her bronze medal in the Scottish 10K Championships, was the club's star performer finishing well clear of her rivals with a personal best time chip time of 35.39.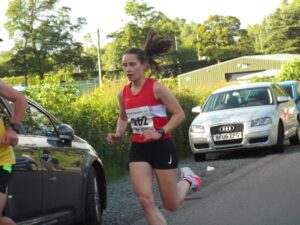 Mike Christoforou, also a Scottish 10K bronze medallist, looked to be in contention for a first or second placing when he and eventual winner Derek Hawkins had broken away from the field. However, at the 6K mark when feeling comfortable he developed a bad stitch which he found difficult to shake off. This resulted in Mike dropping back to 7th place in the still very respectable time of 30.46. Kevan Harvey in 11th position with a pb of 31.22, Kieran Cooper 16th in a pb equalling time of 32.13 and Iain McDonald 36th in a time of 34.25 combined with Mike to bring Cambuslang home 2nd in the team competition only one point behind Kilbarchan. Owen Walpole (34.52), Ian Hodge (35.04) and 2nd placed M50 Richard Cooper with a pb of 35.29 were the next 3 club runners home. M50 Mark Gallacher (36.05) again prevailed over 3rd placed M45 Justin Carter by 8 seconds with fellow M45 Iain Nicholl a further 14 seconds adrift and M50 Mark King a further 17 seconds behind.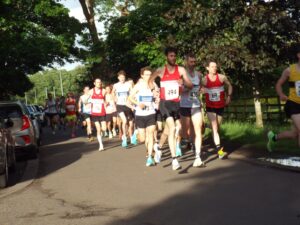 New member Tom Adams who only ran his first 10K in the club's Down by the River Race in March significantly improved his pb by nearly 3 minutes to clock 39.19. This was a fitting reward for his enthusiastic embracement of club training sessions. Iron Man James Smith (39.19) had a good under distance workout. 3rd placed M60 Dave Thom (40.20) got the better of Charlie Thomson, in his first race at this distance since 2007, by 7 seconds. After his usual conservative start M60 Eddie Carr (42.55) steadily worked his way through the 375 strong field to out distance newcomer Georgia Freeman Mills by 9 seconds. Paula McCabe (44.28) and W40 Julie Reid with a pb of 46.39 brought the 4 to count ladies' team into 3rd spot. M50 Chris Paton, Struan's dad, set a pb of 48.34 as did 3rd placed U20 Rachel Wardrope (48.54) who broke 50 minutes for the first time. 3rd placed M65 Frank Hurley (49.09) assisted his daughter Claire in setting a personal best.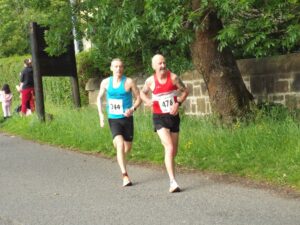 On the following day Erica Christie took the W60 prize in the Loch Lomond 10K clocking a very respectable time of 46 minutes and 43 seconds and was delighted to receive her award from Lachie Stewart, the former Commonwealth 10,000M Gold Medallist from 1970.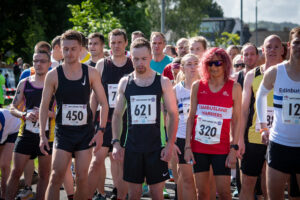 The usual early morning parkruns featured Cambuslang athletes at various venues. M50 Kerry-Liam Wilson, M40 Stuart McGeachy and M45 Justin Carter took the honours in their respective parkruns with 2nd spots for Justin's son Theo, W40 Carole Setchell and Chris Upson while there were 3rd places for Iain Nicholl, Lesley McCardle and Iain McDonald. There were other notable runs from Brian Douglas, Bernie O'Neil, Sandy Eaglesham, Julie Dell, coach Karen Goldie, Gerry Duddy, John Kelly and John McCluskey.
Attention then shifted on the Sunday to the Glasgow Men's Health 10K where the 6 Cambuslang representatives were well to the fore. Kieran Cooper (32.57) finished 3rd followed by new member Euan Duernberger 10th with a pb of 34.47, then Kieran's dad Richard in 12th spot and first M50 (35.07) slicing a further 22 seconds from his short-lived Friday evening record. M40 George Pettit was 3rd in his age group one place and 12 seconds behind Richard. Cambuslang Harriers filled the first 2 M55 positions thanks to the ever competitive Chris Upson (15th in 35.29) and Kevin Newberry (36.27 in 26th spot) who lowered his comeback pb by 56 seconds.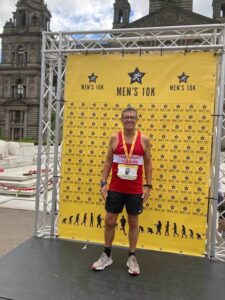 Kevin is enjoying his involvement in training and racing again after a lengthy absence from the sport.
David Cooney
Join Cambuslang Harriers
Interested in joining one of Scotland's premier road and cross country running clubs as a member or a volunteer? We cater for runners of all abilities and offer regular training sessions based from our clubhouse in Cambuslang, we also have regular training on the track at the John Wright Sport Centre in East Kilbride, why not come along and join us?


All Content Copyright © 2007-2023, Cambuslang Harriers I Site design by No Lesser Panda