News Archive
Explore our archive of old news articles, click on one of the years below to see all the articles from that year.
Who are Cambuslang Harriers?
Cambuslang Harriers, since its formation in 1948, has become one of the premier cross country and road running clubs across all age groups in Scotland. We also have a very talented girls and ladies group who now regularly win major team honours.


CAMBUSLANG HARRIERS CONTINUE TO BE ACTIVE IN COMPETITION
Members of Cambuslang Harriers were involved in various track, trail, hill and road races at the weekend. Gavin Smith and Chris McLew, assisted by team mate Jamie MacKinnon as pacemaker, filled the first 2 places in the A 1500M at the Livingston Open Meeting. Gavin's time of 3.48.01 trimmed his pb by 0.01 of a second while Chris clocked 3.55.86. A persistent hamstring strain has unfortunately prevented Jamie, the current 1500M Scottish bronze medallist, from racing himself. U15 and U17 year olds Euan Reid (5.24.32) and Chris Black (4.53.85) laid down useful markers at this distance while Under 11 Ewan Kennedy (1.52.20) had a convincing 7 seconds victory in the 600 m event.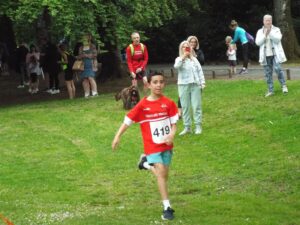 There was a good representation from Cambuslang Harriers for the undulating Calderglen Trail Races although they were heavily outnumbered by the local midgies. Under 9 Douglas Gallie, the son of coach Graeme, took 3rd place in the 1K race. Brooke Walker and Aiden O'Connell gained useful experience in the U12 3K event while 2nd placed Sam McCarthy led home Cian Kearney, Alistair McLachlan and Erin Kearney in the U15 3K. U17 Finlay Robb held off his more experienced and older rivals to come home first in the 5K with Rachel Wardrope securing the 2nd U20 lady position. In the men's 10K runner up Kieran Cooper split the East Kilbride duo of Daryl Reid and John Fergusson. Masters Justin Carter, first M45, George Pettit and Richard Cooper, the leading M50, packed well in 9th, 12th and 13th spots 4 places ahead of the determined club captain Ritchie Carr who sustained an ankle injury during the race. Andrew Anderson made a welcome return to competition after a lengthy absence due to injury and newcomer Tom Adams experienced his first trail race. Kirsty O'Brien was delighted with her podium 3rd place and club secretary Dave Thom lifted the M60 prize ahead of M50 runners Dan O'Connell and coach Iain Crawford.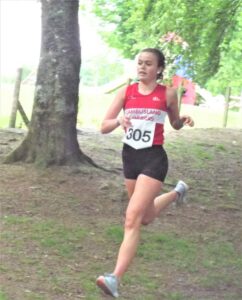 Fraser Stewart, a 2hours 18 minutes and 40 seconds marathon performer and currently ranked 3rd in Scotland, turned his attention to the gruelling 43K Lairig Ghru event held on the historic drover route between the police stations of Braemar and Aviemore. The 2,733 ascent covers a mixture of road, forest tracks and rocky single tracks. He had Lochaber's Scottish Internationalist Hill Runner John Yells for company until the 18 miles mark. However, Fraser was able to use his speed and strength on a more runnable section of the course to open up a 4 minute gap by the finish. His time of 3.08.47 was an improvement of 3 minutes on his previous run.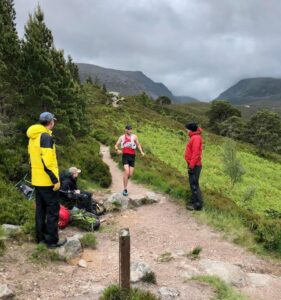 Cambuslang athletes popped up at numerous Parkruns both in Scotland and in England. There were first places in Scotland for Iain McDonald, Kerry-Liam Wilson and Kieran Cooper with 2nd spots for Ian Hodge and Mark Gallacher and 3rd placings for Carole Setchell and Justin Carter. Interestingly Mark had a close tussle throughout his 5K with an unknown (to him) competitor but could not quite close the 30M gap. Any disappointment he might have had was short lived when he later discovered he had narrowly lost out to Chris Newton, a former road and track racing cyclist, a multiple world champion and triple Olympic medalist. Mark also had the additional satisfaction of breaking the M50 Crichton Parkrun age group record. Richard Cooper, Kevin Newberry, Stuart Gibson, and Simon Gold all had good workouts too. Over the border Mike Christoforou had a comfortable win with Lesley McArdle, Jamie Reid and Chris Upson, all in 4th position, and Paula McCabe 5th just missing out on a podium spot. This was a welcome return for Jamie after an absence of over 2 years due to ongoing achilles heel issues. Hopefully he will not have had any ill effects from his outing. Newcomer Euan Duernberger underlined his potential when finishing 3rd in the Edinburgh Great Scottish 10K.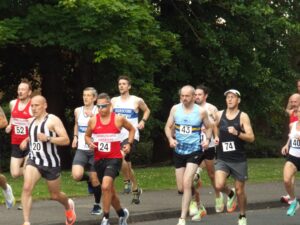 Cambuslang masters also performed well in the Scottish Veteran Harriers 5K Road Race at Clydebank. Gordon Robertson took the 3rd M40 spot recording the fast time of 15.35. M35 Ian Hodge (16.52) just edged out first placed M50 Mark Gallacher by one second. Richard Cooper with a pb of 17.05 was 2nd M50 and Mark King (17.35) finished 4th in the same age group while Kevin Newberry's time of 18.26 earned him the 2nd M55 placing. M40 Gary Lyon (18.42) eased himself back into competitive running after a series of injuries and Dave Thom dipped under 19 minutes by one second to land the 2nd M60 spot. W45 Lynn Angely took a break from her coaching duties to clock the respectable time of 22.52 with 3rd M65 Sandy Eaglesham closing in on 23 minutes and 46 seconds.
David Cooney
Join Cambuslang Harriers
Interested in joining one of Scotland's premier road and cross country running clubs as a member or a volunteer? We cater for runners of all abilities and offer regular training sessions based from our clubhouse in Cambuslang, we also have regular training on the track at the John Wright Sport Centre in East Kilbride, why not come along and join us?


All Content Copyright © 2007-2023, Cambuslang Harriers I Site design by No Lesser Panda