News Archive
Explore our archive of old news articles, click on one of the years below to see all the articles from that year.
Who are Cambuslang Harriers?
Cambuslang Harriers, since its formation in 1948, has become one of the premier cross country and road running clubs across all age groups in Scotland. We also have a very talented girls and ladies group who now regularly win major team honours.


Out With The Old Year And In With The New
The last week of 2019 and the first week of 2020 proved successful for members of Cambuslang Harriers. Alasdair Campbell secured an emphatic victory with a personal best time of 31.43 on Boxing Day in the Ayr 10K Turkey Trot. Stuart Gibson bettered this time the following day with a 31.03 clocking in a star studded line up in the Ribble Valley race in Yorkshire. Scottish Commonwealth Games triathlete Grant Sheldon then topped this time the next day in the Tilly 10K stopping the clock at 29.48 to take 2nd spot with Colin Reilly (32.29) in 5th place.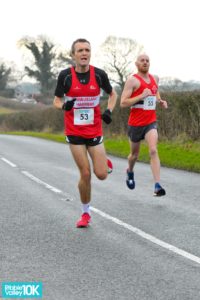 Grant showed his dedication to training again by retaining his 4 mile road title in the fast time of 18.46 on New Year's Day at Portobello. There was success too for M45 Kenny Finlayson and Grant's uncle, M55 David Marshal, who respectively finished 2nd M40 and 1st M50 in the Beith Harriers 10K on the 2nd of January.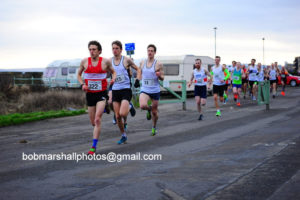 The club's focus of attention switched on the Friday evening to the Emirates Stadium where age group Scottish medals were up for grabs. There were 10 mixed age races with the medals being decided on the basis of the 3 fastest times within each age group. Stuart Gibson (8.46) narrowly took the M35 gold medal by 2 seconds from Ritchie Carr. While Stuart has previously gained national medals this was Ritchie's first such medal with the added bonus of a pb by 8 seconds and was a fitting reward for his consistent training at the club over the last few months. W40 Jacqueline Etherington made her long journey up from Sunderland with her family worthwhile by clinching her age category gold in a time slightly faster than last year. M45 Kerry-Liam made history in winning his 5th successive title in his age group while the M55 duo of Chris Upson and Dave Thom respectively scooped silver and bronze medals. The final award and a golden one went to multi Scottish medallists over the years to M65 Frank Hurley.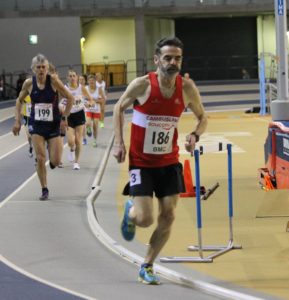 Although out of the medals there were still a number of impressive pb performances such as U17 Jack MacKinnon slicing 35 seconds off his pb, senior Laurence Heyes 24 seconds, M50 Mark King 23 seconds and U23 Jamie MacKinnon 13 seconds. Jamie's clocking of 8.32 was the fastest time by a Cambuslang athlete of the evening 4 seconds ahead of senior Ryan Thomson. U20 Chris McLew made an impressive debut of 8.44 at this distance while U17 lady Susie McLaughlin was not far off her best recording. Alistair Campbell had a good workout in his heat as he builds up his fitness again after a prolonged busy spell of settling into his new job.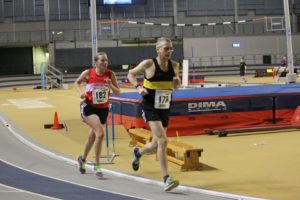 It was good to see all our athletes being well supported by numerous fellow athletes, parents, club coaches and officials.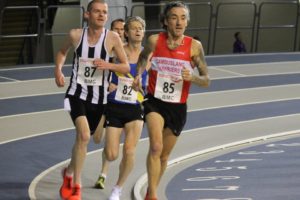 On the following morning medallists Kerry-Liam and Stuart were back in action with parkrun victories at Girvan and Kilmarnock while Dave finished first M55 at Coatbridge. There were other 5K victories for U20 Andrew Carey at Strathclyde Park, Iain McDonald at Queen's Park and Alasdair Campbell at Levengrove. Several other Cambuslang athletes such as Justin Carter, Michael Black, Gary Miller, Peter Ogden, Billy Mitchell, Paula McCabe, John McCluskey and David Stirling also took part in various parkruns.
David Cooney
Join Cambuslang Harriers
Interested in joining one of Scotland's premier road and cross country running clubs as a member or a volunteer? We cater for runners of all abilities and offer regular training sessions based from our clubhouse in Cambuslang, we also have regular training on the track at the John Wright Sport Centre in East Kilbride, why not come along and join us?


All Content Copyright © 2007-2023, Cambuslang Harriers I Site design by No Lesser Panda