News Archive
Explore our archive of old news articles, click on one of the years below to see all the articles from that year.
Who are Cambuslang Harriers?
Cambuslang Harriers, since its formation in 1948, has become one of the premier cross country and road running clubs across all age groups in Scotland. We also have a very talented girls and ladies group who now regularly win major team honours.


CAMBUSLANG HARRIERS SENIOR MEN AND MASTERS MEN RETAIN THEIR WEST DISTRICT CROSS COUNTRY TITLES
The senior and masters men teams again stuck team gold while the under 20 and 17 men took silver medals and the under 15 girls and boys bronze medals. There were individual silver medals for under 17 Christopher McClew, under 20 Gavin Smith and masters men Ben Hukins while Iain Reid captured the masters men bronze.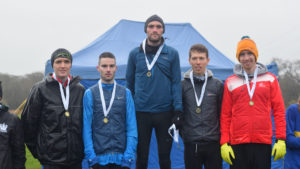 The first event of the day was the under 13 girls with Abbie McClue leading home Eva Ritchie, Lucy McGrandle and Morvern Crawford into 5th spot in the team race. The under 13 boys trio of Sam McCarthy, Brodie McDonald and Hamish Gardiner finished in 8th position with back up coming from Gavin Kelly, Chris Black and Alex Petrie. Niamh Riggins, Shona Carey and Eilidh Kennedy secured team bronze for the under 15 girls while the under 15 boys matched this performance thanks to Robbie Woods, Lewis Roddis and Zak Povey with Feargus MacGregor next home for Cambuslang. In finishing 7th and 8th Robbie and Lewis have secured automatic selection to the West District Team for the forthcoming Scottish Inter District Championships in the New Year.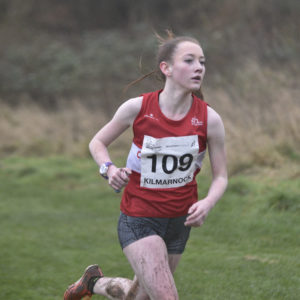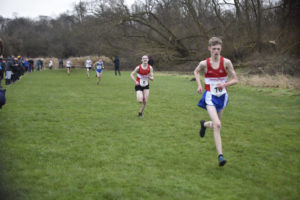 The under 17 and under 20 ladies ran together albeit the latter had extra distance to cover. Susie McLaughlin finished 11th in the younger age group with Amy Craig 9th in the under 20 race. Susie too should gain selection for the Inter District Competition.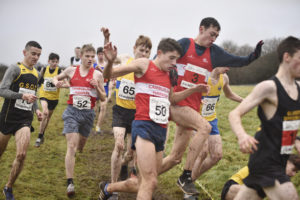 The same format applied to the under 17 and 20 men. The under 17 trio of Christopher McClew, Ruairidh MacGregor and Michael Black finished a good second and all confirmed their place for the Inter District Event. Kai Newall provided back up. 2nd placed under 20 Gavin Smith led Jamie MacKinnon and Drew Pollock to team silver with Andrew Carey in support.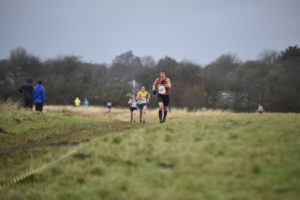 The combined senior and masters women event saw Cambuslang finish 8th team thanks to Kirsty O'Brien, Jennifer Reid, Bernie O'Neil and Lesley McArdle. All four ran well in the driving rain and in the increasingly muddy conditions.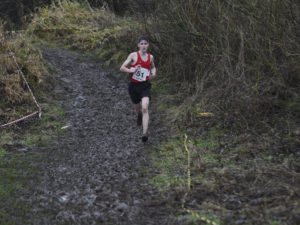 The senior and masters men lined up for the final event of the day with the weather rapidly deteriorating. However, this did not deter the Cambuslang men. Right from the gun it was clear that it would be a close encounter between Cambuslang and Shettleston Harriers for the top team spot. This proved to be the case throughout. Although Shettleston had their 6 counters home in the first 17 positions compared to Cambuslang's 6 in the top 18 Cambuslang prevailed by 9 points. The club's tight packing of Fraser Stewart 4th, Alasdair Campbell 5th, Kevan Harvey 6th, Ryan Thomson 8th, Stuart Gibson 16th and Ben Hukins 18th ensured the gold medals were going back to Cambuslang. Fraser, Alasdair, Kevan and Ryan have booked their places for the senior district team with under 20 Gavin also being a contender.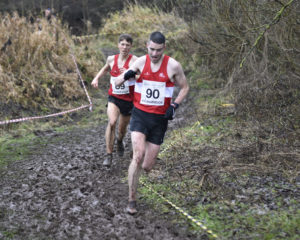 The harriers have an outstanding record in the senior competition having medalled on 41 occasions out of the last 44 years to win 25 gold, 12 silver and 4 bronze medals. From the 1975 team which won the club's first senior district medal Robert Anderson and David Cooney are still heavily involved with the club. The masters' team victory with Ben 2nd, Iain Reid 3rd and Justin Carter 7th was achieved more comfortably from Shettleston and Garscube Harriers.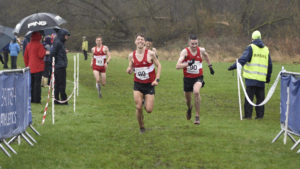 Craig Jardine and Iain Red in 19th and 21st position finished closely behind Ben. Thereafter, the Cambuslang runners crossed the line in the following order – Alistair Campbell, Justin, Ritchie Carr, Matthew McKenna, Iain Nicholl, Mick O'Hagan, Dave Thom, Des Dickson and Eddie Carr.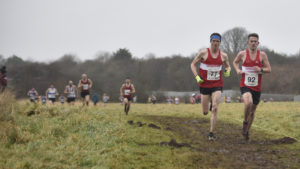 Well done to all our competitors today given the challenging weather and conditions. Thanks are also due to the club's back up team of coaches, officials, supporters and parents and also to the West District Organising Committee and to Kilmarnock Harriers.
David Cooney
Photgraphy ©Colin Stephen
Join Cambuslang Harriers
Interested in joining one of Scotland's premier road and cross country running clubs as a member or a volunteer? We cater for runners of all abilities and offer regular training sessions based from our clubhouse in Cambuslang, we also have regular training on the track at the John Wright Sport Centre in East Kilbride, why not come along and join us?


All Content Copyright © 2007-2023, Cambuslang Harriers I Site design by No Lesser Panda