News Archive
Explore our archive of old news articles, click on one of the years below to see all the articles from that year.
Who are Cambuslang Harriers?
Cambuslang Harriers, since its formation in 1948, has become one of the premier cross country and road running clubs across all age groups in Scotland. We also have a very talented girls and ladies group who now regularly win major team honours.


CAMBUSLANG HARRIERS PERFORM OVER 3 AND 5K ON THE ROAD
Members of Cambuslang Harriers were involved last weekend in a Club 5K and in the Scottish Athletics Virtual 3K Run which was the qualifier for the Scottish Short Course Cross Country Event. The necessary health and safety precaution on the quiet and largely unused Shawfield circuit were again put in place by the club. As previously the 16 5K runners were arranged into smaller groups with staggered starts and the same principle was applied to the 13 under 15, 17 and 20 3K athletes present. Occasions such as this could not be held without the careful thought and planning of the club's Covid team of Des Dickson, Dave Thom and Ritchie Carr along with assistance from coaches Mike Johnston, Colin and Pamela Stephen and Simon Gold. Additional welcome assistance on the day was provided by Barnie Gough, Julie Dell, William Fairley and Stevie Leonard. Both Stevie and Colin also captured the runners in action on their cameras. Immediately prior to the Shawfield event a small group had completed their 3K in Glasgow Green under the watchful eye of head coach Mike Johnston while others ran the distance on their own or in small groups at various other times and places in the local area and even further afield in Clydebank, Campbeltown and Prague.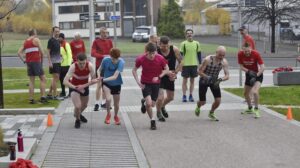 The 5K and 3K competitors took advantage of the ideal dry and calm conditions to record some fast times. M40 Gordon Robertson was the first 5K athlete home in the brisk pb time of 15.35 ahead of club captain Ritchie Carr 16.19 and promising newcomer Ian Hodge who set a pb of 16.42. The leading trio shaved 15, 46 and 17 seconds respectively off their previous times from a few weeks earlier. Iain McDonald 17.12 and M50 Mark King 17.45, who improved by 5 seconds and 1 second, were split by M45 Mark Gallacher whose 17.13 clocking underlined a welcome return to form. An 18.11 stint by M40 George Pettit indicated that his training was going well after a prolonged time out through injury. A sprightly M60 Dave Thom 18.23 went for it from the very start and was rewarded by a 37 seconds improvement. M40 Kenny Finlayson's time of 18.57 was only 8 second down from his previous recording while M60 club president Des Dickson trimmed 5 seconds off his earlier clocking. M50 John McCluskey on his debut on this particular course was delighted with his time of 20.09, an improvement of 51 seconds on his best ever 5K. Newcomer Chris Campbell's time of 21.00 minutes revealed he is benefitting from regular training at the club as he reduced his previous time by 58 seconds. M55 James McLaughlin 21.30 and Paula McCabe 21.41 swapped finishing positions from their last encounter with both being pleased to take 80 and 43 seconds off their times. M45 David Stirling 23.00 continued his comeback while M70 Peter Ogden 23.16 ran his fastest 5k for a number of years.
The overall qualifying times for the under 15, under 17, M50 and M60 60 age groups were listed separately by Scottish Athletics from the wider collective grouping of under 20, senior and M40 athletes to produce a list of qualifiers for the forthcoming Scottish Short Course Cross Country Event. This event will of course be dependent on the Covid situation at the time. Our 3 under 17 ladies – Shona Carey, Peggy Nan Rodger and Eilidh Kennedy all qualified with their times of 11.47, 12.28 and 13.09 while under 15 girls Eva Ritchie 11.46 and Abbie McClue 11.55 also qualified comfortably. Although Grace Ferry 13.23, Lucy McGrandle 13.29 and Emma Kennedy 13.53 did not make the qualifying cut off time their efforts will have helped to improve their fitness. In the corresponding under 17 men and under 15 boys groups a resurgent Lewis Roddis 9.54 was pushed all the way by fellow under 17s Zak Povey 9.59 and Fearghus MacGregor 10.14 while only 4 seconds separated the under 15 trio of Sam McCarthy 10.28, Finlay Robb 10.28 and Jonathan Dow 10.32. All 6 made the final.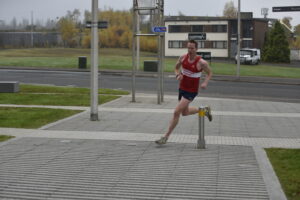 Chris Upson 10.42, although in the M55 category, managed to clinch a place among the younger 50 year olds with fellow M55 David Marshall 11.01 just losing out. In the M60 category Eddie Stewart 10.45 qualified as 3rd fastest but of course will not make the long journey from the Czech Republic.
Cambuslang's under 20, senior and masters women performed well and all qualified in the following order of times – senior Eve Mackinnon 11.02, under 20 Susie McLaughlin 11.32, W45 Jennifer Campbell 12.38 and under 20 athletes Holly Brock 13.11 and newcomer Anna Bradley 14.44.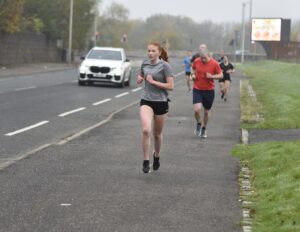 The Cambuslang men put in a number of sterling performances with 16 runners gaining qualification times. Ryan Thomson led the club charge and his nippy time of 8.22 was the 9th quickest time of the day and only 7 seconds off the leader board. Jamie MacKinnon, Gavin Smith Fraser Stewart and under 20 Chris McLew were also very well placed and comfortably inside 9 minutes with times of 8.33, 8.40, 8.45 and 8.51. Gordon Robertson's 9.15 clocking gave him the 3rd fastest time by a M40 athlete. Under 20 runners Aaron Grew and Andrew Carey shared the very respectable time of 9.24 with Colin Reilly only 2 seconds adrift. Ritchie Carr 9.37 who is working his way back to full fitness just edged out the under 20 duo of Ryan Donnelly 9.38 and Jack Mackinnon 9.39. Ian Hodge's time of 9.43 completed our list of sub 10 minute performers. The final 3 Cambuslang men to qualify for the short course cross country event were under 20 Ruairidh MacGregor 10.07, M45 Mark Gallacher 10.09 and under 20 Michael Black 10.14. Sean Friel, also an under 20, recorded 11.03 and with more training behind him can expect to go quicker.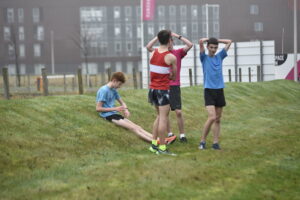 There was a separate 1.5K run for the under 13 runners and Cambuslang participants Olivia McNicol and Emma Ritchie both ran qualifying times of 5.48 and 6.02.
David Cooney
Join Cambuslang Harriers
Interested in joining one of Scotland's premier road and cross country running clubs as a member or a volunteer? We cater for runners of all abilities and offer regular training sessions based from our clubhouse in Cambuslang, we also have regular training on the track at the John Wright Sport Centre in East Kilbride, why not come along and join us?


All Content Copyright © 2007-2023, Cambuslang Harriers I Site design by No Lesser Panda