News Archive
Explore our archive of old news articles, click on one of the years below to see all the articles from that year.
Who are Cambuslang Harriers?
Cambuslang Harriers, since its formation in 1948, has become one of the premier cross country and road running clubs across all age groups in Scotland. We also have a very talented girls and ladies group who now regularly win major team honours.


CAMBUSLANG HARRIERS AT HOME AND ABROAD
Members of Cambuslang Harriers took part in a Covid19 planned 3k Cross Country training event having carefully risk assessed this in light of current National guidance in Tollcross Park while Moira Stewart represented the Czech Republic in the World Half Marathon Road Championships in Poland.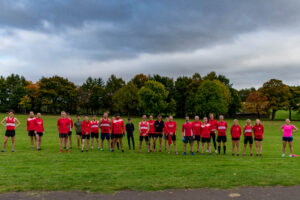 The necessary health and safety precautions, such as athletes registering their details in advance, having their temperature taken just prior to the run and being set off in 5 waves of small groups at 30 second intervals, were put in place by Des Dickson, Dave Thom, Ritchie Carr, Fiona Pollock and Mike Johnston.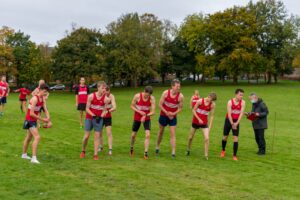 The athletes set off in dry but crisp weather over the undulating broad 2 lap short grassland course. The firm underfoot conditions were to Jamie Mackinnon's liking as he was first home in the good time of 9.17 with Fraser Stewart and Gavin Smith 9 and 12 seconds respectively behind him. Kevan Harvey (9.42) on the comeback trail after a lengthy injury finished a good 4th. A trio of under 20 men were next – Chris McLew (9.55), Aaron Grew from wave 2 (9.56) and Ryan Donnelly (10.05). Club captain Ritchie Carr (10.11), under 20 Brodie Aitken (10.15) and Struan Paton (10.22) made up the top 10 finishers. Craig Jardine (10.25), under 17 Robbie Woods (10.38), M45 Justin Carter (10.38), Iain McDonald and M55 Chris Upson from wave 3 (both on 10.45) all dipped comfortably under the 11.00 minutes barrier. M45 Mark Gallacher returning to the club of his youth was exactly on 11 minutes. Fellow M45 Kenny Finlayson (11.23) finished strongly to overtake the leading lady Eve Mackinnon by 7 seconds. M50 Mark King (11.36) who is more at home on road or track headed M40 George Pettit (11.40) who had worked through well from wave 5. M60 club president Des Dickson (11.53) won that age group battle from club secretary Dave Thom by the narrow margin of 3 seconds. Our other Mark Gallacher recorded 12.21, M40 David Scott 12.35 and M45 Willie Fairley 12.43 before the arrival of a trio of ladies from wave 4. Under 20 Susie McLaughlin (12.55) was comfortably ahead of Carole Setchell and W45 Lynn Angley who finished within 2 seconds of one another, 13.34 to 13.36. The club run was concluded by M45 Scott Hunter (13.40), W50 Bernie O'Neil (13.35) and M70 Peter Ogden (15.06).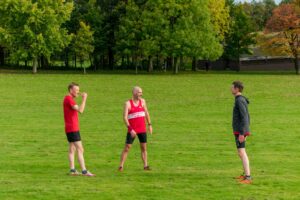 All participants enjoyed the opportunity to meet up with fellow members many of who had not seen one another for some time and to participate in a club run in a controlled environment. The efforts of the organising group were greatly appreciated by all.
On the same day in Poland Cambuslang member Moira Stewart lined up with 103 other elite female athletes to contest the World Half Marathon Championship. Moira had just recently made her debut at this distance when finishing first, in a time of 72 minutes and 48 seconds, as a guest in the Slovakian Championship, thus gaining a qualification time for the world event. She then completed her preparation for the World Half Marathon by winning the Czech 10K road title in a time of 33 minutes and 49 seconds. Moira's preparation worked very well for her as she sliced 1 minute and 40 seconds off her pb to cross the line in a time of 71.08 to take 34th place overall and 12 European athlete ahead of all the GB and Irish athletes. Moira now moves up to 3rd spot in the Scottish Women's rankings for 2020 and only 24 men have bettered her time.
David Cooney
Join Cambuslang Harriers
Interested in joining one of Scotland's premier road and cross country running clubs as a member or a volunteer? We cater for runners of all abilities and offer regular training sessions based from our clubhouse in Cambuslang, we also have regular training on the track at the John Wright Sport Centre in East Kilbride, why not come along and join us?


All Content Copyright © 2007-2023, Cambuslang Harriers I Site design by No Lesser Panda