News Archive
Explore our archive of old news articles, click on one of the years below to see all the articles from that year.
Who are Cambuslang Harriers?
Cambuslang Harriers, since its formation in 1948, has become one of the premier cross country and road running clubs across all age groups in Scotland. We also have a very talented girls and ladies group who now regularly win major team honours.


Cambuslang Harriers lift 4 Team Medals at the Scottish Road Relays
Cambuslang Harriers reinforced their position as one of the leading distance clubs in Scotland across the different junior/senior and masters age groups when they collected 1 team gold, 2 silver and 1 bronze medal in the Scottish Road Relay Championships at Livingston while under 20 athlete Eve Mackinnon was a member of the Edinburgh University team which won team silver in the ladies event.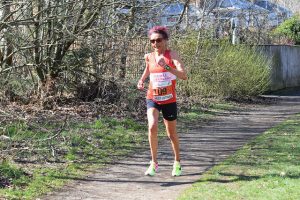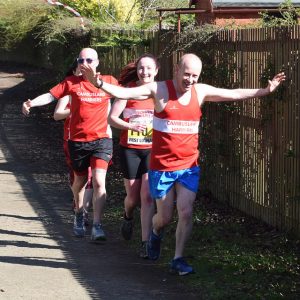 The men had a hard act to follow having last year won a unique treble in the senior and masters' races over 40 and 50. In spite of tremendous team efforts all round the club narrowly failed to match last year's achievements. The O50 quartet decisively retained their team title, by over 8 minutes from Metro Aberdeen and Calderglen Harriers, having led from gun to tape thanks to Alick Walkinshaw, Peter Fleming, Colin Feechan and Stan MacKenzie. Both Alick and Colin recorded the 2 fastest short 5K leg times of the day in their age category, not counting the evergreen Bobby Quinn of Kilbarchan who was not in a M50 team, while Peter and Stan were second and third fastest on the 5.8 miles long leg. It was great to see former 2.13 marathon runner Peter back on holiday in Scotland from his home in Colorado USA wearing the red and white vest.

There was to be a dramatic twist in the tail for the junior/senior men on the penultimate leg. Club captain Iain Reid put the club into a strong 4th position on the opening 5K leg which set Stuart Gibson up nicely to storm through the field to first place in a personal best and 4th fastest of the day for this long stage. Pole position was maintained over legs 3 and 4 by Al Campbell and O40 runner Robert Gilroy while Central AC and Corstorphine AC worked together to close the gap. U20 Craig Jardine took off 20 seconds ahead of Central with Corstorphine another 4 seconds adrift. Craig was running strongly when he mistakenly took the turning for the long leg instead of veering to the left for the shorter route. While it is the runners' responsibility to follow the correct course there was some confusion at this junction where a number of people had gathered and which may have distracted the steward from spotting the red short leg number he was wearing and directing him onto the correct route. By the time Craig realised his error and returned to the course proper the 2 previously pursuing runners were now well clear of him. In spite of being gutted Craig rallied and worked hard over the remaining distance to pass his Corstorphine rival. However, Central, the Scottish Cross Country Champions, now had a commanding lead. In spite of Ryan Thomson recording the 2nd fastest time on the final leg which saw Cambuslang pull away further from Corstorphine Central stretched their lead to take team gold. Nevertheless, our runners can all take credit for putting in a strong defence of their title.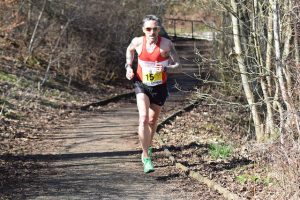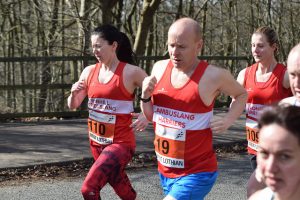 Cambuslang can also be pleased with the efforts of the B team runners who had the double satisfaction of finishing a very creditable 7th and first B team. U20 Scott Sommerville, Gordon Robertson, U20 Jack MacGregor, Ben Hukins, Ritchie Carr and Colin Reilly combined well to achieve this feat. Jack had the misfortune while on leg 3 to be deliberately tripped up as well as being verbally challenged by a local resident which resulted in a heavy fall and required his cuts to be cleaned by the first aiders at the finish. There was a mishap also for another U20 athlete Paul Morrison who fell in the opening 400 metres. In spite of hurting his elbow which later turned out to be fractured he picked himself up and came strongly through the field to finish in a worthy 12th place. Paul in finishing, although in discomfort, allowed the C team of Simon Gold, Scott Hunter, Mick O'Hagan and Dan O'Connell to continue the teams' efforts. David Stirling and Shaz Hakeem ran legs 1 and 2 for the D team.

It was always going to be difficult for the M40 men to retain their title as leading M40 Robert Gilroy was representing the junior/senior team and last year's 1st and 2nd M40 in the Scottish Cross Country Championships Kenny Campbell and Jamie Reid were also missing through injury. However, the Cambuslang runners were not going to give up their title without a fight. After the first 3 legs from Paul Kernohan, Justin Carter and Michael Barker the club was in 4th spot with Kerry-Liam Wilson moving up to a close 2nd behind Corstorphine AC on stage 4 with the fastest M40 time of the day, not counting Robert who was in the senior team. Brian Douglas overhauled his Edinburgh rival to hand over a lead to Frank McGowan. Misfortune befell the club again when Frank was about to line up he badly went over on his ankle when stepping off the kerb. However, there was no thought of him not starting. Driven by adrenalin he set off on the difficult task in normal circumstances of trying to hold off the challenge of Corstorphine's Keith Hood, a former Masters Scottish Cross Country Champion. The Corstorphine runner gradually reeled the Cambuslang man in and opened up a secure gap to give the East of Scotland club victory with Frank a safe runner up ahead of Kirkintilloch Olympians. Corstorphine who in the 2 previous Scottish masters championships this season had been runners up to ourselves deserve credit for turning the tables on this occasion. As soon as Frank crossed the line the extent of his ankle injury became apparent as he was unable to put the injured foot to the ground and had to hobble back with support to where his gear was. If it had been an individual race he would not have started but in the words of a well known phrase he was prepared to take one for the team. Post race another Cambuslang athlete was compelled to utilise the services of the attendant first aiders.

Perhaps the icing on the cake for the club was the bronze medal won by our masters F40 quartet of Claire Mennie, Bernie O'Neil, Erica Christie and Jennifer Reid. All 4 combined well to finish a creditable 3rd behind Edinburgh AC and PH Racing Club but ahead of defending champions Gala Harriers. While the club has previously won female Scottish team medals at U17 and U20 level this was the first time that a senior or master ladies team had done so. Congratulations to the ladies on a job well done. Newcomers to the club Paula MCCabe and Lesley McArdle who have come from a parkrun background sampled this event for the first time and performed well. They will benefit from this experience.
Once again the club was well supported by our coaches, officials, friends and of course our ubiquitous photographer Colin Stephen who never fails to capture the agony and ecstasy of our runners. It was good to see longstanding coach Owen Reid who is recovering well from his heart attack there and also former club president Des Yuill. Special thanks are due to John McCluskey who volunteered to steward again for this event without any prompting.
One U20 athlete missing from the event was Gavin Smith who represented the Scottish Schools the previous day in the Home Counties Event in which he was the 2nd Scottish Schools' counter. Also missing for good reasons were Kirsty Anderson, now O'Brien, and Johnny MacNamara who were contesting the Scottish Duathlon Championships also held on the Sunday. Kirsty won double bronze medals both in the open category and in her age category while Johnny MacNamara took silver in the O40 category.
The club's weekend success follows closely on from M60 Paul Thompson winning an individual gold medal for the half marathon in the World's Master Championships in South Korea along with silver medals in the cross country and 3K events while Lynn Marr took a team gold medal and team bronze in the ladies cross country and 4 x 200 metres relay. Since turning 60 Paul is now a proud European and World Champion. What an outstanding achievement for him and the club! Finally last week the club again won the Cambuslang and Rutherglen District U18 and O18 team awards.
David Cooney
photos Colin Stephen
Join Cambuslang Harriers
Interested in joining one of Scotland's premier road and cross country running clubs as a member or a volunteer? We cater for runners of all abilities and offer regular training sessions based from our clubhouse in Cambuslang, we also have regular training on the track at the John Wright Sport Centre in East Kilbride, why not come along and join us?


All Content Copyright © 2007-2023, Cambuslang Harriers I Site design by No Lesser Panda