News Archive
Explore our archive of old news articles, click on one of the years below to see all the articles from that year.
Who are Cambuslang Harriers?
Cambuslang Harriers, since its formation in 1948, has become one of the premier cross country and road running clubs across all age groups in Scotland. We also have a very talented girls and ladies group who now regularly win major team honours.


CAMBUSLANG HARRIERS' 75TH ANNIVERSARY YEAR STARTS WELL
Cambuslang Harriers' Masters made an excellent start to 2023 in competitions indoors, on the country and on the road. This is a particularly important year for the club as it will celebrate its 75th anniversary in November. In the Scottish Masters 3000M Indoor Championships Jacqueline Etherington, on the comeback trail after injury, picked up the W40 title while M55 Chris Upson gained a silver medal. There were age group bronze medals also for M35 Steven Fitzpatrick, M50 Mark Gallacher and M60 Colin Feechan. Steven's performance stands out for a number of reasons. He has just recently joined the club, had never raced indoors before and his indoor time was 22 seconds faster than his road 3K. The indefatigable Chris added another silver medal a few weeks later in the 1500M Championships.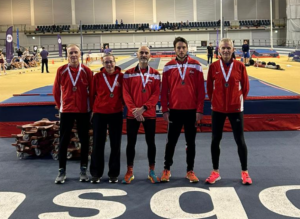 The masters also came away from the Scottish Cross Country Championships at Tollcross Park with an impressive medal haul. Gold medals were won by M50 Stevie Wylie, M60 Colin Donnelly, M65 Eddie Stewart and W65 Erica Christie. Chris Upson, Stan MacKenzie and Frank Hurley were awarded bronze medals in their respective age groups of M55, M60 and M70. To cap off the day Stevie led new M50 Justin Carter and Colin Donnelly to the M50 team championship. Gordon Robertson was just outside the M40 medals in 4th place. The W50 trio of Jennifer Campbell, Erica Christie and Bernie O'Neil gave a good account of themselves finishing 4th while the M40 quartet of Gordon, Iain Nicholl, Gary Lyon and Scott Hunter was 7th. Eddie made history at Tollcross by becoming the first athlete to have won a Scottish Masters Title in the M40, 45, 50, 55, 60 and 65 age groups, a span of 25 years. His feat is all the more remarkable as he has had to journey over from his home in Prague for all of his victories. This speaks volumes for his loyalty to Cambuslang Harriers.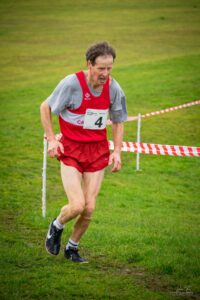 Stevie Wylie transferred his cross country prowess onto the road at the Masters Road Relay held around Strathclyde Park Loch. Stevie clocked the fastest M50 time of the day and with support from newly turned 50 Justin Carter, Brian Douglas and Mick O'Hagan the squad took the runners up spot. Kathleen McLachlan, Erica Christie and Jennifer Campbell finished 6th ladies team and the M40 team of Iain Nicholl, Gary Lyon, Gerry Higgins and Simon Gold was in 14th place. Dan O'Connell ran the first leg in the B team. It was good to have Jennifer competing again for the club after an absence of nearly 3 years due to the Covid lockdown and then a spell at ultra distance running.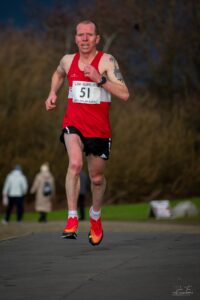 The senior men have also been acquitting themselves well on the indoor boards. Jamie MacKinnon was a close runner up in the Scottish Senior Men's 1500M Indoors Championships and Gavin Smith only lost out on the bronze medal in the closing few strides. Jamie had a few weeks earlier recorded an impressive pb of 8.19.70, a 13 seconds improvement, in the 3000M Championship Event. U17 Christopher Black sliced 5 seconds off his 800M pb to qualify for the Scottish U17 final. U17 Sam McCarthy and senior Chris McLew also contested their 1500M heats.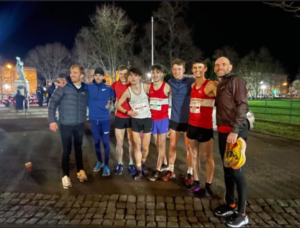 Cambuslang Harriers participated in the prestigious Armagh International Road Races which are regarded as one of the UK's premier road events. In the men's 5K all 5 athletes recorded pbs. Gavin Smith's time of 14.01 was a 34 seconds pb, Fraser Stewart 14.06, a 42 seconds pb, Jamie Mackinnon 14.23, a 36 seconds pb, Kevan Harvey 14.51, a 11 seconds pb and Andrew Carey 15.27, a 3 seconds pb. With 4 to count in the open team competition Cambuslang finished 4th ahead of a number of larger English clubs. However, if new member Callum Tharme's 14.11 pb time had counted the harriers would have been 2nd team. Callum was wearing the colours of Strathclyde University as at the time of entry he was not yet eligible to compete for Cambuslang. Ryan Thomson was an unfortunate spectator on account of a hip injury. Eve MacKinnon sliced 9 seconds off her pb to record the excellent time of 9.40. Team mate Hannah Addison was in her slip stream for the first of nearly 3 laps but was forced to give ground due to feeling unwell. Nevertheless, she hung in well to cross the line in a time of 10.22. The Cambuslang contingent was not only treated to a feast of spectacular racing but also to the traditional wonderful hospitality from our friends in Armagh AC.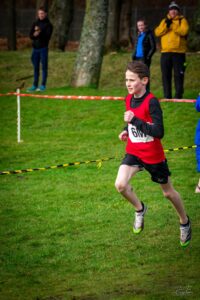 Members of Cambuslang Harriers took part in the final West Cross Country League Match which also incorporated the Lanarkshire Cross Country Championships. U11 Ewan Kennedy took the Lanarkshire individual gold medal and led club mates Niall Smith and Noah Midwinter to team silver. Brooke Walker was the proud recipient of an U11 female bronze medal while Rory Barclay and Jack Gillon scooped silver and bronze medals in the U13 event. Similarly in the U17 men's competition Sam McCarthy and Finlay Robb were 2nd and 3rd and with Jonathan Dow as 3rd counter they picked up the team silver medals. The senior women and men dominated their respective races. With Lesley Blackwood in first place and supported by 3rd placed Catriona Bain and master lady Kathleen McLachlan the team award went to Cambuslang. It was the same story in the men's event. Mike Christoforou was an untroubled winner and bronze medallist Stuart Gibson and Colin Reilly in 5th spot secured an emphatic victory for the red and whites. Thanks are due as always to the club coaches, officials, volunteers and parents for all their hard work at race meetings.
David Cooney
Join Cambuslang Harriers
Interested in joining one of Scotland's premier road and cross country running clubs as a member or a volunteer? We cater for runners of all abilities and offer regular training sessions based from our clubhouse in Cambuslang, we also have regular training on the track at the John Wright Sport Centre in East Kilbride, why not come along and join us?


All Content Copyright © 2007-2023, Cambuslang Harriers I Site design by No Lesser Panda